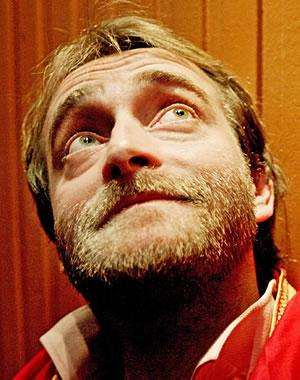 First thing's first, let's just clarify - Tim FitzHigham is not your traditional stand-up. Whilst most others are/have been depressed, take drugs or skint themselves for the purposes of Edinburgh, we sit here, in the presence of the 14th Pittancer of Selby Town in the West Riding. The man even has a commemorative beer after him, with a picture of his face on the label. So just how funny are we expecting his return to Edinburgh to be?
Wide eyed and bounding around, FitzHigham has a brilliant air of enthusiasm, and is incredibly keen to involve his audience in every aspect of his storytelling, from the sweet to the utterly ridiculous. You can't help but like this man, even when, occasionally, he may unwittingly slip into an air of pretension or become a little patronising. Although, this comes across as completely unintentional, and disappears as quickly as it came about. Ultimately, the only thing that comes of his aristocratic background is the opportunity for more fun-poking, in the most self-effacing way.
The funniest part of the whole affair is the seeming disbelief he seems to have for his whole existence - that he follows through with the ridiculous, when most people have already moved on to a cup of tea. He acts almost as a talking head on his own life, providing us insight, but never an explanation, because it becomes evident that he doesn't quite know why himself.
It'd be pretty much impossible to hate this man - although be careful in the venue - if you choose to stand at the back, you'll probably get dripped on (appropriate for a venue in the shape of an ark). Although at this point, the Gentleman Explorer will no doubt offer you his raincoat, as he did to the poor chap when I saw it.