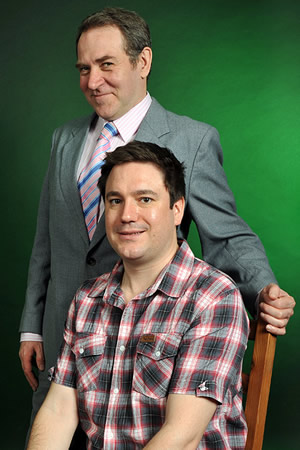 No Son Of Mine is a frequently hilarious play which features all the ingredients needed to become a big Fringe hit.
The show starts as actor Dennis Hazely nervously arrives on stage to talk about Afghan Hounds, the moving play he is about to perform... it's about homosexuality in the Taliban. Cue a riotously funny five minutes of dodgy acting from the effeminate actor and his rubbish script. However, the show is shortly interrupted by a latecomer to the audience who, it soon transpires, is the luvvie actor's rather common, but admittedly well-dressed, father. Car salesman Don Hazely has come to see his son's Fringe show but his overbearing personality and interfering soon leaves both the show and Dennis' already weak confidence in tatters.
Dennis and Don are the creations of Rufus Jones and Alex Kirk. Jones, who bravely squeezes himself into figure-hugging black leggings to play theatrical Dennis, will already be known to live audiences as part of the Perrier-nominated sketch group Dutch Elm Conservatoire. TV audiences meanwhile may recognise Jones from his ensemble roles in various sketch shows. He also recently voiced Nelson the fox in BBC Three's hit puppet sitcom Mongrels. Meanwhile Alex Kirk, who plays Grimsby car salesman Don, may be familiar to older comedy fans as one-half of late 90s double-act Kirk & Messingham, but is probably now better recognised for popping up in various sitcoms.
Clearly the gimmick of watching an over-the-top ham actor performing an awfully insensitive play can only sustain laughs for a short period before the novelty of the joke wears off, and so thankfully the duo halt Afghan Hounds at just the right time. No Son Of Mine then moves onto what is actually its central premise - observing the relationship between a father and son, where the son is desperate for love, support and validation from his disapproving father. It's sort of a Billy Elliot premise, but with acting being the issue here, rather than dancing. Don wants Dennis to return to working on his car forecourt, but Dennis wants to continue acting... even though it is clear to everyone else, especially his father, that he will never be a success in the theatre. We the audience get to observe the back-and-forth arguments between the pair.
If it sounds a bit heavy-handed, fear not - this is a broad comedy, and the creators have made sure the script is packed full of funny lines. There's a couple of particularly brilliant jokes which are worth the admission price alone. Just stringing jokes together does not make for a good comedy experience though - so it is a relief Jones and Kirk deliver excellent performances as the chalk-and-cheese characters to bring some realism to the piece too. Jones' performance as the shy, clearly in-the-closet actor is particularly nuanced and adds an extra layer to the comedy.
It's the writing that really takes this comedy to a higher plain though. Although the characters argue with each other - revealing some deep family secrets in the process - it is clear that they still love each other and, as the script un-folds, we start to see that Don does have his son's best interests at heart, he's just going about it the wrong way. The best moment is probably when the characters decide to re-enact the moment Don met Dennis' mother (who has since left him) in a club. The gloriously silly recreation of this event (with Dennis putting on a wig to play his mother) must be one of the funniest five minutes across all of the 800+ shows at the Fringe this year. Brilliant.
No Son Of Mine is great from start to finish, featuring superb performances, a tight gag-packed script, and a couple of moments of genuine pathos. See the show (15:15 at the Pleasance), learn how to perform Don's 'magic hand trick', and get an Afghan Hounds badge on your way out - it's one of the must-see shows at this year's Fringe!
(View the listing for No Son Of Mine via the link below to find out more about the show and to watch the trailer that Jones & Kirk have filmed especially for the web)