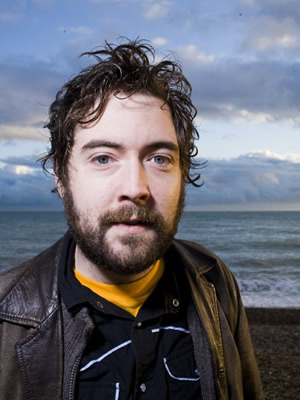 Nick Helm combines one-liners, poems, audience interaction and musical numbers to create a brilliant and frequently hilarious hour of entertainment.
Be warned: this is not a show for anyone looking to hide away in a corner though - you're almost guaranteed to become involved at some point in Keep Hold of the Gold, Helm's raucous mid-afternoon show playing everyday downstairs at The Tron. There's no point trying to avoid taking part if you're selected - Helm has a commanding stage presence and is happy to bully and shout at audience members until they do what he wants. It sounds intimidating but, actually, somehow it isn't - the hilarious opening 'ice breaker' routine has the whole audience very much feeling part of the show and, from that point forward, no one feels judged for taking part if their time comes.
A few daft one-liners and some audience interaction punctuate the gaps between Helm's tender poems and his loud, shouty songs. The poems, although funny, are perhaps the only under-developed part of the show. Everything else is spot on.
Helm demonstrates he is fast becoming a master at his art with a clever and brave routine involving a fair bit repetition which, thanks to his natural stage craft, builds laughs every loop through the one gag. It's impressive. The audience interaction is also cleverly crafted - a simple question about tinned food turns into a rollercoaster ride for one audience member, and heavy laughs follow.
Helm's songs, performed with the help of a guitar playing friend, add some excellent entertainment value. The comic puts everything he has into these musical numbers, absolutely belting them out - it's loud and sweaty, and even educational (there's a lot to learn from the I Don't Want A Job song). Meanwhile, I Fancy The Pants Off Of You is strangely romantic and the final morale boosting Believe In Yourself leaves the audience on a massive high.
This is worth every penny of the bargain five pounds - see it!