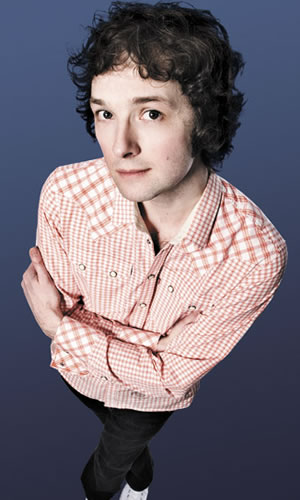 One of the great things about the recent renaissance in comedy on television - stoked by a plethora of panel shows and the re-emergence of stand-up in primetime slots - is that its stars seem keener than their predecessors to keep their live work central to what they do. So, while Chris Addison regularly appears on - and generally brings something very different to - the likes of Mock The Week and Have I Got News For You, we still have the chance to see him in his natural environment on a very regular basis.
And thank goodness. Despite his oft-mentioned youthful looks, Addison has been in comedy for fifteen years now, and in that time he has simply got better - angrier, maybe, more frustrated at the world around him, but definitely better. His stand-up is frequently described as 'cerebral', and his frenetic bounciness around the stage often praised, and while both of these are eminently valid observations, the most important thing to say about this show is simply that it packs in a frankly astonishing number of laughs per minute. The afternoon leading up to the show had seen Addison in A&E having torn a ligament, but he still delivered a storming set; the evident pain only knocking him off his stride in the literal sense.
The thrust of this impressive show is that while the West in the early 21st Century is the very best place and time to be alive, we can't help but spend all our time complaining about it. The world is filled with miracles, he tells us - a civilisation's worth of information is beamed straight to our laptops 'through the dust of our living rooms', as he says in one of his lovelier lines - and yet we love nothing more than a good moan.
Not that Addison is immune from this modern affliction of course, and his thesis gives him the opportunity to wax lyrical on his own pet hates, which include Ugg boots, the BNP, golfers, the UK's inability to deal with snow and the phrase "the thing about me is..." All are decried with a pinpoint accuracy and the rants are punctuated by proper, quotable jokes that elicit belly laughs between the general beaming and nodding-in-agreement that his observations provoke.
Chris Addison is unashamedly middle class - that injury was caused by jumping down the stairs in a desperate bid to catch the Sainsbury's delivery man - and here he has distilled middle class anxieties, annoyances and preoccupations into a fine and assured show driven by a genuine passion for the topics discussed, and expertly delivered by a comic at the top of his game.