Interview: James Sherwood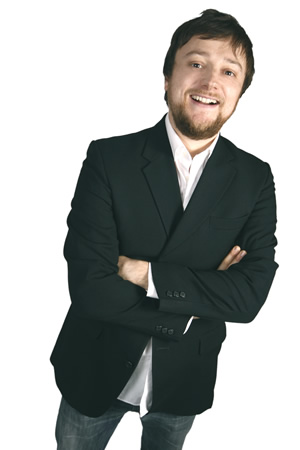 "My show comprises comedy, using a piano", James Sherwood tells us. "An actual piano which we are buying at the beginning of the festival and selling at the end. By the way, would you like to buy a piano?"
An award-winning musical comedian, James is returning to the Edinburgh Fringe armed with a brand new show and... a piano. That's right - James is purchasing a piano to be used during his show that will be then listed on eBay, allowing audiences to bid for it, with the proceeds then donated to a charity of the buyers choice.
James is a prolific comedy writer having contributed to shows on BBC Radio 1, 2, 4 and 7 such as The News Quiz and The Now Show. During the 2010 general election campaign, he performed on BBC Radio 4's Vote Now Show, a highlight in James' burgeoning career: "I took up exactly the same spot that Richard Stilgoe had occupied the day before. That's called a like-for-like substitution!"
He has also frequently appeared on Sky News' paper review and on BBC Radio 5 Live's Richard Bacon Show. James has performed a solo show at every Edinburgh Fringe since his 2006 debut sell-out I Know What You Did Last Sunday, becoming a regular and popular fixture... So having been a part of numerous Fringe programmes, who does James count as his inspirations in comedy? "In comedy generally, it's really hard to say. Anything that makes me laugh. In musical comedy, Tom Lehrer, Victoria Wood, Flanders and Swann, Stilgoe - and everyone else who's done it, especially if they've done it with a piano," he says.
James will also be trying to see as many shows as his Edinburgh Fringe schedule permits, supporting the Five Pound Fringe as well as checking out a mixture of big names and unknown acts. "I'll be seeing Daniel Kitson, everything on the Five Pound Fringe, and lots of things I haven't yet heard of."
Despite all of his successes, including a popular residency in London - James Sherwood's Piano Bar - it can't all have been plain sailing given that occasions such as the Edinburgh Fringe can break as many acts as it makes? "There are times when you think, 'I won't come back here again.' Though in those cases, they probably wouldn't have you anyway."
James Sherwood - One Man And His Piano is on at 7pm on the 6th-15th, 17th-22nd and 24th-29th August at The GRV (venue 274). Book tickets at www.edfringe.com. To find out more about James visit www.sherwoodcomedy.com