Dave Cohen
My Life As A Footnote - Free
Musical
1pm (55 mins)
20-22 Aug 2010
Free
This is a 2010 show that has now finished.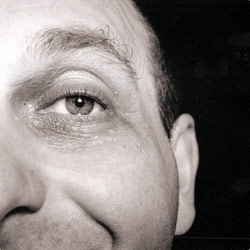 Show details
Musical starring Dave Cohen performed on the following days in August 2010...
Mon
Tue
Wed
Thu
Fri
Sat
Sun
04
5
6
7
8
9
10
11
12
13
14
15
16
17
18
19
20
21
22
23
24
25
26
27
28
29
30
31
1
2
3
Venue details
Perrier nominee, Comedy Store Players founder-member: Fringe veteran Dave Cohen's first show in 16 years: a true story, a one-man poem about young love, great music... and Phil Collins. 'Superb, hilarious ... fantastic script, beautifully directed and performed' (Sue Odell, Sue Odell Casting). Now a successful comedy writer (Have I Got News For You, Not Going Out, award-winning 15 Minute Musicals), 51-year-old Dave has eschewed the Porsche and the affair, opting for performing as his choice of mid-life crisis. 'Great comic talent' (Daily Mail); 'Hilarious songs' (Evening Standard); 'Charmingly candid' ('Pick of the Week', Radio 4).
Share this show
Full press release
17 AUGUST 1985, SOUTHSIDE YOUTH CLUB, EDINBURGH, 1AM:
Five young Fringe comedians meet up and perform a series of comedy improvisations to an audience of three sleeping drunks and an off-duty policeman. The Comedy Store Players are born.
25 years and several thousand shows later, Neil Mullarkey is still a regular performer with the Players, Kit Hollerbach still teaches impro comedy...
...and comedian and writer Dave Cohen is back at the Fringe with My Life As A Footnote, his first new one-man show in 16 years: a stand-up poem about young love, great music - and Phil Collins.
So the question is: whatever happened to the other two comedy improvisers, Paul Merton and Mike Myers?
Video Clip