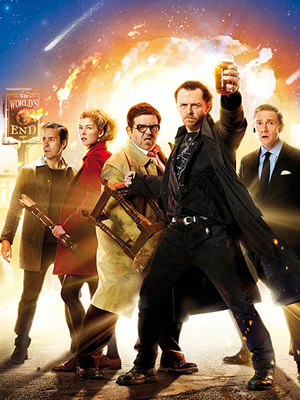 The final instalment of Simon Pegg, Nick Frost and Edgar Wright's film series, dubbed the Three Flavours Cornetto Trilogy, is on its way - exactly a month away at the time of writing, with the UK release date having been brought forward from August 23rd to the 19th of July. The first two films, Shaun Of The Dead and Hot Fuzz, were each rated four stars by film magazine Empire and earned scores of 91% on reviews aggregation website Rotten Tomatoes, so it's safe to say the expectations of The World's End are rather high.
The trio are aiming to live up to these expectations, and earlier this year Simon Pegg tweeted "To borrow a phrase from another trilogy, it will rule them all." Whether this is just a promotion technique is anyone's guess, but Nick Frost has said "The last film in the trilogy was always going to be the best one, as you have to end on a high." In an interview with fans, director of the trilogy, Edgar Wright, commented: "We had the idea for the film in 2007... The screenplay was relatively easy to write as we had been plotting for a long time." Wright also told fans to expect the most emotional scene of the trilogy between Pegg & Frost's respective characters, Gary King and Andy Knight.
A clue as to just how keen fans are to see the new film is that the teaser trailer reached 2.4 million views on YouTube within just a fortnight of its publication. (See the latest international trailer below.) The film looks also set to please existing fans of the series, referring back to its predecessors with a third appearance of the 'climbing over the fence' gag.
As research, Pegg and Wright watched films with the theme of friends reuniting. Apparently the movies that most inspired them to write The World's End were It's Always Fair Weather and The Big Chill.
Asked about the significance of The World's End as the name of the key pub in the film, Wright told Yahoo! that the central story in The World's End comes from personal experience, and that "back in the early 00s, me and Simon would go to see movies at Odeon Camden Parkway and meet at The World's End before." Additionally, he said that the movie's theme of growing out of arrested adolescence "is a theme that haunts me and Simon, the dubious dream of perpetual adolescence and the idea that someone is always younger than you. I think we finally finish this arc with this movie. The adolescence is over here."
We await to see if The World's End will deliver as spectacularly for fans as its prequels did...
Published: Wednesday 19th June 2013