Just two weeks ahead of The Festival's release, star Joe Thomas joined director Iain Morris - taking time out from completing the edit of the film - to talk to us all about their latest big-screen comedy.
How did The Festival come about?
Iain: We at Fudge Park were looking to do some new British comedy films for Film4 and Entertainment Film Distributors. Joe Parham and Keith Akushie have been writing on and creating, respectively, Siblings, which Damon Beesley and I made at our previous company, Bwark.
They suggested a festival film and we felt it was a brilliant idea and world. We took it from there: Joe came on about 18 months ago after we did a read through and he was brilliant at it.
Damon executive-produced Siblings, so was this your first time of working with Joe and Keith direct, Iain?
Iain: Yeah it is kind of. I was involved a little bit with Siblings but not quite so much as I was living abroad at the time, but actually Joe Thomas has worked with Keith before as he wrote some of Fresh Meat Series 1.
Joe: Yeah, I knew Keith's work and I really liked him. He's a very thoughtful writer, I knew he'd do a good job with this. I didn't know Joe Parham quite as well but I'd met them both and knew they were working on this idea. I knew they'd do it well: it's such fertile territory for comedy, and I really think they've nailed it.
There are clearly a group of you - producers, writers, actors - who keep on working together. Particularly you two, Joe and Iain: what is it about you that makes such a good partnership?
Joe: I think it's a lot about trust, and about knowing somebody really well. Comedy's quite ... it can be difficult to collaborate with somebody on I think, because it's about letting yourself go and allowing yourself to be vulnerable a lot of the time. I think a lot of it is down to that.
Iain: Well first of all I find Joe really funny, so that's good! He's also very committed to the joke, which is always good. What he says about trust; he's willing to put himself out there to make something as funny as possible. Also, on the set of the film, we had a lot of nice, very funny people in it, and it felt fun in the same way The Inbetweeners felt fun. It's nice to have nice people around to make it all better.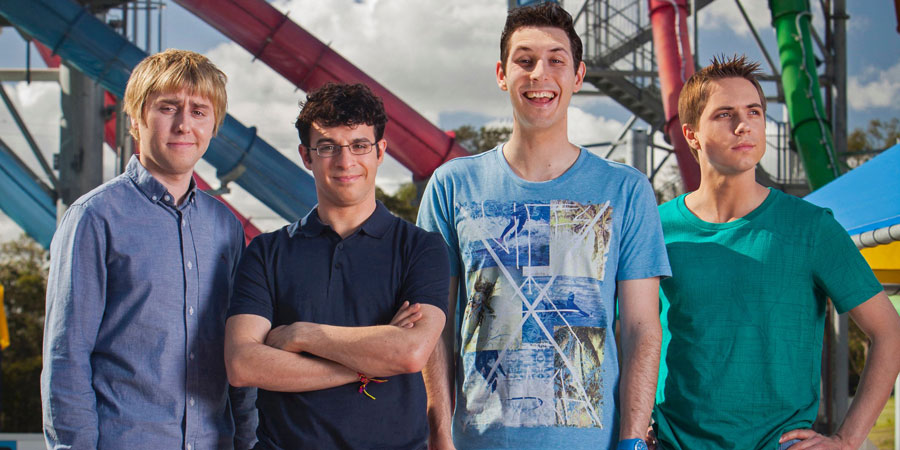 The Festival will inevitably attract a lot of comparisons with The Inbetweeners: early press reviews have included phrases such as "spiritual sibling". How do you approach the film and its reception?
Iain: Ooh, big tick! I'll have that. Yes, I would be absolutely delighted if people compared it to The Inbetweeners favourably because I'm really proud of the show. I can't believe people are still talking about it. I think it's totally natural that people would compare it and see it in the same light: me and Damon have made it, and we have pretty much the same sense of humour we did 10 years ago when The Inbetweeners started, so it makes sense that it would be thematically, or perhaps structured, similarly. I'm not worried by the comparison - I'd love it if people enjoyed it as much as they enjoyed The Inbetweeners!
And if as many people could watch it as watched The Inbetweeners, that'd reeeally make my life much easier!
And The Festival marks your directorial debut, Iain?
Iain: Kind of, yeah. I suppose so. But it was very collaborative. Between Joe, Jermaine, Hamid, Claudia - and Joe and Keith - and Claire Jones our producer, who's really brilliant, there've been a lot of other people helping along the way. But yes, theoretically I suppose it is, yes!
Would you take on another film as director?
Iain: Yeah, I'd love to! I've written another film with a friend of mine, American comedian Brett Gelman, which is an Agatha Christie spoof thing that I really love. Hopefully we're going to try to make that at some point in the near-future. Joe Thomas did a read-through for that as well and was very funny in it.
Joe: It was a great script!
Iain: Oh thank you. I think it's really funny - it's a sort of low-budget, British with some American actors in... Brett's really funny, we've been working on that for a bit, and once I'm out of the fog of The Festival - I haven't finished this film yet! - we'll come to that...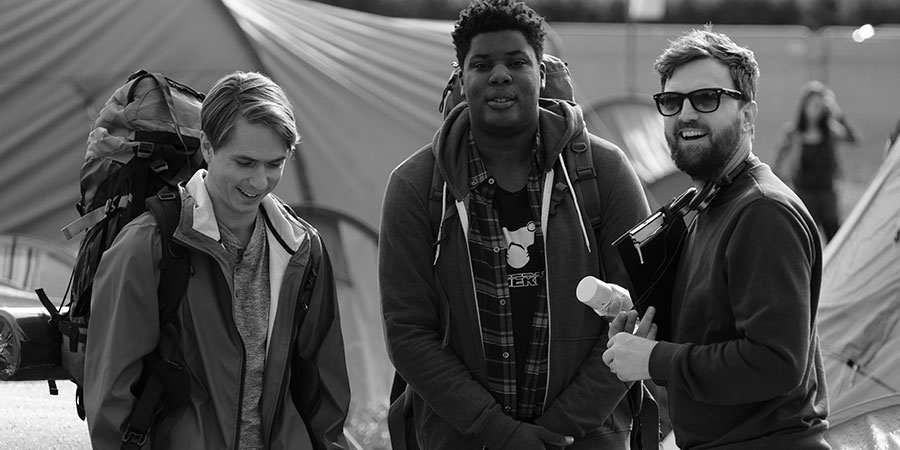 So you filmed at a number of real festivals for The Festival: where did you go?
Joe: We filmed at Bestival, and we also filmed at Leeds. It was a fantastic experience. Leeds was first, it was really sunny and quite joy-filled. Bestival was more intense; still a brilliant festival but rainier and muddier and I think we were doing more challenging scenes with more to shoot. It was incredible filming in those environments.
It's wouldn't have been possible to do the film without getting these genuine festival crowd shots. I got on the stage at Leeds and got the crowd to do some of the arm movements and stuff that we needed. That was really amazing - I was just really, really scared before I did it! I was incredibly relieved that went okay. I've been at festivals myself where someone comes on when you're expecting your favourite band and it's really irritating. And I'm thinking "oh God, now that's me!" but they were very charming. They were all chanting "boner!", but in a very warm way. That's all I want from anyone in my life.
Logistically, what was the experience like, especially when you're out amongst the crowds filming, not up on the stage?
Iain: It was pretty crazy! It's funny how, when you're lugging gear around, you realise how hilly most festival sites are! And those hills have a lot of mud. A normal film set is basically silent, everybody knows exactly where they're going. A festival is almost exactly the opposite of that. In a way it mirrored the experience of being at a festival, in the sense that we might not have the experience we quite want or that we thought we wanted, but we'll get something and it'll be great. You could point a camera at any corner of a festival and you'd get something memorable and amazing, so you almost couldn't lose. As long as you don't try to control it... A certain flexibility was required by everybody!
Does that become an absolute nightmare for continuity or is the sheer vibrancy of a festival reversely helpful?
Iain: I think a bit of both. It's that classic thing of running towards a problem rather than trying to control and solve it. You can use the fact that so much is going on and so many people are walking to so many different places to help the continuity and work everything together. I'm pretty proud actually of the way the film fairly seamlessly cuts in the real festivals with the set we used.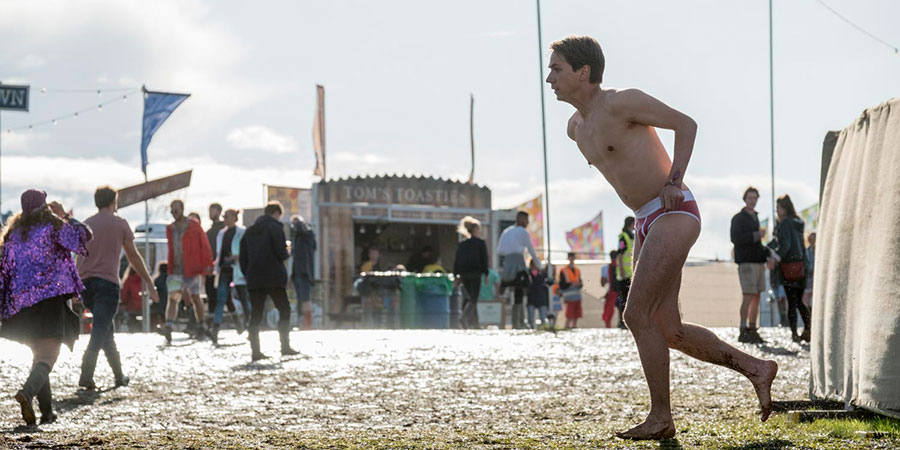 What was the most memorable part of the shoot?
Joe: [laughing] I think for me, there was a very long chase sequence where I had to run around Bestival in a pair of red pants. It's seared into my memory. It was so punishing really, as an experience. It was so long and we kept on filming it. People knew who I was and I couldn't get away from anyone quickly as you can't really run in mud! I was sort of waddling... I wasn't athletically impressive.
Iain: He didn't have any shoes on.
Joe: I felt physically demeaned and emotionally hurt. That was my most memorable experience.
Iain: For me it was not one moment but I just love the cast so much. They all brought something to the film and were really brilliant. Day to day it was Joe; Claudia O'Doherty, who I adore; and Hammed Animashaun, who's really, really funny. And in week one we'd had Jemaine Clement, who's a friend, but it was just so funny with him; and then towards the end it was Chris Geere, who I adore; and Noel Fielding was there; Nick Frost did a morning... So week-to-week I was just working with people that I really, really, really like. Comedians and comedy actors. It was always really fun and amazing to sit behind a monitor and watch what they were doing. Direct what they were doing!
---
The Festival is in UK cinemas from Tuesday 14th August 2018.