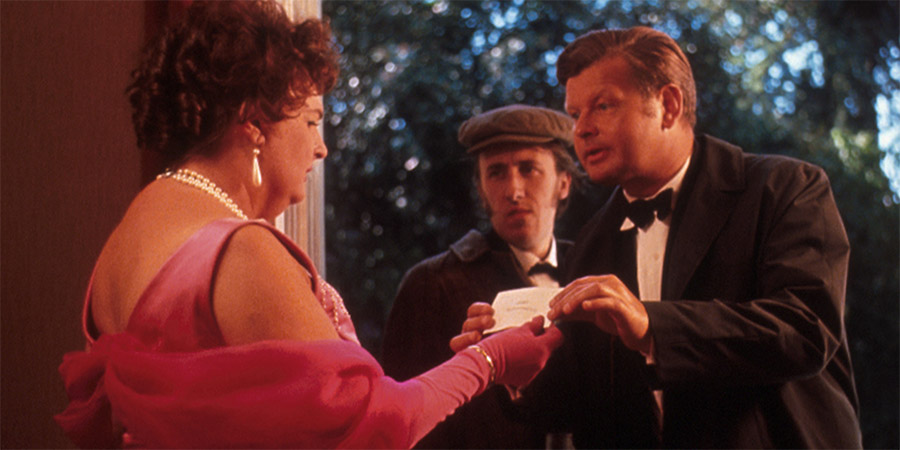 Genre

Film

Released

Starring

Benny Hill, David Battley, Arthur Hewlett, Pamela Cundell, James Ottaway, Jan Butlin, Nancy MacKeith and George Fenton

Writer

Director

Producer
Meeting the parents of their daughter's boyfriend for the first time, the proprietors of a small country house are keen to impress, and hire in the waiting services of Dibb's Serve-a-Meal to smooth the evening.
The lady of the house has prepared the lavish three-course meal for her guests, and as they await their arrival, the two part-time waiters also turn up. Slowly and with quite some encouragement from their clients, the reluctant pair begin to get to work. Having taken their share in advance, they begin serving the customary cocktails and canapes, but the meal becomes ever more disastrous as each course appears.
The spilling of food and the crash of dishes add to the chaos, and as the far-from-refined waiters bodge their way through the evening, the more senior of the two increasingly imposes himself upon his hosts to partake in gambling, port and brandy, billiards, and their comfortable drawing room!
Events reach their peak when his lecherous junior falls from an upstairs window when trying to see the host's daughter in a state of undress, badly injuring himself and in need of a swift trip to the hospital. Unfortunately, an ambulance won't be the only emergency vehicle attending the property before the end of the night.
UK certificate

U

Duration

30 minutes

Release date

1969

Distributor

Production company

Also known as

Laugh track

None
Website links