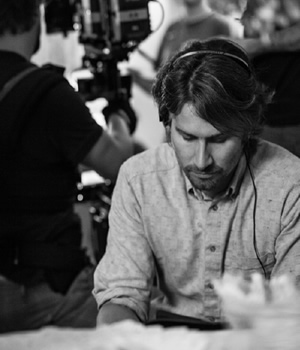 SuperBob director Jon Drever talks about how the movie came to the screen...
SuperBob has been a part of my life for a long time. It started in 2010 as a short film I made to win a trip to the Bahamas. The brief was to make a film about a local hero. I came up with a superhero called Bob Kenner. I wanted him to be a normal, lonely bloke, with the mundane problems we all face. The master stroke was asking my old friend Brett Goldstein to play Bob. The pitch I gave him for the character was "just because someone is the world's greatest brain surgeon, it doesn't mean they're good at parties". He got the idea. We spent a couple of afternoons improvising the script, spent £30 on sandwiches and a superhero cape and mask combo, and after a couple of weeks editing we had the short film.
I knew it was good right away. It's all about Brett's performance; it was so understated and funny and likeable. The short did pretty well and eventually got in front of Katherine Butler at Film 4. I asked her for a meeting, she kindly said 'yes' and not too long after that we got a development deal to try and turn a sweet 3 min short into a feature film. Will, Brett and I spent months working on the story outline. We went through many, many permutations and had fun and productive workshops in various cabins in various woods. We would come up with an idea, I would then workshop that idea with actors and then we would continue to write. It was a very rewarding way to develop a story.
With Brett on writing duty, it meant I had constant access to SuperBob. We could sit down and interview Bob if we got stuck and put him in weird situations and see what would happen. Brett took control of the screenplay and eventually we had a script we were happy with.
Robert Jones came on board as our producer and I knew that in his capable hands, we'd make a fantastic movie. He brought us in to the Fyzz, a company he runs with Wayne Marc Godfrey. In the end, there were three production companies behind SuperBob: Grain Media (the company I run with doc director extraordinaire, Orlando Von Einsiedel), Jones Co and The Fyzz Facility. I am very grateful to Robert and Wayne for having the faith to keep the project going.
The development process took a long time and there were many ups and downs and dark tea times of the soul. But, in the end, the rush to green light came quite quickly and before I could say "holy crap, are we actually going to make this thing?" we were on a street in Peckham about to roll on Slate 1, Take 1.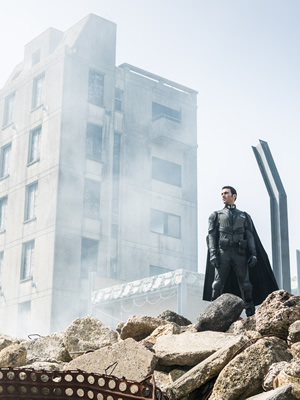 I've lived in Peckham longer than I've lived anywhere in my life and to me it is home. SuperBob is, in many ways, my love letter to Peckham. I find it amazing that some people are nervous of the area, and during pre-production I would tell anyone who would listen what a warm and peaceful place Peckham is, full of life and colour and community. So, when we had to shut down day one's filming for an hour whilst the police cleared out a madman with a knife from our street, I was a bit put out.
The three week shoot was one of the most fun times of my life. If you get the chance to direct a feature film, and it's not the result of a life long ambition, then I don't think you should be doing it. It was incredibly stressful, but absolutely a dream come true. There was one moment, when we were shooting the hero moments which sticks in my mind. Brett was standing on top of a huge pile of rubble. We'd put a load of smoke behind him. The steadicam was waiting to shoot. Brett looked every inch the hero in his black leather outfit. We were waiting for everyone to be ready and for "action" to be shouted and we caught each other's eye and that was it. We knew in that moment we'd achieved something great. This is what kids do for fun. This is what we'd dreamed about during the writing period, and now, here we were, actually making a superhero movie. It was magical.
Of course, we couldn't get the smoke to work properly, and the moment lasted about three seconds before I got some awful news about the next set up, but it was a wonderful three seconds, make no mistake.
During the shoot I always tried to put the actors first. I wanted them to be relaxed and comfortable and be free to improvise. I actively encouraged improvisation on set, or "fun time" as we called it. I'd often roll scenes together or start shooting a scene early and finish late to see where they would take it. It was important to me that we had a relaxed and fun atmosphere on set, and I like to think everyone had a good time making the film. It's very hard to make a comedy if everyone is in a bad mood. Of course, everyone might have just been brilliant at hiding how much they hated the shoot, but I hope not.
I was very lucky with our cast. They are all so talented and brilliant to work with. Natalia Tena was cast very early as Doris. When Brett and I first met her we were absolutely terrified. She came into the room with a bag of obscure food she'd picked up on Rye Lane, an arm fill of comic books and more energy than I'd ever seen. Being of Spanish descent, with a Columbian family, she really got the character, she was the perfect Doris. She is an extraordinary leading lady, a brilliant actor. She brings the screen to life. She takes all the energy she naturally has and distills it down until it just comes out of her eyes. I don't mean she has lazer eyes.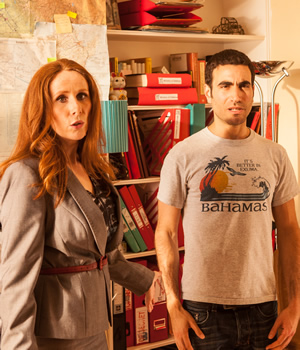 Catherine Tate loved the script. Quite understandably she wanted to meet Brett and I to make sure we weren't complete idiots who had absolutely no idea what they were doing. It's really lucky she loved the script. She was a delight to work with. I wanted her to improvise a lot and I think she really enjoyed that. It was important to me that she had a lot of freedom. By the end of the shoot she seemed to be enjoying herself so much that she would hang out on set longer than she needed to - not in an annoying way, in a nice way. Her and Brett worked excellently together and they have gone on to collaborate on other projects.
David Harewood came on to do a day for us during our pick up shoot. I wanted him to be the intelligent, pit bull reporter, who won't let his guests get away with shirking an answer. He's the lead of the chorus of newsreaders in the film, I love his Paxman-esque performance. I think Newsnight should give him a call.
All of the cast - Laura Haddock, Ruth Sheen, Ricky Grover, Matt Steer, Christian Conteras, Joe Wilkinson, Zoe Lyons, Camilla Beeput and the rest (oh no, sorry I didn't list everyone, that's awful 'the rest...' Oh God...) - were exemplary. They all worked so hard and delivered beyond what I could ask for. I am very grateful to them all.
I've always thought that the only way to be a good Director is to surround yourself with good people. My crew on SuperBob are all highly talented people. I had worked with quite a few of them before on commercials, and it was great to bring them on to my first feature. They all got what was in my head, and were very accommodating to my ideas. I like to collaborate a lot, and I wanted input from all my team. Costume, design, makeup and camera departments all came together to lift the film.
I wanted to make a sunny, upbeat, feel-good film and the crew made that happen. The weather helped too; it was London's hottest July for decades. The crew were fully committed to the film. They all seemed to believe in it so much. One evening, the sun was going down and we were minutes from having to wrap. I'd spotted a shot I wanted to do and before I could even ask if it was OK to set up for the shot after such a long day, the crew were running to make it happen. A box was set up, the steadi was built, smoke thrown behind Brett and we got another beautiful heroic shot with seconds to spare. The crew, panting, sweating, collapsed, happy that they'd nailed a truly beautiful shot. I'd like to take this opportunity to apologise to all of them for cutting the shot in the edit.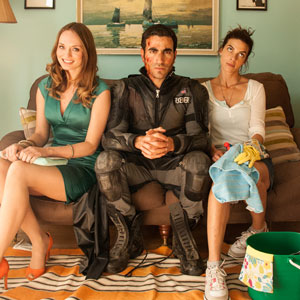 The edit took a long time to get right. Katie [Editor Katie Bryer] and I spent many weeks in the edit together driving each other mad. Richard "Tiny" Frazer (so called because he's completely average sized), supplied wonderful VFX for us to drop in the edit. Those were exciting days; seeing Bob fly for the first time. Improvisation comes with a lot of challenges in post-production. It took me a long time to find the right balance between the gentle humour of the film and the emotional dramatic moments. There are funnier cuts of this film, and more melodramatic ones too, but for me, this is the right one. After many months in a dark, dark room at Grain Media's offices in South London, we took the film to Goldcrest for sound and grade. The team there were a joy to work with and they turned our film into a movie.
Rupert Christie's score and Matthew P's tracks were the final touches. I love Matthew P's songs. When I heard his album I knew he'd get Bob. He's another wandering, confused romantic. Rupert knows exactly how to lift a scene with score. I'd quite like him to follow me round with his keyboard so when I ask someone if they'd like a cup of tea it sounds epic.
Lastly, I'd like to talk about Brett Goldstein. We've known each other since we were 15. Which is actually quite a long time now. It's been so much fun working on my first feature with one of my oldest friends. We speak on the phone most days, go on holiday together, and to now work together is wonderful. He's a great writer and performer and I know we'll be working together a lot throughout our careers.
I hope that SuperBob is to you what it is to me; a gentle, upbeat, positive and funny romantic story about a man who learns to fight for what's important.
Oh and go visit Peckham. It's really not that stabby.
SuperBob is in cinemas from Friday 16th October, and also available online from the same date with exclusive behind the scenes extras, bloopers and deleted scenes on WeAreColony.com
Published: Wednesday 14th October 2015