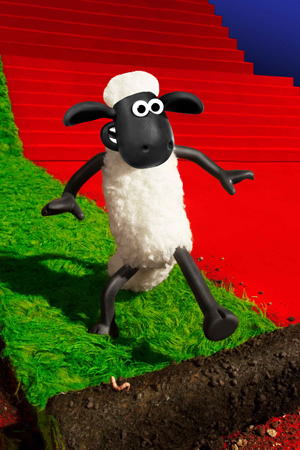 Shaun The Sheep Movie is doing great in cinemas. Whether or not you've seen it yet, you might find these statistics interesting...
- Shaun is 11 years-old in the sheep years, however he first appeared in the Wallace & Gromit short film, A Close Shave, 20 years ago.
- Shaun the Sheep has over 5 million Facebook fans.
- A Shaun puppet stands 17cm tall and weighs 100g.
- It takes a week and a half to make a Shaun puppet from scratch. 21 were used in the film.
- The total number of puppets used on Shaun The Sheep Movie was 354 (157 humans and 197 animals - of which 116 were sheep!)
- The puppets need constant maintenance. It takes 45 minutes to re-fleece one sheep.
- Over 80m of fleece fabric was used to fleece the flock. The fleece has to be stiffened with a spray of diluted PVA glue, to stop it 'boiling' under the studio lights and moving around when the animator touches it.
- 3000 mouth pieces were used to help give the characters expressions.
- The tiniest props used were Bitzer's whistle, The Farmer's glasses and Shaun's tape recorder.
- A full crew of 17 animators worked on the Shaun The Sheep Movie, producing an average of 2 seconds of animation per day.
- The film is comprised of 25 sequences, which range in length from one minute to five-and-a-half minutes each.
- There were 58 cameras, shooting across 33 units. 549,777 frames were taken - that's 5.5 billion, or 5,586,174,141,600 pixels.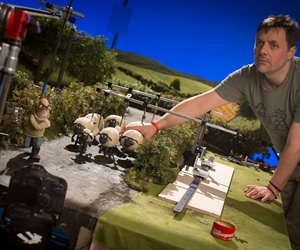 - So if there was just 1 animator making the whole film, how long would it have taken them to make it? Well, if each animator on average shot 2 seconds of footage per day, it'd be about 9 years!
- The edit department got through 8 catering-size tubs of kids sweets during production.
- There are 1589 'baa' sounds in the movie.
- The Blue Peter badge (from the iconic BBC children's show) appears on Shaun's satchel. This has appeared in other Aardman productions including The Pirates.
- Creator Nick Park was cast in a cameo role as the bird watcher.
- There are homages to other movies throughout the film. For example in the animal containment scene there is a cat whose behaviour is inspired by Hannibal Lector.
- Rizzle Kicks did a version of the internationally recognised Shaun the Sheep theme song Life's a Treat, and Eliza Doolittle also recorded a song for the movie called Big City.
Here's a 12 minute look behind-the-scenes on the film:
Published: Sunday 1st February 2015