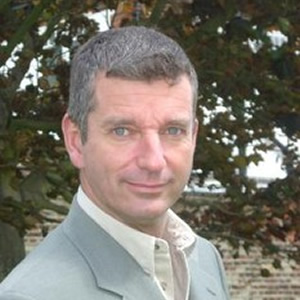 Tony Hawks is the bestselling author of One Hit Wonderland, Playing the Moldovans at Tennis, A Piano in the Pyrenees, and Round Ireland with a Fridge. He's also appeared on TV programmes including Have I Got News For You, A Bit of Fry and Laurie and Red Dwarf and is a regular on Radio 4 shows including The News Quiz and Just A Minute.
Round Ireland with a Fridge has been turned into a movie, and you can now watch it online for free...
Hi Tony. What instigated the idea to go round Ireland, and with a fridge?
I was getting a lift in this car and we passed an old guy on the side of the road who was hitching with a fridge (this was the first time I went to Ireland). It Just struck me as very strange. I remember recounting what I'd seen a few weeks later to friends in a pub back home in Brighton and saying that if there was one country where you could hitch with a fridge, it was Ireland. That's what sparked a friend to bet me £100 it couldn't be done.
You took four weeks to traverse Dublin, Donegal, Galway, Wexford and Waterford, with radio DJ Gerry Ryan bringing your adventure to the public...
Gerry got to hear about it and had me on one morning, Then I started ringing in every day. Pretty soon I was 'the fridge man' and the whole country was offering me lifts.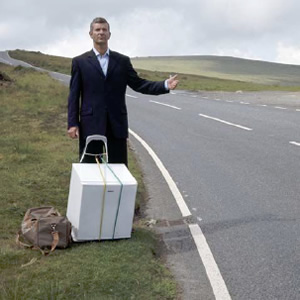 How did you go about writing the book?
Very disciplined. I worked 6 days a week for at least six months.
Why do you think it became such a success...
It makes people laugh - the Irish response was silly and inspired - and I think it appeals to people's desire to escape from the sometimes mundane aspects of life.
How did the idea about a feature film come about?
I was originally approached by producers...
At one point Hollywood star Brendan Fraser was considered for the lead, is that true?
Yes, we were close to shooting with him on board, but the financial package fell through in the end. The final casting process was thinking of people that we all knew who we thought would be good, and auditioning.
You approached Gerry Ryan to play himself in the film but, due to his radio commitments, he couldn't take up the offer. Instead filmgoers will see Ed Byrne playing a very similar-sounding DJ called Dylan Daley...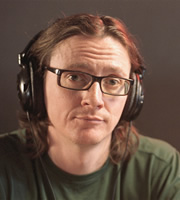 He's a kind of a Ryan, it's just a shame we couldn't get Gerry himself but Ed's DJ is a guy with the same feel.
What do you think the film adds to the book?
It probably has a better 'shape', and tells the story of a 'lost man finding himself' a little better.
How often do people mistake you for Tony Hawk the proskater?
I still get emails, but not so many. I used to skateboard onto stage when I toured my old one-man show.
What's next for you? Any new bets been made?
No plans for further bets! Filming has now been completed on the forthcoming feature film of Playing The Moldovans At Tennis, and the lengthy post production process is now underway.
I'm also off on a 32-date tour of my new one-man show. More details on tony-hawks.com
So people can now watch 'Round Ireland With A Fridge' for free online?
Yes, you just have to go to www.roundirelandwithafridge.com and click in the box. Totally free. If people like it we're asking for them to make a small donation - but no obligation. Fingers crossed we can recoup on our investment in this way. We'll see - but it's up to people to help us a little...