New Dad's Army film in development
New Dad's Army film in development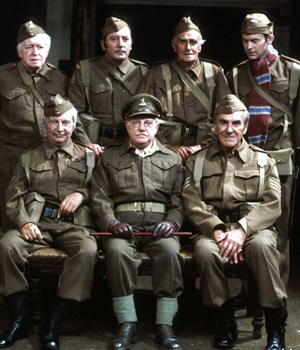 Thirty-five years to the day since the sitcom broadcast its final episode, details of a new film version of Dad's Army have been revealed.
The hit BBC sitcom, which remains BBC Two's most watched programme every Saturday, originally ran from 1968 to 1977, with Columbia Pictures producing a 1971 movie spin-off detailing the Walmington-on-Sea Home Guard's formation.
Series creator and co-writer Jimmy Perry spoke of the plans last month at a meeting of the Dad's Army Appreciation Society, to groans of dread from the audience. He admitted that those behind the new production wished the lead role of Captain Mainwaring - made famous by Arthur Lowe - to be taken by a woman.
For a period during the late 1960s and 1970s, almost every notable British sitcom had a movie adaptation produced, ranging from The Larkins' Inn For Trouble way back in 1960 to Are You Being Served?, two Steptoe & Son films, Nearest And Dearest, and 1980's Rising Damp.
Whilst almost all were commercial successes to a greater or lesser extent at the time, with three On The Buses movies proving to be particularly huge hits, few are now remembered fondly, if at all. However, whilst not as popular as the series on which it was based, the Dad's Army movie is widely regarded as one of the better adaptations of the era.
The news of a new Dad's Army film - with complete new cast - comes at a time when movie remakes of successful British comedies are once again in vogue, following the box office hit The Inbetweeners Movie in 2011. Dad's Army would on the surface seem a rather left-field choice of adaptation to make, but it remains a hugely popular series with Saturday afternoon repeats on BBC Two being the channel's most watched programme of the day, every week.
The proposed film is believed to be at a very early stage of development and few other details are known, but Jimmy Perry revealed that he had negotiated a deal over the show's rights with Ann Croft, the widow of co-writer, director and producer David Croft, who died in September 2011. Perry also admitted that he had no substantial role in penning the script, so could not comment on any possible storyline or setting.
Dad's Army joins sitcoms including Absolutely Fabulous and Miranda in being mooted for film spin-offs, although arguably somewhat less likely to come to fruition.
The news that the Captain Mainwaring role could become female is likely to be the most controversial aspect of the news, and is already being criticised as historically inaccurate. Midge Gillies, author of Waiting For Hitler, a history of British preparations for invasion in 1940, told The Independent newspaper that it was very unlikely the Home Guard saw any female captains: "It sounds like the film-makers are trying to update the series. The humour of it was originally about class and this would confuse things."
Clive Dunn, who played Lance Corporal and local butcher Jack Jones in the series, died last week at the age of 92. He was one of the final surviving members of the cast.
Here's the sitcom's most celebrated moment:
Share this page