Man & Witch cast
Reg D Hunter makes film debut with Eddie Izzard & Jennifer Saunders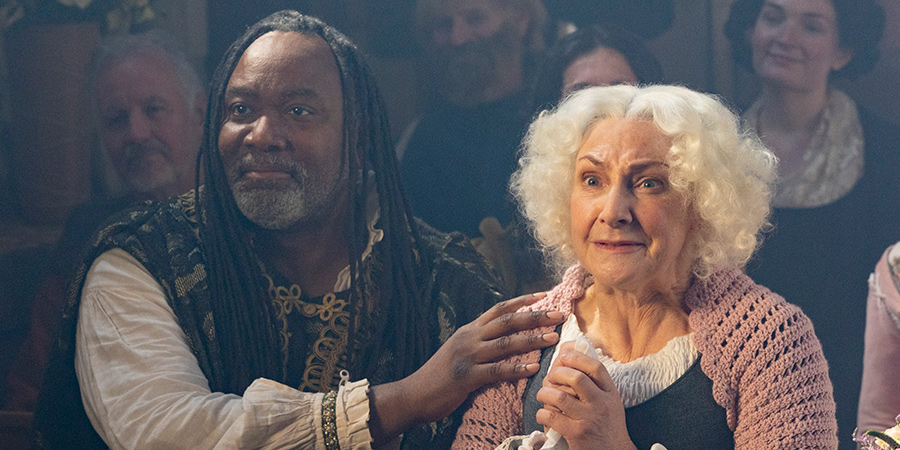 Eddie Izzard, Jennifer Saunders and Bill Bailey have joined comic fantasy film Man & Witch.
Reginald D Hunter is also making his feature film acting debut in the Scotland-shot family movie, appearing alongside Back To The Future star Christopher Lloyd and puppets from The Jim Henson Creature Shop.
Saunders, Izzard, and Bailey voice the characters of a goose, sheep, and donkey, respectively, in the family film about a lonely goatherd looking for love.
Father Ted star Pauline McLynn plays the mother of main character, The Man, while Hunter is her boyfriend, both of whom would like to live happily ever after in a home without disturbances.
Also featuring Still Game star Greg Hemphill, Man & Witch: The Dance Of A Thousand Steps, wrapped initial shooting in Glasgow in March, and is the debut feature of director Michael Hines (Still Game, Chewin' The Fat).
Described as "a heart-warming homage to the lo-fi fantasy films of the 80s" such as Labyrinth, The Princess Bride and The Dark Crystal, the movie co-stars Sean Astin (The Goonies) and Michael Emerson (Lost).
Tami Stronach, who played the Childlike Empress, aka Moon Child, in The NeverEnding Story, executive produces and stars as The Witch. The film is the first screenplay by her husband, Greg Steinbruner, who also plays The Man.
Steinbruner tweeted a photo of himself and Hunter on set:
See tweet
The American comic told Mark Radcliffe and Stuart Maconie on their BBC Radio 6 show that despite the film's retro fantasy look, his as-yet-undisclosed character didn't need a great deal of make-up, "but the make-up lady kept looking at me and saying 'just a few eyebrows and I think you good to go sir!'"
The plot sees Stronach's reclusive yet powerful and mysterious witch lose her heart to Steinbruner's hapless goatherd after he hires her to break a curse by an evil wizard.
Lloyd plays The Alchemist in the comic adventure, Astin is credited as The Dog and Emerson is The Evil Wizard.
Stand-up comedian Rachel Jackson has a role as Malodia The Ogress, as does Bhav Joshi (Beep, Dead Pixels), who plays Jerry the Jester. Game Of Thrones's Daniel Portman also features.
Currently in post-production, the film is seeking a distributor and aiming for a Christmas release.
Hunter, who will begin his delayed stand-up tour, Bombe Shufleur, in February, has barely acted on screen before.
However, he previously appeared in Greg Davies's sitcom Man Down and the 2005 short film Black Out from his erstwhile live show director and stand-up John Gordillo, as part of a cast that also included Katherine Jakeways and Ben Willbond.
---
For updates, click the button below.
Share this page