Patrick Kielty in Ballywalter
Patrick Kielty stars as a stand-up in new film Ballywalter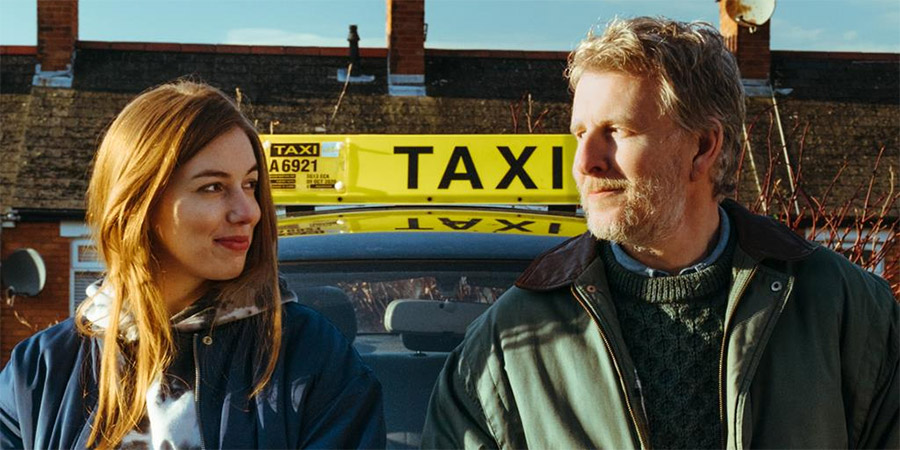 Shooting has wrapped on Ballywalter, Patrick Kielty's film debut as a leading man.
The bittersweet comedy, set in the titular village, stars the Northern Irish comedian as Shane, a budding stand-up whose marriage has recently broken up.
Seána Kerslake (Can't Cope, Won't Cope) co-stars as Eileen, a university drop-out living with her mum and making money as an unlicensed minicab driver, who picks Shane up.
Derry Girls' Paul Mallon also has a role in the movie, which was filmed on location in Northern Ireland and is the directorial debut of Defending The Guilty star Prasanna Puwanarajah.
The script was written by playwright Stacey Gregg, who shot her debut feature Here Before in 2019.
The film is produced by James Bierman of Empire Street Productions and Nik Bower of Riverstone Pictures, in a co-production with Alan Maher and John Wallace of Ireland's Cowtown Pictures.
The executive producers are Deepak Nayar, Natascha Wharton, Celine Haddad, Salman Al-Rashid and Sam Frohman.
Ballywalter has been financed by the BFI Film Fund, Screen Ireland, Northern Ireland Screen and Salmira Productions.
Kielty's father, Jack, was shot dead by the UVF in 1988, when the comedian and presenter was just 16. He recently described the early release of his father's killers from prison as "a price worth paying" if it helped achieve peace in Ireland.
Speaking to former Irish President Mary McAleese on her RTÉ show All Walks Of Life earlier this month, he described the killing as "an assassination".
Three men were convicted for the killing, receiving life sentences, but were freed under the Good Friday Agreement.
"When people say how do you feel about your father being killed, the one thing is I hope nobody has to go through it ever again," he said.
"So if you've got something that gives this place a chance to turn the page for the first time in history and be part of a generation that actually doesn't continue that cycle of violence, and if that means that the people who killed your dad are going to get out of jail, that's a price worth paying."
---
For updates, click the button below.
Share this page