Horrible Histories Movie cast
Cast list revealed for Horrible Histories: The Movie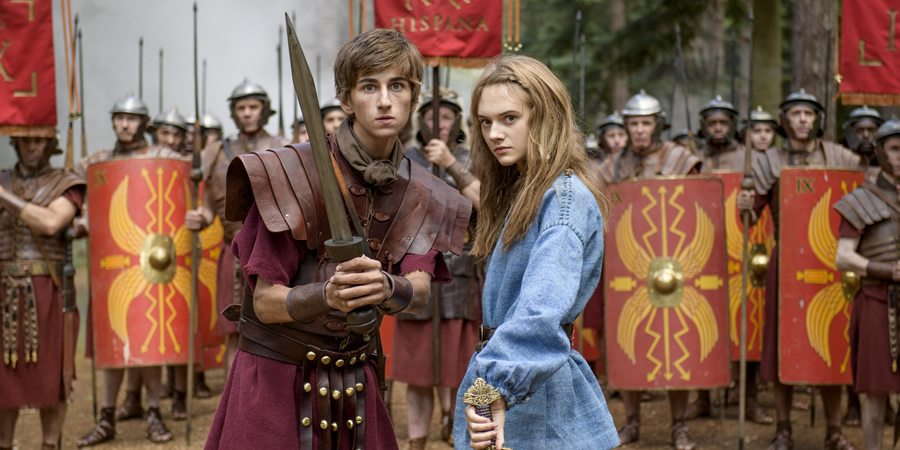 Full details have now been revealed for the new Horrible Histories film.
Horrible Histories: The Movie - Rotten Romans will be released in cinemas on Friday 26th July 2019, featuring a host of well-known British comedy actors in starring and cameo roles.
Based on the best-selling and award-winning children's historical comedy book series, the new movie - which British Comedy Guide revealed in September - will focus on a Roman teenager "with brains but very little brawn".
Filming is currently under way. Producers explain: "Shooting on location in the UK and Bulgaria, Horrible Histories: The Movie - Rotten Romans will transport audiences back to Roman Britain and embrace the timeless madcap humour and tone of Monty Python with the classic cult adventure of Princess Bride."
16 year-old Sebastian Croft, who played Young Ned Stark in Game Of Thrones, takes on the lead role of Atti; whilst 16 year-old Emilia Jones plays his Celtic rival Orla. Kate Nash will play the legendary Briton, Iceni tribal leader Boudicca.
Nick Frost will play Orla's father Arghus; Submarine star Craig Roberts will play Roman Emperor Nero; whilst Sex And The City's Kim Cattrall has signed up to play the Emperor's mother, Agrippina. Notably, Sir Derek Jacobi is reprising his iconic role as Claudius for the film.
Sarah Hadland, Sanjeev Bhaskar, Dave Lamb, Jessica Ransom, Tom Stourton, Dominique Moore, Richard David-Caine, Lawry Lewin, Katy Wix, Katherine Jakeways - all of whom have appeared in the Horrible Histories
CBBC TV series - also have roles in the film.
Additionally, Sherlock star Rupert Graves will appear as Governor General Paulinus, and will Alex Macqueen portray Nero's assistant, Sycophantus.
British comedy stars such as Alexander Armstrong, Lee Mack, Warwick Davis, Lucy Montgomery, Jamie Demetriou, Tony Gardner, Kevin Bishop, Samantha Spiro, Ella Smith, Dan Renton Skinner, Dustin Demri-Burns, Tim Downie and Chris Addison have also been announced in the initial cast list.
The film's storyline focuses on Atti being forced to join the Roman army when "one of his clever schemes falls foul of Emperor Nero". He is sent to "miserable, cold, wet Britain" where "the natives are revolting - quite literally".
Producers say: "Things go from bad to worse when Atti is captured by Orla, a feisty teenage Celt desperate to prove herself as a warrior. After narrowly avoiding a very sticky end in a bog, Atti uses his Roman know-how to help Orla save her gran who's been kidnapped by a rival tribe. Meanwhile a furious Nero is determined to crush the rebellion, led by Boudicca, Queen of the Iceni. Atti rejoins his Roman troops and discovers they are preparing for an historic showdown with the Celts at the Battle of Watling Street."
They tease: "Atti's brains could save the day but they could also spell disaster for Orla as the two new friends find themselves lined up on opposite sides of the battlefield."
The project reunites Caroline Norris, Giles Pilbrow and Dominic Brigstocke, the creative team who originated and produced the first five series of the hit sketch show.
As previously revealed, the film's script was written by Jessica Swale, with producers Pilbrow and Norris. The project will see Dominic Brigstocke, who has worked on shows such as I'm Alan Partridge and Green Wing, making his directorial feature debut.
The film is being made by Altitude Film Entertainment and Citrus Films, collaborating with Lion Television, Lorton Entertainment, Scholastic Entertainment, BBC Films, CBBC, Ingenious Media and Silver Reel and, as a result, is being overseen by 16 executive producers.
Caroline Norris says: "Following the extraordinary success of the books, theatre shows and TV series, it's a real honour to be taking Horrible Histories to the next level. Making Horrible Histories: The Movie - Rotten Romans with such a stellar cast and crew really is a dream come true - albeit a dream full of mud, poo and horse wee."
Will Clarke from Altitude Film Entertainment says: "We're delighted to start production on Horrible Histories: The Movie - Rotten Romans with our friends Dom, Caroline and Giles at Citrus. We're grateful to our partners, in particular Rose at BBC Films, Cheryl at CBBC, Chris at Amazon, Julian at Lorton and our pals at Ingenious and Silver Reel. Horrible Histories is a hugely popular franchise with parents and children alike and we can't wait to bring it to the big screen."
Rose Garnett from BBC Films comments: "We are over the moon at the opportunity to be a part of Horrible Histories coming to the big screen, and excited to be working with BAFTA award-winning comedy director Dominic Brigstocke on his feature directorial debut. Horrible Histories: The Movie - Rotten Romans is a joyous project that combines the very best of the beloved BBC TV series, whilst capturing the scale and energy of a feature film."
Richard Bradley of Lion TV adds: "It's been incredibly exciting to see Horrible Histories leap from the page to the small screen so successfully. We are thrilled it is now to hit the big screen and hopefully find a worldwide audience of new fans - young and old - for its unique blend of gruesome history and side-splitting comedy."
Terry Deary, author of Horrible Histories, says: "I am delighted to be so involved in bringing my books to life on the big screen. This could be the most horrible movie you'll see in 2019. Fans old and new, young and aged will love the horribly hilarious action."
Iole Lucchese from Scholastic Entertainment comments: "We are so proud of Horrible Histories. Terry Deary's words and Martin Brown's pictures have entertained and engaged children for 25 years and we are thrilled by the creative team who will be bringing Horrible Histories to life on the big screen."
Horrible Histories: The Movie - Rotten Romans will be released in UK and Irish cinemas on 26th July 2019. The BBC has free-to-air TV broadcast rights, whilst Amazon has bought video-on-demand streaming rights.
---
For updates, click the button below.
Share this page