How To Sell A War
Katherine Parkinson stars in comedy How To Sell A War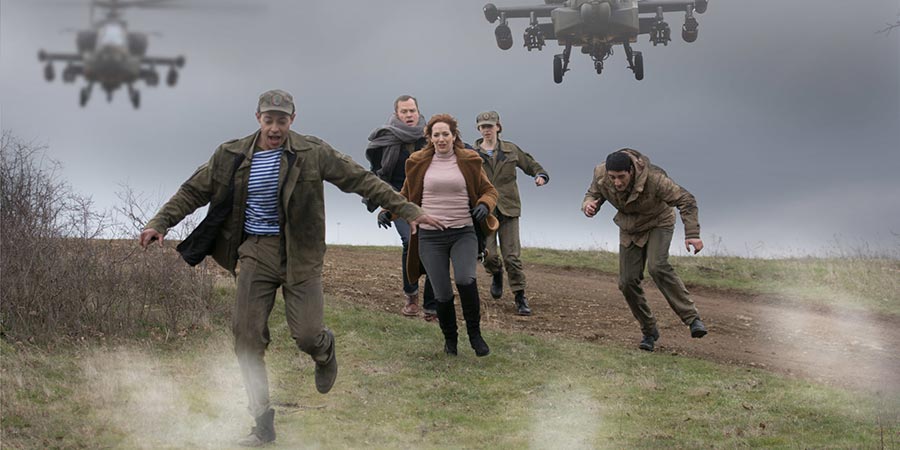 Katherine Parkinson is starring in a new film about faking a conflict, How To Sell A War.
Directed by the son of acclaimed film-maker Werner Herzog, Rudolph, the political satire co-stars Lily Newmark as her naïve niece, in a script by Tim Price.
The production has just finished filming on location in Georgia and Dublin.
Comedy How To Sell A War is set against the backdrop of a huge Live Aid-esque anti-war benefit event, with a key concert set to be held in London in mere days. Focusing on attempts by a Russian warlord to annexe part of Georgia, 'War on War' looks to be thrown into disarray - and risks celebrating Boris the Butcher - when he calls a ceasefire just days before the show.
Under the direction of megalomaniac event organiser Harry Hope (American actor Jay Pharoah), over-confident PR consultant Kate (Parkinson) and her niece and intern, Peggy (Newmark), must create a fake news story that claims the war is still raging in order to make sure the London-based event is a huge success.
Meanwhile, the Governor of Svaneti, in Georgia, needs to fabricate a humanitarian crisis in order to get NATO backing in his fight to halt Russian annexation. He needs a moral imperative to start a real war, and swing Western public opinion in his favour in order to get British soldiers on the ground.
Peggy, an ambitious young woman with a marked physical disability, is thrown into the deep end on just her first day in the job, and soon becomes an indispensable pawn in the highly sensitive case.
Samantha Taylor of Dublin-based production company Film And Music Entertainment, says: "It's really exciting to be producing How To Sell A War at the present time. Katherine and Lily, our extremely talented lead actors, play two very funny women who stick it to the bully man, news-fakers, and to celebrity bullshit in general.
"With Rudolph directing a blazing script from Tim Price this is going to be a brilliant comedy trip. No one is safe. To paraphrase, humour isn't about appeasing the patriarchy but rolling over it in an armoured car."
Bankside Films director Stephen Kelliher, whose company is looking for a distributor on behalf of the producers, says: "We are thrilled to be bringing this whip-smart comedy to worldwide buyers.
"It is an incredibly timely piece which speaks to the world we live in today. We feel sure that its laugh-out-loud satire will resonate with international audiences and that the creative team will excel in bringing the ultimate story of fake news to the screen."
The film is now in post-production.
---
For updates, click the buttons below.
Share this page