Early Man trailer
Voice cast announced for Early Man, as trailer released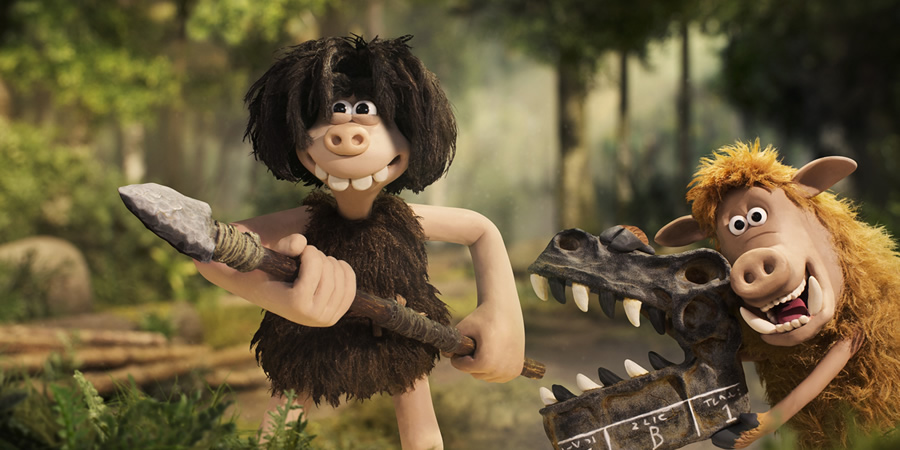 The new teaser trailer for Aardman Animations film Early Man has been released today, including confirmation of the British comedy talent who will be voicing the film.
Early Man, which is due to be released in cinemas on the 26th January 2018, is set at the dawn of time, when prehistoric creatures roamed the earth, and tells the story of courageous caveman hero Dug and his best friend Hognob as they unite his tribe against a mighty enemy Lord Nooth and his Bronze Age City to save their home.
Eddie Redmayne has previously been announced as voicing Dug, with Tom Hiddleston playing Lord Nooth, and Maisie Williams as Goona, however today a host of British comedy talent has been revealed as the voices of 'the tribe'.
Timothy Spall takes on the role of Chief Bobnar, with Richard Ayoade as Treebor, Johnny Vegas as Asbo, Mark Williams as Barry and Gina Yashere as Gravelle. I'm Alan Partridge star Simon Greenall will voice Eemak and Benidorm's Selina Griffiths will play Magma.
The producers say: "Shot in Aardman's own distinctive style, the film will take audiences on an extraordinary journey into an exciting new world unleashing an unforgettable tribe of unique and funny new characters voiced by an all-star British cast."
Early Man is currently being filmed in Bristol and marks the return to directing for four-time Oscar-winner Nick Park.
Speaking about the new trailer, Nick Park comments: "Today we get to meet Dug's tribe, a loveable bunch of misfits voiced by some exceptional British talent. They're essentially a group of inept cavemen and women including Treebor, played by Richard Ayoade, a gentle giant scared of his own shadow; Magma, Treebor's no nonsense mother voiced by Selena Griffiths and Mark Williams as Barry, whose best friend is a rock. Chief Bobnar, voiced by the brilliant Timothy Spall, leads the pack as their long-suffering leader, and father figure to his tribe of idiotic brutes."
Below is the teaser trailer:
Share this page