BBC drama to focus on Laurel and Hardy's 1953 UK tour
BBC drama to focus on Laurel and Hardy's 1953 UK tour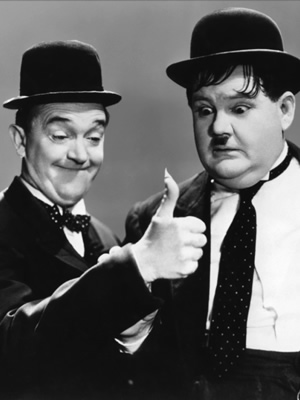 BBC One has commissioned Stan And Ollie, a biopic focused on the later years of Laurel and Hardy, the double act who became famous worldwide for their slapstick comedy films.
The 90-minute show, which is being overseen the corporation's in-house comedy department, aims to tell the tale of the duo's 1953 UK tour.
The one-off TV episode has been written by Jeff Pope, who recently worked on the movie Philomena, and prior to that the TV comedies The Security Men and The Fattest Man In Britain.
Stan Laurel was an Englishman, whilst Oliver Hardy was American. Laurel entered the world of theatre aged 16, and set sail for America a few years later on the same ship as Charlie Chaplin with the aim of appearing in films.
He forged a successful solo career in Hollywood, however after starring in the silent short film Putting Pants in 1927 with the heavyset Harlem-born Oliver Hardy, the duo soon became a double-act. As a team, they went on to perform in 107 films, including the likes of Big Business, and became an inspiration to generations of comics, including Eric Morecambe and Ernie Wise.
Speaking about the new production, the BBC say: "It tells the story of the duo's 1953 UK tour. Their shtick - Stan the wide-eyed ingénue, Ollie the pompous fool, their meticulously rehearsed physical routines and their charming musical numbers had made them superstars all over Europe, South America and beyond. However, a split from their controlling mentor, the vagaries of studio politics and a run of poorly received films had resulted in their star falling. A series of acrimonious divorces, alimony battles and Oliver Hardy's failing health didn't help.
"The British tour was supposed to relieve some of the gloom and, despite numerous glitches, the public loved them. Audiences grew and grew as word spread that Laurel and Hardy were back and as funny as ever and, as audiences swelled, so did morale. But as their careers and friendship blossomed, disaster struck as Ollie suffered a heart attack. He tried to carry on performing on the tour, but it became clear that he was too ill. Replacement performers were found to fill in but, without Stan and Ollie's charm and warmth, the shows simply weren't the same.
"Eventually, with it clear that Hardy's health problems were serious, Stan was offered the chance to perform alone, but refused. He realised that neither worked without the other, that they were so much more together than they were apart. Appreciating the sacrifice made by his friend, Ollie roused himself from his sickbed for a few last, triumphant performances, the very last of their extraordinary career.
"Ollie died not long afterwards and Stan never performed again, but their films endure and are still popular all over the world half a century later."
Charlotte Moore, the Controller of BBC One, says: "Stan And Ollie demonstrates the fabulous range of comedy on BBC One. Written by Jeff Pope, this is a poignant single film about one of Britain's best loved double-acts."
BBC Comedy Commissioner Shane Allen adds: "Stan And Ollie is Jeff's love letter to two pioneers and enduring giants of screen comedy. It beautifully captures the deep emotional bond forged over a lifelong partnership as they reflect on their rollercoaster careers through the prism of this final UK farewell tour. An epic story about the world's most famous comedy double-act to date, told with great insight and heart."
The programme will be filmed and broadcast in 2014. Casting details are expected to be announced early next year.
Share this page