The Inbetweeners head to Australia for second film
The Inbetweeners head to Australia for second film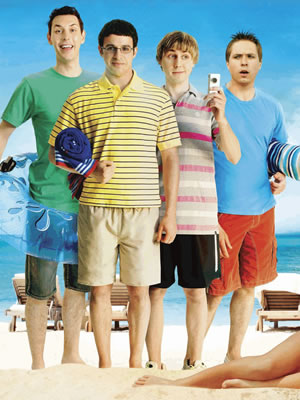 The Inbetweeners movie sequel is to be set in Australia, its writers have revealed.
Creators of the hit E4 sitcom, which was spun-off to its own feature film in 2011, Iain Morris and Damon Beesley said in a statement: "So, the news is (drumroll)... filming is about to start and yes, it's set in Australia. We can't say too much as we don't want to spoil the jokes for you, but what we can exclusively reveal is there will be kangaroos. And Australians. And possibly koalas. Oh and obviously Jay, Will, Neil and Simon providing they're let into the country."
They added: "Thanks so much for all your support, we're hoping to deliver a film that you'll enjoy even more than the last one."
The first Inbetweeners Movie was a surprise and runaway smash-hit success. With takings to date nearing £60 million, it is the most successful British comedy film of all time.
Spencer Millman, a producer formerly with Avalon Television whose credits include Greg Davies's recent Channel 4 sitcom Man Down and mainstream ITV hit Harry Hill's TV Burp, will oversee the production.
Filming is expected to begin shortly, with a release date already set for Wednesday 6th August 2014.
Here is the trailer from the first film, released in August 2011. It is available to buy on Blu-ray and DVD.
Share this page