The Inbetweeners Movie 2 in pre-production
The Inbetweeners Movie 2 in pre-production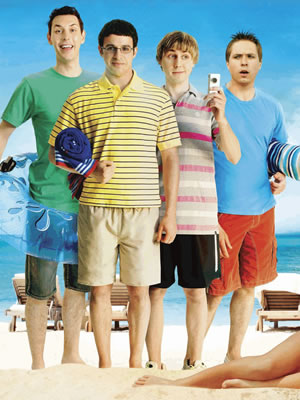 Channel 4 has confirmed that a second Inbetweeners film is now in pre-production.
The broadcaster first confirmed that its film production arm had ordered the development of a sequel film late last August, with multiple stories earlier this year reporting and refuting further detail about the project.
Based on the hit E4 sitcom The Inbetweeners, which ran for three series from 2008 to 2010, the first Inbetweeners Movie was released in August 2011, becoming one of the most successful British comedy movies in history.
Creators and writers, Iain Morris and Damon Beesley said in a press release today: "We couldn't be more excited to be making another Inbetweeners movie with Simon Bird, Joe Thomas, James Buckley and Blake Harrison. Frankly it's pathetic how much we've all missed each other. A new chapter in the lives of the Inbetweeners feels like the very least we can do to thank the fans for their phenomenal response to the first movie."
The runaway success of the first film, which is believed to have made almost £60 million from a £3 million budget, has reignited the British comedy film genre, and confidence in television adpatations in particular.
Film versions of BBC sitcoms Absolutely Fabulous and Miranda are understood to be in development; a Harry Hill movie will be in cinemas in December; a big screen outing for Alan Partridge will be released next week; and a movie spin-off from smash-hit Anglo-Irish sitcom Mrs. Brown's Boys will begin filming in September.
Today's confirmation of the movie's progression from script to screen means that The Inbetweeners will join the ranks of sitcom greats On The Buses, Mr. Bean, Steptoe And Son and Till Death Us Do Part in having more than one film based upon them.
The Inbetweeners Movie 2 (a working title) will be made by Bwark Productions and released at the start of August 2014.
Here is the trailer for the first Inbetweeners Movie, which saw the school friend central characters embark on a "lads' holiday" to Greece:
Share this page