Second Keith Lemon film planned
Second Keith Lemon film planned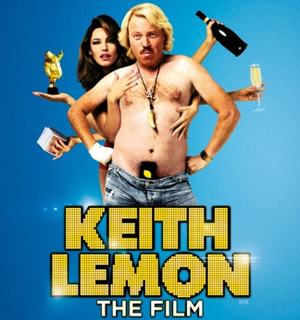 Comic character actor Leigh Francis has confirmed he plans to make a sequel to his 2012 Keith Lemon film (pictured).
Speaking in character as Keith Lemon, Francis told the website Digital Spy: "Next year I'll be doing another film, but I'm not allowed to talk about that so I won't."
He clarified that the film is planned as a sequel to the first, but with changes: "Yeah, but it'll be a different direction. I know what I'm doing, but I've only written four pages."
Keith Lemon: The Film, released in August 2012, told the story of how the small-time businessman became an overnight multi-millionaire thanks to a cunning marketing ploy, before circumstances changed his fortunes overnight.
The movie was written by Francis and Paul Angunawela, who also directed, and featured a notable number of celebrity cameos, including Kelly Brook, Gary Barlow, David Hasselhoff, Verne Troyer and many Celebrity Juice regulars.
Shot on location in Belfast in early Winter 2011, the film was distributed by Lionsgate Entertainment.
Francis confirmed that model Kelly Brook would likely feature in the second film too: "I'm working with Kelly on something in January next year... I thought she did a great job [on Celebrity Juice]. I thought she was fantastic and we will miss her."
News of the sequel will raise eyebrows in some quarters as the first film was universally loathed by critics. Film review website Rotten Tomatoes currently records a 0% positive rating for Keith Lemon: The Film from critics, and just 19% from viewers.
However, box office takings for the film totalled more than £4 million, with the Celebrity Juice's many fans believed to have propelled DVD and Blu-ray sales.
If the second Keith Lemon movie does indeed come to fruition, it is likely to be filmed during 2014 for release either later that year or at some point in 2015.
Meanwhile, spoof reality show Lemon La Vida Loca returns to ITV2 tonight for a second series. The run will observe as Keith Lemon copes with the break-up from his long term girlfriend, Rosie. The character then attempts to make an impact on the celebrity dating circuit.
As reported last week, Francis - as part of the ITV series - has released a music track on iTunes called I Wanna Go On You, in aid of ITV charity Text Santa. Speaking about the single, Keith Lemon says: "Music has always been me main passion. That and women. I still love doing telly but I'm hoping to smash the music world's back doors off. And it's all for a good cause, my payment is the privilege to express meself musically."
ITV is relying heavily on the popularity of the Keith Lemon character for a number of formats. Whilst panel show Celebrity Juice remains the most-watched programme on female-orientated ITV2, later this year Lemon will star in a revival of Through The Keyhole, believed to be lined up for a primetime Saturday evening broadcast slot.
Celebrity Juice will be back on screens later this year, with Series 10 expected to begin in September. Fearne Cotton, who was on maternity leave during Series 9, will return alongside Holly Willoughby. Lemon quipped: "It will be nice to have Fearne back, so I'm looking forward to seeing her miserable face and taking the piss out of it. It was always planned she was going to come back."
Below is the trailer for the first Keith Lemon film:
Here is the music video for I Wanna Go On You:
And below is the trailer for the second series of Lemon La Vida Loca.
Share this page