Al Murray working on a Pub Landlord film
Al Murray working on a Pub Landlord film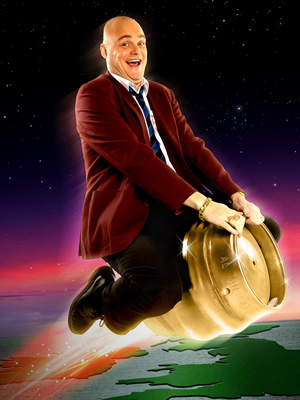 Al Murray has revealed he wishes to make a film featuring his Pub Landlord character.
Speaking to The Sun newspaper he said: "I'd love to do a Pub Landlord film - in fact there's a script and some stuff already written."
However the comedian stressed that the project might not happen, adding: "But with movies, you have to go and find someone who wants to make it. I guess it's 'in development'. With most projects I always think that until it's in the bargain bin of a service station for £1, it hasn't actually happened!"
Murray has been performing his Landlord character since the 1994 Edinburgh Festival, and continues to sell out venues across the country.
He has also hosted various television shows as the publican, including 2005 comedy quiz show Fact Hunt, 2007 chat show Al Murray's Happy Hour and 2011 game show Compete For The Meat.
Between 2000 and 2002, he also starred in two cult-hit series of Sky1 sitcom Time Gentlemen Please, set in the guv'nor's run-down pub.
Speaking of the character's longevity, Murray said: "I can't believe it - that was never the plan. In fact there was no plan! The character was invented by accident, the most brilliant, divine accident to have happened. I think to myself, 'How the fuck did that happen?' It's amazing. If I'd sat down to try to work something out, I'd never have come up with it - but it seems to be working."
A number of films about British comedy characters have recently been screened or are currently in production. Recent cinema offerings include Keith Lemon: The Film, whilst Alpha Papa, a film based around the character of Alan Partridge, is currently filming. Also filming at the moment is The Harry Hill Movie, featuring a cast including Julie Walters and Jim Broadbent.
Murray was speaking to The Sun to promote his new radio show on digital station Planet Rock. Starting this weekend, and running every Sunday from 10am till noon, Murray will present a show called Defender of the Planet Rock Tradition. Speaking at its launch, he said: "As the world faces a relentless assault of cardboard cut-out pop, Planet Rock is the last bastion of amps, riffs and axes. It's an honour to be asked to do my bit."
It was also announced today that Murray will be returning to BBC Radio 5 Live. He has presented topical panel show 7 Day Sunday for the station since January 2012, and the format is set to return for another twelve-part series from next month. However, often broadcast live at the same time as the new Planet Rock show, the returning series will move from Sundays to Saturdays, prompting it to be re-named 7 Day Saturday.
Starting in June, 7 Day Saturday will feature regular Andy Zaltzman and guest comedians discussing the week's news. Murray says: "It's going to be great to get our hands on the news a whole day earlier than before."
Below is an episode of Mat Ricardo's London Varieties in which Al Murray talks about how he devised and developed The Pub Landlord character. The interview starts approximately 22 minutes into the video:
Share this page