Casting revealed for film by Outnumbered writers
Casting revealed for film by Outnumbered writers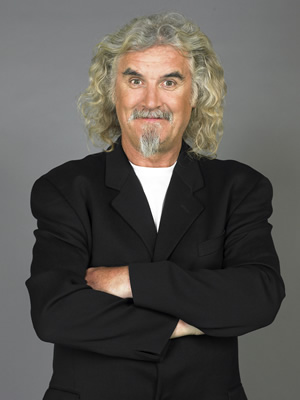 Casting details have been revealed for a new feature film from the writer-creators of hit sitcoms Outnumbered and Drop The Dead Donkey.
What We Did On Our Holiday, due to begin filming in the middle of June, will follow a family of similar make-up to Outnumbered's Brockmans - including three young children - as they holiday in Scotland, visiting one of the childrens' grandfathers on his 75th birthday.
Billy Connolly will star as the grandfather, with Twenty Twelve's Amelia Bullmore, comedian Ben Miller, Bond girl Rosamund Pike, and former Doctor Who star David Tennant completing the leading adult cast members.
The film was revealed to be in development in March 2012, when the production was described as having been "inspired" by hit BBC One sitcom Outnumbered's dynamic, and part-improvised, part-scripted method of production.
What We Did On Our Holiday is described as follows: "Doug and Abi are taking their three children on a trip to Scotland for a big family gathering, but the couple are in the midst of a difficult divorce and have asked their kids to keep it a secret from the rest of the family.
"As the inevitable feuds kick in, a completely unexpected turn of events involving the children causes further tensions to rise to the surface. And with the repercussions that ensue - hilarious and emotional in equal measure - the family are forced to put aside their differences and work together or else risk losing what they hold most dear."
Produced by Origin Pictures in association with BBC Films and with backing from Creative Scotland, filming is scheduled to take place on location in Glasgow and across the Highlands from Monday 17th June. When complete, the movie will be distributed in the UK by Lionsgate.
Andy Hamilton and Guy Jenkin, who created, write and direct Outnumbered, have written the script for What We Did On Our Holiday, and will jointly direct the feature.
Their most recent original project together was apocalyptic Channel 4 comedy pilot Just Around The Corner. The pair are also known for hit 1990s topical satire sitcom Drop The Dead Donkey, and 1980s' comedy The Kit Curran Radio Show, amongst other titles.
Hamilton is a particularly prolific solo writer, with credits including Trevor's World Of Sport, Old Harry's Game and Bedtime. Jenkin's solo credits include recent satirical journalism comedy drama Hacks.
A fifth series of Outnumbered has been ordered, and is expected to broadcast on BBC One late this year or early in 2014.
Share this page