Inbetweeners Movie sequel details refuted
Inbetweeners Movie sequel details refuted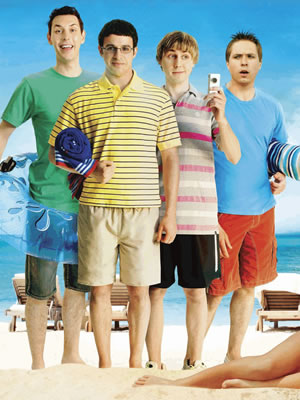 Reports that the second Inbetweeners movie will be set in Australia have been denied, but it is now confirmed that there are definitely plans to launch a second film in cinemas next year.
The Sun newspaper today reported in its showbiz section that the four main cast members - James Buckley, Simon Bird, Blake Harrison and Joe Thomas - have all just signed up for another movie, which would be set around a backpacking trip to Australia.
Reporter Gordon Smart quoted a source as saying: "It wasn't easy for any of the guys involved to call it a day after the last film. They were a tight-knit family and really missed each other when it all came to an end. The writers, Damon Beesley and Iain Morris, have been knocking ideas around for a while and came up with something they thought would be good enough to maintain the high standards they have set. They never thought all the lads would be up for coming back so soon as they have become big stars in their own right. But when James said he was game the other week, everything seemed to click into place."
However, the show's official Facebook group was used this morning to deny the story, saying that contracts with the cast have yet to be confirmed and that the film might not be set in Australia.
The full message posted on Facebook is as follow: "Facebook 'Fwends' - we told you you'd be the first to hear about Inbetweeners stuff, and although that's still true, The Sun went rifling and found some stuff out about a sequel. Nothing's signed yet, and Australia is just one of the ideas we're kicking around, but we hope to have a new and definitely final film for you some time next year. We hope you miss us as much as we miss you."
The Inbetweeners Movie opened in cinemas in August 2011 after three successful series as an E4 sitcom and became a huge box office hit. The film, which followed the four lads as they went on their first holiday together without their parents, took more than £45 million at the box office and went on to become a best-selling DVD that Christmas. The success of the movie continued into 2012, with an impressive 3 million viewers tuning into Channel 4 when it was premiered on the network last November.
Earlier reports suggest that the stars could earn £2.5 million each if they sign up for another film. James Buckley, who plays Jay, recently said he misses working on the show; Blake Harrison - dim Neil in the comedy - has expressed an interest to make another film; and Simon Bird who plays Will said in October he'd sign up to the project if the script was right.
The writers are on record saying they will not rush any scripts. Talking to The Radio Times in October, Iain Morris said: "It's down to us to write a script that we think is worth everyone's time; Inbetweeners fans are more discerning and vocal than people give them credit for. The last thing any of us wants is a cheap cash-in. At the moment, that script is at version 0.5, so we're getting close ... but we're not there yet."
Share this page