Alan Partridge movie title and release date revealed
Alan Partridge movie title and release date revealed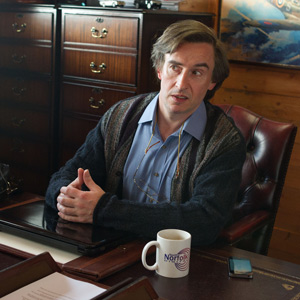 The full title for the upcoming Alan Partridge feature film has been announced.
Previously known as simply Alan Partridge: The Movie, the big-screen outing for Norfolk's favourite fictional radio DJ is to be known as Alan Partridge: Alpha Papa.
It will be released on Wednesday 7th August 2013.
Starring Steve Coogan as the eponymous loser, the film has been written by Coogan with Armando Iannucci, brothers Neil and Rob Gibbons, and Peter Baynham.
The film will follow Alan's quest for justice when his beloved radio station, North Norfolk Digital, is taken over by a huge media conglomerate and rebranded.
Felicity Montagu will star alongside Coogan in the movie, reprising her role as PA Lynn from hit BBC sitcom I'm Alan Partridge.
Simon Greenall is also set to appear as loveable Geordie Michael; Phil Cornwell as fellow DJ Dave Clifton; whilst Tim Key, who was first seen alongside Partridge in the web series Mid Morning Matters will reprise his character of Sidekick Simon.
Key is seen in the above teaser trailer alongside Dustin Demri-Burns, who plays an as-yet unknown character.
The movie is currently being filmed by Coogan's company, Baby Cow Productions, on location in Norfolk, with funding from the BFI and BBC Films. It is being distributed by French studio Studio Canal.
Share this page