Ricky Gervais to star in Muppets movie
Ricky Gervais to star in Muppets movie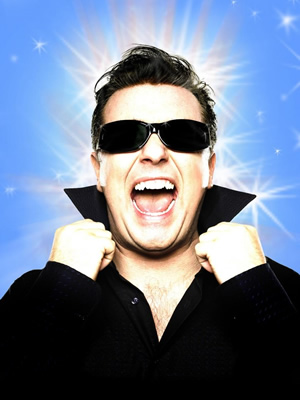 Ricky Gervais has announced he is to take the lead role in Disney's next Muppets movie.
The comedian tweeted this afternoon: "I have just signed up to play the lead in the next Muppet Movie. I have the biggest trailer but Kermit will spend some time in my sink."
The rumour has been circulating since the start of the week when The Hollywood Reporter first broke gossip linking Gervais with the production.
Gervais will take the lead human role in The Muppets 2, which will start production in early 2013. The new movie follows from the success of last year's The Muppets, which made more than £92 million at the box office. The star of that film - Jason Segel - has announced he will not return for the sequel, prompting producers to look for a new lead.
There are said to be three main human stars in the new film, with Modern Family's Ty Burrell reportedly booked to play a lazy Interpol inspector. Entertainment Weekly has suggested the new movie will be set in Europe.
Gervais was already known to producers of the franchise, having made a cameo appearance in the previous film - albeit one that was cut from the final edit.
The British comedian, who has been performing a series of stand-up shows in Scandinavia this month, has recently finished filming a series of Derek, his Channel 4 comedy series about a retirement home worker. Writing on his blog and referring to Karl Pilkington, he said recently: "So that's the end of An Idiot Abroad and The Ricky Gervais Show. The next time you'll get to see me and the little round headed buffoon in action is in Derek, which starts in January."
He added: "It's turned out very well indeed. You'll be the judge of that. I guess what I mean is, it turned out how I meant it to. That's all I can ask for. I can't really influence the vote any more than that. I can try to get as many people to see it as possible, but that's all. I would like to say that it's my personal favourite thing I've ever done. I can't explain why. It just is. Hope you like it. Karl came into the edit to watch a bit and stayed and watched all six. I was so glad he loved it. He's great in it. Everyone is, but I'm very proud of his performance. I created the character of Dougie by imagining what Karl's life would be like if he hadn't got into media, came to London, and met me. Haha. Showing him it, I felt like the Ghost of Xmas 'Alternative Present.'"
Share this page