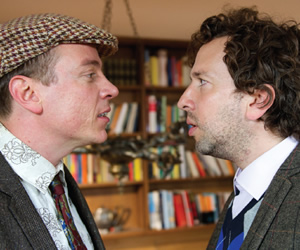 The Last Sparks Of Sundown is about two down-on-their-luck American brothers who travel to England to sell their late grandfather's country estate. It should be a straightforward plan to make some money, but it turns out there are strangers in the house and a sinister man on their tail...
The Last Sparks Of Sundown was filmed in Hastings (East Sussex) in July. Following a period touring the film festival circuit, the feature received a limited cinema run in 2015.
The comedy is the first feature-length film from writer/director James Kibbey and producer Adam Dolman. The duo were inspired to make the film after the success of their short film House Cocktail, which won the 2013 International "House Shorts" competition.
Knowing how long it takes to get a film made - and lacking the time and resource to dedicate to this - James and Adam decided to go it alone and make a movie in just one year. Taking a different approach the pair worked backwards, figuring out their production constraints first and then creating a plotline and script around these considerations.
The Last Sparks Of Sundown stars award-winning comedians Mark Chavez and Shenoah Allen (aka The Pajama Men) in their first film, as well as well known British comedy actors Kayvan Novak, Miles Jupp and Geoffrey Palmer.
Having been named Best Film at the Chicago Comedy Film Festival 2014 and Best Micro Budget Film at the London Independent Film Festival 2015, the movie received it's premiere on 23rd July 2015 at the Regent Street Cinema. A download release via iTunes and Amazon from Monday 3rd August 2015, follows a run at the Prince Charles Cinema.