Michael 'Eddie The Eagle' Edwards became a British hero at the 1988 Olympic Winter Games in Calgary, Canada. Now, as a film telling his life-story is released, we talk to the man behind the legend...
Can you explain how your story has finally been brought to screen? The film seems to have been in production for a long time and yet once Matthew Vaughn and Dexter Fletcher came on board it came around very quickly?
I signed a deal for this movie 17 years ago and I sat down with scriptwriters then and told them about my life as a skier and ski jumper and that kind of thing. I was very excited but it was a very small company in LA and they had to go out and find the money and the finance for it, and then they had to find a director, and they had to find a star... and just the project kept stalling. So I just got on with the rest of my life thinking that, you know, if they ever get round to making it they'll just give me a ring.
But nothing happened. I just forgot all about it and assumed it was never going to be made, and then I got a phone call from [producer] Matthew Vaughn about 18 months ago. He said, "I've just bought the rights to your life story and we start filming in two months," so that happened really quickly. I was speaking to [director] Dexter and he said it was because when I did Channel 4 show Splash he watched me in it and thought there's a bigger story there about me and my life and all that kind of thing. He did some research and spoke to Matthew, who loved the idea, and they got straight on it. So from buying the rights to actually starting the film was literally about 3 months. Matthew Vaughn had some big backers like Lionsgate and Twentieth Century Fox and it all moved very, very quickly once Matthew got involved and they've done an absolutely wonderful job.
I cry every time I see it!
So once Taron Egerton was brought on to star as you, did you spend time together to make sure he got your character right?
Yes, I didn't know who Taron was at first because I hadn't seen The Kingsman, it hadn't been released when I was talking to Matthew about the film. So I was invited to Pinewood Studios to meet Taron. He wanted to spend the afternoon with me; we had tea and biscuits and we just chatted. He wanted to pick up my accent, my mannerisms, and from that and from watching a lot of the TV shows that I did around that time 28 years ago, he got it all together.
Then I met him out on set in Garmisch in March 2015 and it was really strange. He had the moustache, the jaw, the glasses, the hairstyle, everything, and then when I saw the film for the first time he'd got me down to a T, it was so easy to watch the film because he played me so well. It's brilliant. He's done a fantastic job.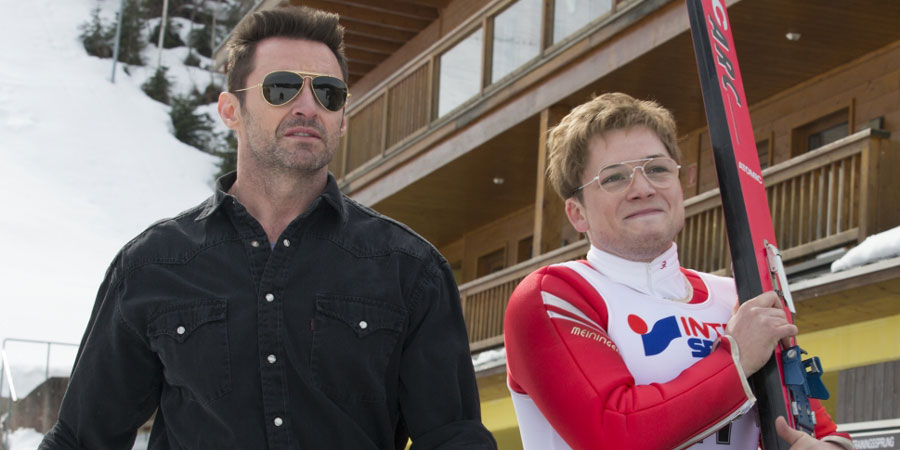 So you get on well?
Yeah we've met quite a few times since, especially now with all the premieres and stuff we're doing. Lots of press conferences and all of that kind of stuff, and with Hugh Jackman as well, so it's good fun.
Can you explain how you first felt when you watched the finished film or do you just keep crying every time you watch it?
I do, I mean I heard back in December. I was out in Austria skiing, doing some photographs for a magazine and I kept getting a lot of phone calls from radio stations and they said that my trailer for the film was just out. We went to a mountain restaurant where one of the waiters had an iPhone we used to find it on YouTube. We watched the trailer and oh my God I was in tears, they were running down my face. I thought "this is fantastic, this is wonderful, I can't wait to see the film." We had a special preview for family and friends in January where we saw the film for the first time and it was incredible, I kept crying all the way through. All my family and friends were crying when they came out saying "this is wonderful". I've seen it 3 times now and I still cry every time I see it and I'm a bit worried I'm going to start crying again at the premiere in front of 1,800 people!
So is it just emotions or just the bizarreness of everything?
Everything, it's the fact that it brings it all back. Everything that happened 28 years ago. I was really worried when they started making the film that they might turn me in to some sort of superhero or worse as an object of ridicule, a clown, a flop, a joke - but they've done neither, they've just done an incredible job. The director, Dexter really knows how to tell the story, they've really captured the heart and the essence of the story the emotion and yeah it's incredible. The tone is just spot on.
So you've kind of touched on Taron's portrayal of you in the film, but the film isn't entirely factual...
No, Hugh Jackman's character's not real because I didn't have a single regular coach over the 20 months that I was training for Calgary. I had about 20 to 30 coaches, ranging from 12 years-old to 86 years-old, lots of different personalities and lots of different nationalities and so Hugh Jackman's character is kind of an amalgamation of probably half my coaches.
Some of them were quite funny and others were quite stern and some of them had issues either drink or fags or all kinds of stuff, so although he isn't one particular character he is kind of an amalgamation of quite a few of them because it would have been very confusing for people in the film if they'd have seen me with 20 different coaches! To put all of those characters in to one made sense to make it much easier to tell the story.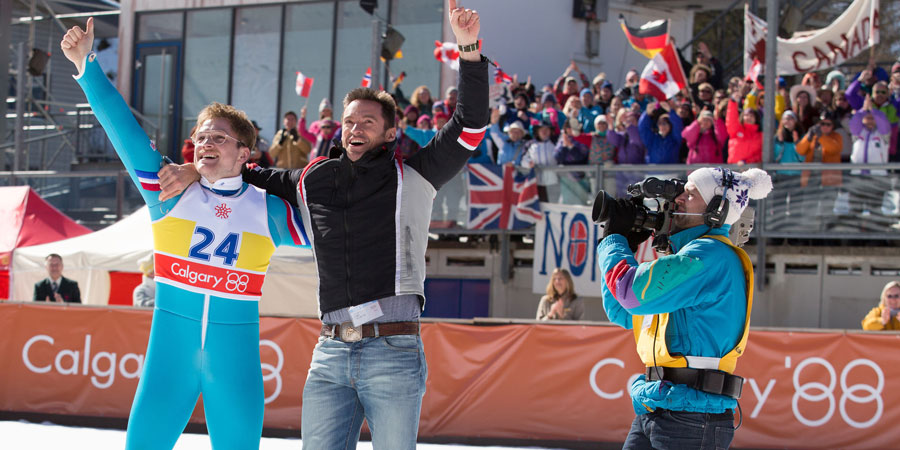 You've touched on the tone being right, getting across your relentless enthusiasm and determination to be an Olympic champion: do you think that this belief in yourself is an important message to audiences?
Yes, I'm hoping that people who go see the film will be entertained. It makes you laugh, it makes you cry, and I hope people, especially kids, will be inspired by it. All the way along from when I was a child people always kept saying 'you can't do this', 'you can't do that', 'give up', 'you'll never do this', 'you'll never do that' - and every time somebody said that, that inspired me to try and prove them wrong.
I love proving people wrong. If people challenge me to a dare, if they say "oh I bet you couldn't do this" or "I dare you to do that", that was like a red rag to a bull you know. I'd think "I'll show you". I've always been like that and always will be, so for me gave me inspiration and I hope kids today will have the same thing. Ignore those people or use their negativity as an inspiration to prove them wrong.
You know how many kids leave school and teachers have said he'll never become anything... and then they go on to do great things? Use it as an inspiration. I'm hoping kids and adults will be inspired by the film and I'm hoping it will open people's eyes to what it took for me to get to those Olympic games, the struggle. I had great times too but it just shows you that anything is possible and I hope people get those things from it.
You've been called a British hero because of this determination to achieve your dreams at all costs. What do you think it is about the British that makes them a force to be reckoned with?
I think we've got a really nice attitude - or at least we have had - that we love the underdog. We always like the underdog story and that has been quite unique to British people. They loved me being at Calgary, loved what I did, what I represented, because I was exemplifying that Olympic spirit and yeah it was lovely. Even now, 28 years later, people still come up to me and say "we loved you doing the Olympic Games, you really made it for me, you put a smile on my face". It was great and I hope the film will do the same thing now to a much younger audience.
With this in mind, who do you see as your British heroes? Can you give me a top 5?
A bit controversial, but Maggie Thatcher.
That's fine, they made a film about her too...
Yeah, who else? Richard Branson, he's an inspiration. My dad of course - my dad's an inspiration to me, and well, anybody who gets out there and does things. That's what I love because there are so many people who are too scared to do something in case they fail and I think really the only true failures are the ones who don't go out and give it a go. I think the very fact that you get out there and move forwards and you give it a go, I don't think you can ever be considered a failure. You might get 10% of the way there, you might get half way there, you might get the whole way there but if you've got an ambition or a dream you should try and hold on to that and make it come true.
So I think anybody who gets off their butt and moves forward and tries to realise an ambition, they will always be an inspiration to me. I think the whole British public are an inspiration in that sense.
So Eddie The Eagle is going to be sort of joining the ranks of the greatest sporting movies. It's up there with Cool Runnings... which films about sport would you count as your favourites?
I loved Cool Runnings, I really love my film but I'm a bit biased. Invictus I thought was a really good film. Any kind of films like that really inspire me.
The underdog story.
The underdog stories absolutely, yeah. I love all of those kind of things.