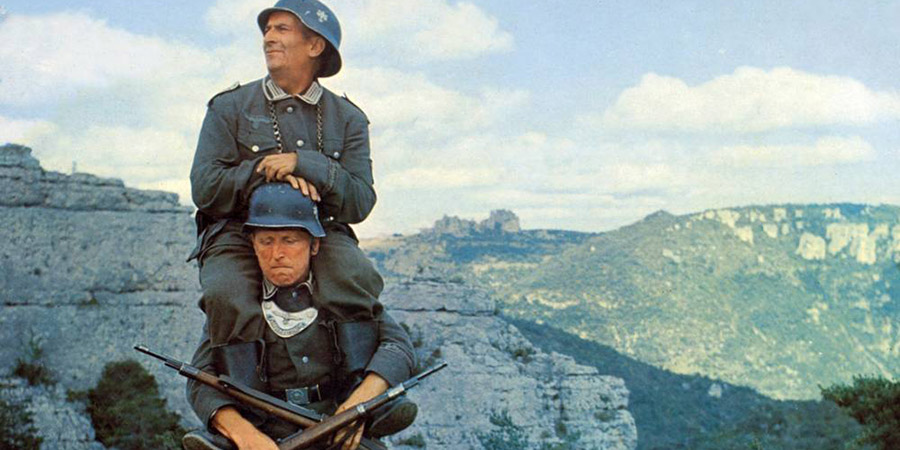 Genre

Film

Released

Starring

Bourvil, Louis De Funès, Terry-Thomas, Marie Dubois, Claudio Brook, Andréa Parisy, Colette Brosset, Mike Marshall and others

Writers

Director

Producer
Losing their way when returning to Britain from a bombing raid over Germany, the three crew of an RAF bomber - Sir Reginald, Peter Cunningham, and Canadian Alan Macintosh - find themselves tremendously off-course and shot down over none other than Paris herself.
By now deep in German-occupied territory, the three parachute out from their stricken craft and somehow manage to evade immediate capture: Reginald makes land in the city zoo, minutes before opening; Peter finds himself tangled around a decorator's cradle on the side of a tall building; and Alan on the roof of the renowned Palais Garnier opera house.
Intending to rendezvous later that day at the Turkish baths, each of the three men begins his journey. Peter is forced to call in the help of house painter Augustin Bouvet, with whom his life quickly appears to have become inextricably intertwined (and both, in turn, by the beautiful Juliette, a resident in the building he was painting); Alan, similarly, seeks assistance in the form of irascible star conductor of the opera, Stanislas Lefort. Both locals are scared and exceedingly reticent to put their lives in any further danger but soon realise they have no choice but to flee the city alongside the airmen, and do all they can - as patriotic Frenchmen - to assist the brave aviators to reach safety and continue the fight against the Nazi forces.
Hoping to reach the free zone of unoccupied France, the group begin heading south. However, they've not even escaped Paris before they become separated once more, leaving Bouvet, Reginald, Lefort and Alan to journey across country by car, foot, van - and Nun!
For Juliette and Peter, meanwhile, a quiet train ride soon proves to be far more eventful than they'd reckoned upon. This is going to be an adventure and a half for all concerned!
UK certificate

U

Duration

116 minutes

Release date

1968

Distributor

Also known as

La Grande Vadrouille (Other official name)
Their Fantastic Escape (Other official name)

Laugh track

None
Website links