Win Dad's Army merchandise
To celebrate the release of Dad's Army, the feature film based on the much-loved iconic British comedy, British Comedy Guide has five Dad's Army themed gift bundles to give away.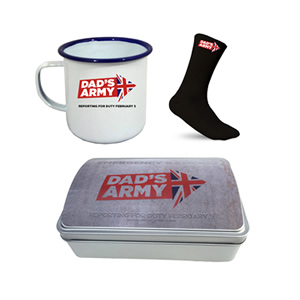 It is 1944 and World War II is reaching its climax. The Allies are poised to invade France and finally defeat the German army. But in Walmington-on-Sea morale amongst the Home Guard is low. Their new mission then - to patrol the Dover army base - is a great chance to revive spirits and reputation, that is until a glamorous journalist Rose Winters arrives to write about their exploits, setting the pulses racing and putting the local women on red alert.
Dad's Army's all-star British cast includes Bill Nighy, Catherine Zeta Jones, Toby Jones, Tom Courtenay, Michael Gambon, Blake Harrison, Daniel Mays and Bill Paterson.
Dad's Army is in UK cinemas February 5th. Check out the trailer below: