Charley's (Big-Hearted) Aunt Merchandise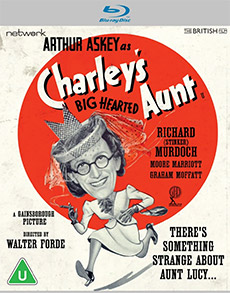 One of a series of hit wartime comedies starring Arthur Askey as everyone's favourite cheeky chappie, Charley's (Big-Hearted) Aunt co-stars Arthur's partner-in-crime, Stinker Murdoch, alongside Moore Marriott and Graham Moffatt. Energetically directed by Walter Forde (who would re-team with Askey and Murdoch a year later for The Ghost Train), this...
Classic British comedy starring the inimitable Arthur Askey in an hilarious drag role.
A group of Oxford students - Arthur, Albert and Jerry - are on their final warning for a "long list of delinquencies" including drunken behaviour and miscellaneous high jinks. While on probation, one of them slips into...