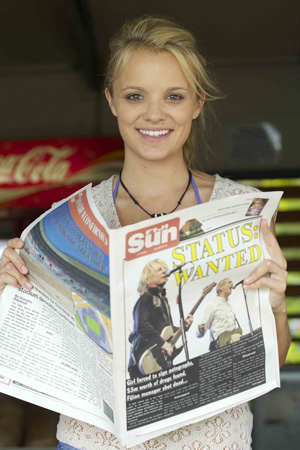 Actress Laura Aikman is best known to a legion of youngsters as the eponymous lead of CBBC's The Mysti Show, and to comedy audiences as Rosie Parker, the girlfriend of comedy character Keith Lemon - but she's about to hit the big screen, starring opposite British rock legends Status Quo in a Fijian adventure...
Hi Laura, thanks for talking to us. So your latest role is in the upcoming Status Quo movie, Bula Quo!: what can you tell us about that?
Well it's kind of a film for Quo fans, primarily, I'd say! For the fans, you get to see another side of Quo. They are really funny, and they are themselves in it. It's a kind of, action-comedy, I suppose. I play their reluctant assistant, Caroline, and I basically get the job whilst out in Fiji but have no clue who Status Quo are. I'm expecting a young rock band - and they turn up! And I - well, the character - is very disappointed!
It looks like it must have been a lot of fun to shoot?
It was! And Fiji is amazingly beautiful. Just before we got there though (March/April 2012), they'd just had a cyclone - their village had been destroyed and we'd lost a lot of the locations, so it's this amazing place with a lot of natural beauty, but whilst we were there they were having quite a difficult time.
Right! Wow, well we'd noticed it seems that pretty much everyone on the island must've had an extra credit in the film?
Hahaha, yeah, literally! They went back and did a screening of the film, and everyone just cheered every other minute because someone they know from their village is in the film.
What attracted you to the project - apart from the location!? Were you previously a fan of the band?
Oh, well I mean, who isn't?! I love a bit of Status Quo! But my dad [Stuart St Paul] wrote and directed it, so he just asked me to be in it. It was in Fiji for a month, so I said yes.
Sounds like you got on well with the band from what you say - they've not been previously noted for their acting credentials though!
Ha ha, yeah, we got on very well. And this was definitely a first for them. They've had a small appearance on Coronation Street in the past, but apart from that this was their first time, basically. When we turned up they were very nervous, they weren't sure about learning their lines, all that kind of stuff, but by the end of it they were like, 'Can I say your line as well?' and 'Can I say a bit more here?', 'What else can I do?', so they definitely got into it!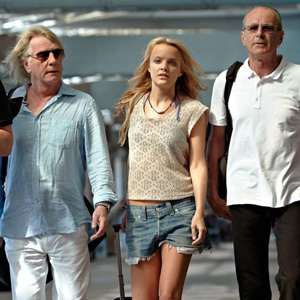 You've a variety of genres in your CV including an extended stint on Casualty, but seem to be mainly erring towards comedy roles. Is this a conscious decision, is comedy always something you've wanted to do, or is it simply what you've been offered?
Erm... Yeah, it is something I've always wanted to do. It's something I really enjoy. When I was in Fiji I'd just shot a teaser with Leigh Francis (Keith Lemon) for our reality series, Lemon La Vida Loca. We'd written and shot it just before I'd gone out, and I'd said to myself 'Well, I'm not going to have a drink until we've found out that we've got the green light. So about two and a half weeks in, we still haven't heard [from ITV2], and everyone else is outside having a beer in the sunshine, and I'm like 'PLEASE - WHAT'S HAPPENING?!'
So with that show I was writing a bit more, trying to get involved in the whole of the creative process, not just performing. I think comedy is probably my strength; I love to do drama, but there's less room for improvisation or putting your own spin on a role. If you've lost a baby, you've lost a baby. You just have to act it as it's written.
That pre-empts our next question actually: you co-devised and co-wrote the first series of Lemon La Vida Loca?
Yeah! I mean, there's no script, it's completely improvised comedy, but we'd write a story arc and then completely improvise out the scenes. It was amazing, a really free experience and I've never done anything like it before. It was brilliant, I really enjoyed it.
That sounds equally exciting and nervewracking, especially around Keith! He's quite an extreme, manic character!
Ha ha! Yes, you never know quite what Leigh is going to come out with when he's being Keith! He's Keith all day long; he's even Keith at lunch time. So, um, yeah - it's a lot to cope with! So, to a point, I did try to take on the character, make him do things and go places and be quiet and sit down. All that kind of stuff. But it was great and he was a really great friend. We had a lot of fun making it, and we had a real laugh, genuinely, a lot of the time.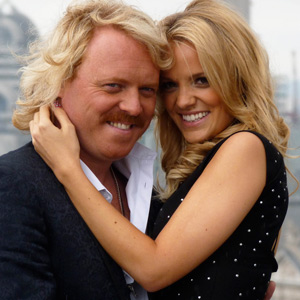 It's been a bit of a disappointment to some fans that you've not returned for Series 2, apart from a small cameo...
Yeah, I mean, it wasn't my choice, Leigh wanted Keith to be single again, and you know, he's the machine. So it was a shame, because we devised the series together - devised the idea for the show together - but I think he would've wanted me to be Rosie in the way that he is Keith, that I would carry on just appearing as that character, all the time. And I wasn't prepared not to do any other acting roles. So that kind of meant we had to move away from each other.
It doesn't sound like there's much chance of Rosie returning if the show comes back for a third series either then?
Um, probably not, no. I mean, I know a lot of people have been disappointed that Rosie's gone so I don't know if that will change anything in terms of what Leigh wants to do, but yeah I think maybe unless I was prepared to just be Rosie, I don't think it'll happen.
That does seem a shame. You must've come up with the show whilst shooting Keith Lemon The Film?
Yeah, when we started filming the movie, the character of Rosie wasn't very... anything! She was just kind of 'the girl next door'. So Leigh had asked me what I thought should be changed, and I went away and wrote this back-story for Rosie and created the character. But we didn't get to work on her that much in the film, so afterwards, as we'd got on really well, he said 'Well, what do you think about doing something else together? Then you can use all this work you've done on Rosie's background and everything', and I said 'Yes, definitely! Yes please!' So we went and made a teaser just with one camera and two people helping us out. We smuggled ourselves into the National Television Awards with just this GoPro camera or something and filmed half of the teaser there, which I'm sure we weren't allowed to do! We took it to ITV2 and luckily he's got a lot of sway there, so it wasn't too gruelling a process to get it green-lit.
So... just going by your Twitter account alone, a lot of people just don't seem to get that Keith and Rosie are characters!
Hehe, yeah! A lot of people just really have a brain block when it comes to this! (Giggles) Even people who have worked out that my name's Laura and I'm being Rosie in the show, many seem to think that I've simply changed my name and I'm just being myself in the show, or they think that I - Laura - am in a relationship with Leigh in real life, and we're both pretending in the show! I think that Leigh is Keith and that I'm just pretending! It's just... I mean... beyond... I can't, hehe, even now, I've said SO many times that Rosie's not real. I've said it so many times on Twitter, but I got one even just this morning asking 'Are you and Keith really a couple?'. I'm like: 'No! You don't really believe that Dot Cotton's Dot Cotton! Why are we having such a problem with this?!'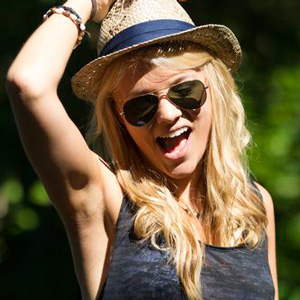 You starred in two series of kids' series The Mysti Show, but probably first came to most peoples' attention in Teenage Kicks. What was that experience like? Would you do more studio sitcoms?
I love studio recordings! Absolutely I would. I'm doing a guest role in Citizen Khan actually, in about two weeks. It's just ... the best job ever. You work 9 to 5 Monday to Friday, and the long day Friday (which is a dream...!), but it's like getting to do a play, doing a different one each week, not the same thing for like 6 months. It's great. I'd absolutely love to do more.
We've most recently seen you on TV in BBC Three's Way To Go, but that's been axed now. Was that disappointing, a bit of a blow as it seemed setting up to go further with the characters?
Yeah we didn't get a second series, sadly. Yeah. It was a shame. I really, really admire Marc Wootton's work, I love his stuff. And Blake Harrison, playing my boyfriend in it, he was brilliant. In terms of the cast, we all got on really well with each other and we were really excited and hoping to be able to get to work together again, but it just didn't go our way. I guess the viewing figures just weren't there.
So what's up next for you? What's your next project?
Well I've got this Citizen Khan, and then I'm going to back to kids' show 4 O'Clock Club, which is a show I've done for the last few years. It was created by Doc Brown, a stand-up who does mostly a kind of rap stand-up... so we're both going back to the show; to leave the show, sadly. And after that - I don't know!
Thanks for your time, Laura. Good luck with the film and best of luck with finding that next big juicy role!
Bula Quo! will be in cinemas nationwide from this Friday, 5th July 2013.