Writer, director and actor Mercedes Grower introduces the concept behind her debut feature film...
The phenomena of falling in-and-out of love fascinates me: how a combination of seemingly unimportant details can converge on any random moment, and cause it to impact on our lives with such indefinable - yet wholly decisive - power. When we find ourselves caught up in this mysterious bubble, our emotional reality can become heightened to a level that seems astronomically profound in its proportions: Here, suddenly, is an all-consuming everything, an entire world: And yet, at any time, these bubbles can burst; and the worlds we found ourselves inhabiting can - as mysteriously as they came into being - wink out of existence. Both scenarios seem to operate from a subtle, yet crucial moment and, as such, can seem bound together in some sort of see-saw symbiosis; very much as if they were two sides of the same coin.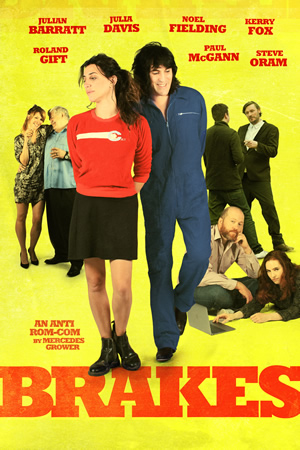 In my film Brakes I have tried to capture this paradox through a series of comical, romantic vignettes, interspliced with each other and involving several different couples. Although relationships are uniquely different for everyone, they remain universally recognisable to all. I wanted to bring to Brakes the raw, rough-around-the-edges, improv performance-based style of an independent American film, whilst keeping it distinctly London-centric. For this reason I was clear from the beginning that I would use mini DV format: I wanted a look that would fit the over-all character and subject of this project far more eloquently than would the smooth clarity of HD. Luckily and unluckily, all the cast and crew related to the idea - we often filmed depending on who was free on particular days, and last minute changes often created moments of magic as well as mayhem!
Making Brakes was itself like being in a relationship: when you enter love you enter a very precarious contract of trust; you have to give it everything, though there is never any certainty; you take a risk. This was the case with making Brakes; I was never sure how it would get there, but I always knew where I wanted it to go.
Brakes was shot without a budget, so we relied on the good will and availability of the cast and crew, locations, editors and post production houses. We had to work with the schedules and constraints that come with asking for pro-bono support, so Brakes was filming for four years.
Despite the unusual concept of the film, we have had the most collaborative support from the cast and crew, who all improvised, often in cold, insane locations. I wanted the audience to feel privy to a secret. I like the grainy look, and story-telling format advocated by film makers active or inspired by the Dogme 95 manifesto. We used mixed media, as we begged, borrowed and stole to make this film in the anarchic vein that falling in love can be.