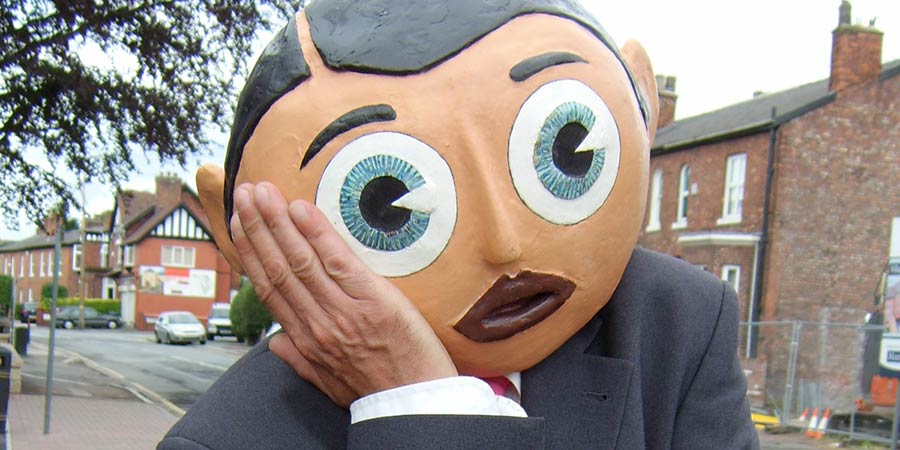 Genre

Film

Released

Starring

Dave Arnold, Paul Dolman, John Cooper Clarke, Johnny Vegas, Mark Radcliffe, Ross Noble, John Thomson, Mike Joyce and others

Director

Producer
Being Frank is a feature length documentary film, telling for the first time the true story of the life and work of artist Chris Sievey.
Made with exclusive access to Chris' personal archive and the co-operation of his family, the film explores the astonishing life and career of this most maverick of artists from the point of view of the people who knew him best.
Being Frank takes the audience from Chris' earliest days as a teenage singer/songwriter cutting demos at Apple, through the punk-pop heyday of his band The Freshies, to the birth and hilarious career of his most enduring creation, Frank Sidebottom.
Sidebottom, with his huge papier-mâché head, was far more than an eccentric comedy performance. As long as the head was on, Chris transformed totally into Frank and the line between fiction and reality blurred. Very few people got to understand the man behind the mask, and sadly Sievey passed away in June 2010.
Many were fans of Frank Sidebottom, but few were privileged to know the man behind the mache. This is a chance to finally meet the real Chris Sievey, through never-before-seen archive and the memories of his family, colleagues and close friends.
The film is directed by award-winning filmmaker Steve Sullivan, who previously collaborated with Chris on the documentary Magical Timperley Tour.
UK certificate

15

Duration

100 minutes

Release date

Friday 29th March 2019

Produced

2016

Distributor

Production company

Laugh track

None
Broadcast details
Last repeat

Wednesday 22nd July 2020 at 10:00pm on Sky Arts
Website links