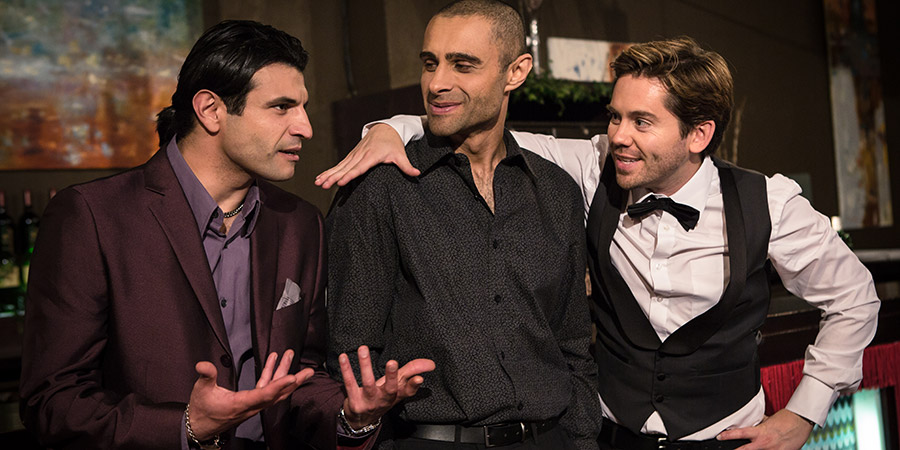 Genre

Film

Released

Starring

Rez Kempton, Sam Vincenti, Martin Delaney, Karen David, Laura Aikman, Goldy Notay, Tanveer Ghani, Dev Sagoo and others

Writer

Director

Producers
A realistic, multicultural coming-of age comedy drama, Amar, Akbar & Tony follows the lives of three childhood friends as they stumble through life from their carefree twenties into adulthood.
Set in present-day London, the story of three friends Amar (Rez Kempton), Akbar (Sam Vincenti) and Tony (Martin Delaney), sees twists and turns as the characters face sudden and unforeseen changes to their idealistic and trouble-free young lives.
Amar, a Sikh, is a man of honour. He's on a fast track to fulfilling his dream of becoming a lawyer and marrying his childhood sweetheart. But his ambitions are abruptly thwarted when a tragic incident results in shocking and life-changing consequences for everyone.
Akbar, a Muslim, is the charmer out of the trio. He stumbles through life with the gift of the gab - but is this enough to withstand even the most uncertain chapter of his life as he embarks upon a business venture and inadvertently falls in love?
And Tony, the Irish 'honourary Asian', is obsessed with trying to bag himself an Asian girlfriend. Will he succeed in getting the girl of his dreams or does he eventually settle for second best?
The film tracks the three best friends over a decade and follows their every move as their lives intertwine with Samantha, a budding actress and the beautiful yet unreachable Nita with herfearsome thug of a brother - Southall Sanj.
With hilarious and sometimes tragic consequences, the brotherly bond shared by the trio is called into question and we witness the highs and lows as they attempt to come to terms with their adult lives.