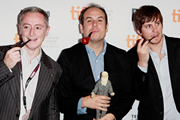 A quick Q&A with the people behind A Liar's Autobiography. Bill Jones and Ben Timlett are producers and directors. They have their own company - Bill And Ben - which has made, among other things, the Python 40th Anniversary series Monty Python Almost the Truth - the Lawyer's Cut. Jeff Simpson is a documentary maker, who worked at the BBC for many years. Together, the three of them co-directed A Liar's Autobiography...
Hi guys. For those that don't know, what's the film about please?
We call it 'an animated, fabricated bio-pic'. It's Graham Chapman (best remembered as 'the dead one from Monty Python') narrating his semi-fictionalised life story, with animated visuals and four of the other Pythons providing the voices of other characters. Oh, and Cameron Diaz as Sigmund Freud.
We love it. How did the project come about then?
Jeff wanted to make a documentary about Graham, and discovered the tapes of Graham recording his autobiography. The original pitch was to use Graham's voice to narrate the documentary from beyond the grave, with animation over his voice. It was such a good idea, the BBC turned it down - so Jeff went to Bill And Ben, and together they developed the project into a fully animated feature film.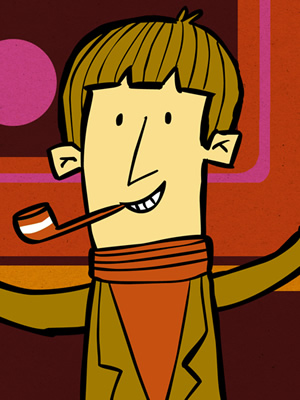 The decision to keep flipping between animation styles is a bold one - but something that works really well. You must be very pleased with how the film has come out?
It was quite a gamble going for 17 different styles of animation. But we paid a lot of attention to the transitions between styles. And we made sure that key characters were always recognisable, e.g. Graham himself always has a pipe in his mouth, whatever style he appears in.
It must have been great to get the support of the other Pythons?
For Terry, Terry, Mike and John, it was a chance to work with Graham again for the first time since 1989. It's not a Python project, because that would have to have been written by all of them together. It's a Graham Chapman project - but the others all respect and enjoy his writing. Terry and Mike said it was quite spooky to be performing lines with Graham again.
If Graham Chapman was alive now, what do you think he'd be doing? And what would he think of the film?
We think Graham would have enjoyed being in this film, because he didn't have to do anything. Putting him back in the spotlight has reminded people what a great leading man he was - it's he who really holds together the two great Python films, Brian and Grail, while all the others are being silly around him. So some of his friends have speculated that he might have gone on to be a great leading man, a kind of Tom Hanks figure, who everyone can sympathise with.
A Liar's Autobiography is in cinemas and available via VOD now. It will be released on DVD on Monday 18th February. To find out more visit the official website www.liarsautobiography.com