We at British Comedy Guide are a bit baffled by 'serious' theatre productions, so we reached out to notorious social media star West End Producer to ask him to explain to comedy fans what it all means...
---
My dears! For those of you who may not know me, my name is West End Producer - I'm a theatrical impresario, entertainment industry columnist, and also an anonymous tweeter who can often be found at press nights and award ceremonies wearing a rubber mask and quaffing the finest Dom Pérignon. Ever since the moment of my birth - onstage during a particularly bloody performance of Titus Andronicus - I've only been truly happy at, in or on top of a theatre.
Here in London, we're lucky enough to enjoy some of the best entertainment the world has to offer. Our theatres are second to none (when the ceilings don't fall on your head) - we have the greatest actors, the most shouty directors, and the most worringly over-invested fans to be found anywhere. Every night across the West End, hundreds of bendy, tightly attired young men and women kick, flick and ball-change their way through classic musicals, while the best-trained upper-class actors emote, gurn and spit through wonderful and moving plays. It's a smorgasbord of supremely impressive and slightly silly performing treats.
As comedy fans, it may be that you have never sampled the glitzy delights the West End has to offer. This world may be a bewildering mystery to you, with its interval ice creams and long, confusing words like 'proscenium', 'cyclorama' and 'stalls'. But never fear! Your faithful stagey Sherpa is here to help explain a few of the ways in which going to a West End show can be different from seeing stand-up. Read on and you'll soon be a theatrical expert, dear...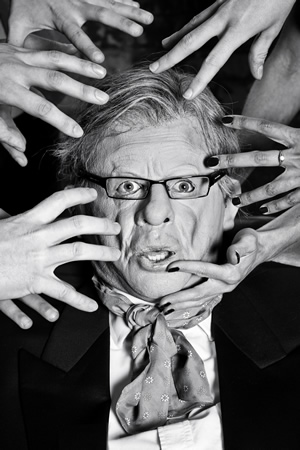 There's usually no headliner, just the one performance.
In most theatre shows there is not one headline act. Instead you usually have a stage crammed full of enthusiastic drama graduates, flailing and shouting in an attempt to make you think that they're the next Bendydick Cuminmypatch.
However, there are sometimes stars in a show - and the whole thing is tailored around them to such an extent that it can feel like they are the headliner, with everyone else merely supporting acts. This is all well and good, and is often the reason a theatre production sells tickets - it is, after all, called show-business. But it can also be bloody awful, particularly if the star is Lindsay Lohan.
There is also an ancient tradition in theatre called the 'monologue' or 'one-person show' - where a lone actor stands a bare stage, dressed all in black, and gesticulates wildly. Which I suppose is rather like stand-up, although these shows are usually not funny. In fact they're usually bloody depressing.
Heckling is frowned upon.
At a stand-up gig, heckling can be expected - and can sometimes be the highlight of the evening, particularly if the comedian is Jim Davidson. However, in theatre it is very rare indeed for an audience member to shout out and disrupt a performance: for instance to declare that the acting is bad, or that Andrew Lloyd Webber's Phantom Of The Opera sequel Love Never Dies contains no decent tunes (though everyone in theatre knows that anyway). Theatre producers do all they can to make heckling impossible - this is in fact the main reason they often have a full orchestra playing during a show.
Another reason heckling is far less common in theatre is that while stand-up gigs often happen in pubs, where you can nip at will to the bar and stroll back in with a scampi and chips and your lager of choice, in West End theatres a thimble of weak, lukewarm white wine costs roughly £500. Consequently, these audiences are rarely drunk enough to overcome the ingrained social inhibitions that prevent them from shouting out mid-show.
However, that is not to say that heckling should never happen. I've endured many dreary plays where the pauses seem as long as the remake of Open All Hours. If you decide you want to heckle during a theatre show, the best thing is to do is actually run on stage - preferably in an appropriate costume - jumping into the spotlight, and shouting loudly that the show is rubbish (a shrubbish). This will result in a whiff of fart drifting around the auditorium as the actors shit their showpants, quickly run to their dressing rooms, and call Equity to complain about this unwanted audience participation.
If the idea of running onstage causes you heart palpitations, then may I suggest you revert to the old-fashioned, tried-and-tested method of throwing fruit and vegetables at the bad actors (the Bactors) - though please do try to ensure that your missiles are organic, so that the cast can retrieve them and use them in their NutriBullet the next day.
If the performance is truly awful - for instance, if you had the misfortune of trying to sit through that recent revival of The Philanthropist starring Toast, Will from The Inbetweeners and one of the Plebs - then you should throw something more substantial. Like a brick.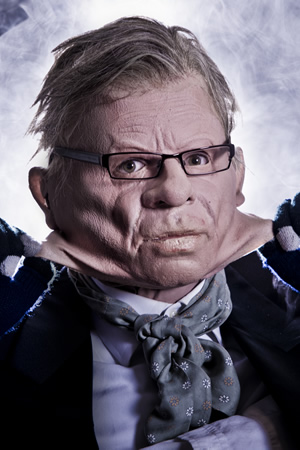 Michael McIntyre is unlikely to be in it - which is a Good Thing.
Some stand-up comedians have successfully made the transition from the Hammersmith Apollo to the Apollo Victoria or Apollo Theatre, and now find themselves sharing the stage and acting alongside such iconic luvvies as The Krankies and Christopher Biggins. For example, Miranda Hart recently gave her 'Miss Hannigan' in Annie in the West End, where she did a marvellous job terrifying tiny ginger children eight times a week with her pitchy singing (not such fun, dear). And Marcus Brigstocke is currently trying not to fall off a tightrope in glitzy circus musical Barnum at the Menier Chocolate Factory in London Bridge (sadly just the name of the theatre, and not where you can get up-close-and-personal with his Willy Wonka).
However, despite these brave pioneers blazing the trail, the big man himself, Mickey M, is yet to make his theatrical bow. If he does ever choose to make the leap to treading the boards, there are plenty of plum roles I'd love to see him play: the back end of a pantomime horse, for instance. Or the tree in Waiting for Godot.
Some plays and musicals aren't supposed to be funny (though they often are by accident).
Plays are often advertised as being 'serious' or 'straight' (which makes no sense at all in a business where most people aren't). Signs you are watching a serious play include:
- the set includes a drinks cabinet and at least one sofa
- the actors walk around dragging on herbal cigarettes and only smiling very occasionally
- there are lots of pauses (particularly if you're watching Pinter) and swearing (particularly if you're watching Pinter)
However, there have been numerous times when a play that was deemed serious in rehearsals quickly had to adapt when the audience howled with laughter during the first preview. The producer then had to change the marketing material to say 'comedy' as opposed to 'tragedy'.
This has happened many times in the West End - perhaps most famously on Mamma Mia. Mamma Mia was originally meant to be a Greek tragedy about a girl finally resolving her harrowing, soul-destroying identity crisis by finding her real father. But during the opening night it was obvious from the audience's guffaws that the whole thing was actually rather silly, and in no way could the random insertion of ABBA songs ever make a show serious. So the production's target audience was quickly changed, and consequently the production sells out nightly to hen parties and women walking around with giant inflatables of Benny and Bjorn's naughty bits.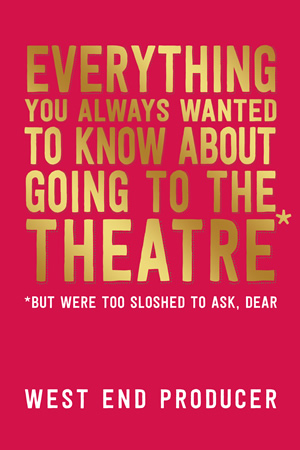 Now you're ready!
Congratulations, intrepid comedy fan. You're now ready to book your ticket, enter the auditorium, and try to make your way to your seat - only to find it's restricted view behind a socking great pillar and you can't see anything that's happening stage right (a blessing in disguise at certain long-running shows).
However, this is just the start of your theatrical education. There is so much more to learn - how do you choose what to see? Where to sit? What snacks to take? How to beat the queue for the ladies' loos at the interval? - and that's where my new book, Everything You Always Wanted to Know About Going to the Theatre (But Were Too Sloshed to Ask, Dear), comes in. It's packed with insider know-how, naughty advice and salacious industry anecdotes and gossip, and will help make your theatregoing adventure as smooth as Craig Revel Horwood's nose.
Armed with these trusty tips and my essential book, you're guaranteed* to have a truly wonderful time. So good luck, and see you in the bar at an interval soon, dear!
(*No refunds.)