What a weird lawless time 2020 has been - and by lawless we mean Tony Law, who's been on a lot less stages than usual, sadly. Thankfully the mic-chomping Canadian has located an outlet for his almost scarily virile energy - Virtue Chamber Echo Bravo, a show-cum-stream with saucy compatriot Phil Nichol, every Wednesday and Sunday, and a few more in between.
It being Christmas week, we dropped Tone a line, and talked turkey. Or goat.
Tony, tell us about your Christmases back in Canada, as a kid.
First thing in the AM: stocking, then outside to feed the cattle and the pigs. Then bedding for the steers, because it's like 25 below. Then back inside, frozen, to an overheated house and my Trinidadian mother who hated the farm but loved Trini food. We ate goat roti with pepper sauce and drank Sorrel.
Sounds tremendous. Would you normally be gigging over Christmas, or hibernating?
I do loads of solo stuff and sell tons of headbands to my people. And little hipster gigs, that's the usual.
Any awful Xmas shows, over the years?
Uhm, in the old days Jongleurs used to book me, and pretty much all of them were awful. Hence we stopped working together (nicely put).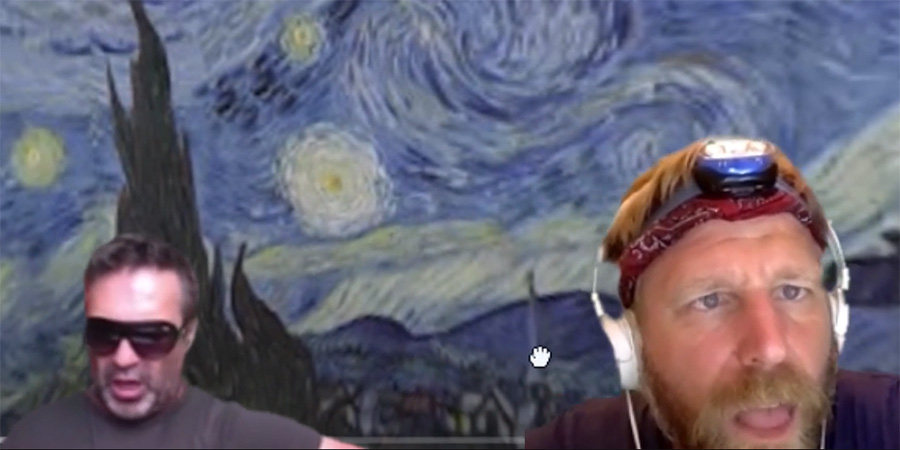 So how did Virtue Chamber Echo Zero start, and how have the shows evolved? Or devolved?
Phillip and Anthony, our virtuous alter-egos, did a devolved comedy show at the Fringe last year. A jazzy stream of conscious/punk/anarchy under the guise of being just the best people, and let it evolve into a genius hour of hardcore whimsy.
But. Covid. Then the stream. It's us with ancient and obscure art films, industrial films or train films - anything - while we reminisce with our faces transposed on top.
Any particular high points of Virtue Chamber in 2020?
When we hit a rich vein improvising songs that sound amazing: 1. Manchester Lockdown. 2. Who Said That? 3. Butthole Protein - three great songs.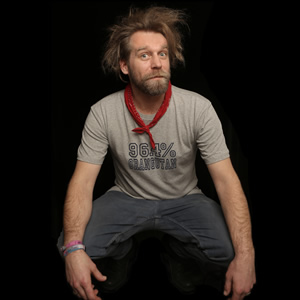 Also I do solo streams as Tony Law comedian, talk bollocks and reveal my stupidity while watching films and looking for shit on Google Earth.
It's Christmas week: is Anthony the Cool Santa of VCEB? And Phillip the naughty elf?
We are both against Christmas. It's a fascist holiday.
What's your plan for 2021, then, if anyone can plan anything, anymore?
The only plan is keep trying for voiceover work. Adverts. Anything I can make money from. And do the Tonezone stream on the VCEB Twitch network. And VCEB too. Honestly they're so fun and mental, surreal and silly as fuck. Maybe it'll start making more money. It's getting there though. We have some very generous fans.