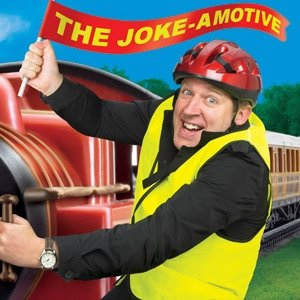 Hi Tim. You've got a new DVD out. Simple question to start with...
... Is it, 'What's my name?'
Ha ha. OK, a bit harder than that. 'What can people expect from the DVD?'
It's called the The Joke-amotive and it's got lots of jokes in it - lots of stupidity. It's basically me doing lots of one-liners, then occasionally pulling a home-made prop out of a bag, being stupid with that, then maybe singing a silly song... and then going back to the one-liners, maybe another prop, another song. I keep changing before people have a chance to think 'my goodness, this guy is rubbish'.
Sorry to disagree, but we think it's a great show. Another big positive is it's family-friendly...
Certification is a little bug bear of mine funnily enough because for one of my previous DVDs I got a PG. I thought to myself, 'Why isn't this a U? It's got absolutely nothing on it even remotely offensive'... and they came back and said there was one joke that tipped it into the PG certification. That joke was... 'My local police chief does a talk on heroin... so you can't understand any of it'. That is officially a drug reference... it's totally ludicrous isn't it!
When you look at the other end of the scale, what you can see for a 15 - a 15 now would be in 1978 a fairly racy 18. I think someone behind a desk just doesn't like handing out U certificates... unless it's a Disney production. Maybe Disney own the U certificate!?!
Does the fact you've got a DVD out make sorting Christmas presents easy this year?
Funnily enough, my mum does that. I get slightly embarrassed that, if I go around my mum and dad's house in the run up to Christmas, there's an ominous pile of 20 of so of my DVDs ready to hand out. I don't give my DVDs as presents, but I have occasionally given them away though - if I've enjoyed a chat with a taxi driver as he drops me home I'll say 'wait there', and go in and get him a copy. That's less kindness and more that I've got a lot to shift!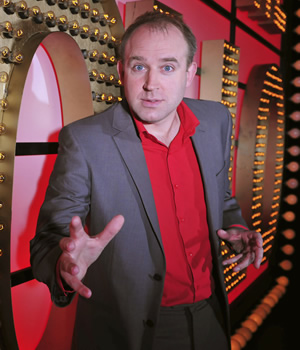 Ha ha. Talking of family, how come you and your brother [presenter and journalist Jeremy Vine] have ended up at opposite ends of the broadcasting spectrum? Silly versus serious.
It would be more unusual if we were doing the same thing, wouldn't it? Most people have different jobs from their siblings.
We kind of started at the same place which is, in our teens, we both wanted to be pop stars, and then I found that hilarious and he found that serious. So I went off into comedy and he went off into current affairs.
Did you enjoy your unique Edinburgh show this year, the one in which you interviewed members of the audience?
It was great fun actually, yeah. Really fun. It sort of came about by accident actually. I wanted to do a chat show, and sorted out some preview gigs before going to Edinburgh... and I forgot to book any guests. So, for the sake of putting on a show that night still, I thought let's just bring people out of the audience and interview them... and it worked really, really well!

We printed on the Edinburgh flyer 'Everyone has a story'... we did discover that wasn't quite true. Ha ha. Actually, that's not quite right... everyone does have a story, but not everyone has a hilarious anecdote. Actually, it doesn't matter because all you really want is someone to sit next to me and start talking, and then I can sit there like Basil Brush and start chipping in.
We had a lot of great guests. Sometimes the best guests were the ones that might not have the best story, but wouldn't flinch when I chipped in.
Once in a while we got an amazing story though... like a guy who was at a girl's house and her parents came back, and he hid in the chimney... and got stuck. He had to call the emergency services.
I also remember a woman who said her credit card was stolen by a badger... overall very funny, but if you went into a comedy club and told that story everyone would be on the edge of their seat wondering what the punchline was going to be, but then you realise it's not a punchline as such, but a great setup for some jokes.
What I'd love to do is do the chat show on television. I doubt it's going to happen though because no one wants to take risks with things. I think what you would do though is minimise the risk by interviewing maybe 8 people, and then choose the best four to be broadcast.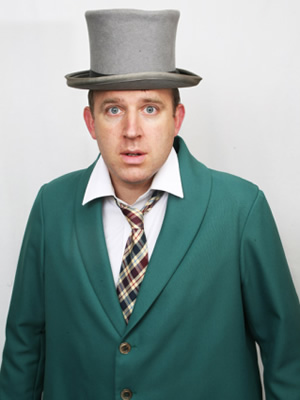 Talking of pilots, you've been trying out a few things this year. Tim Vine Travels In Time sounds great. Any update on that?
It got as far as a read through. We performed it in a pub in front of about 70 people and, sadly, it was end-to-end laughs for 40 minutes... and that obviously threw the BBC!
Who knows how they choose things. But we had Melvyn Hayes in it - from It Ain't Half Hot Mum - so it was fun to work with him, even though the project hasn't gone any further.
One thing that is coming back though is Not Going Out...
Yeah, we're just filming the next series now. It's looking great - it's going to be really funny.
Changing the subject, if we may, to talk about the topic of religion clashing with comedy. Frank Skinner recently said - to paraphrase him - that stand-ups should take on the so-called 'atheist establishment'. As a Christian yourself Tim, do you have any thoughts on this topic?...
The received wisdom is that you're being edgy if you're saying that you're an atheist, when actually the opposite is probably now true. It would be very edgy if I came on and sang a couple of hymns.
I think people are scared, and it's certainly understandable, because if you've handed over money at the door of a comedy club it is important that the first thing you do is make people laugh. If for a moment you look like you're going to say something remotely kind of - dare I say - 'preachy', then people are going to go, 'hang on a minute...'
That's why I tend to steer clear of showing any kind of faith I may have on stage... quite apart from the fact it's not very silly, and I like to be silly on stage.
So what's next for you Tim?
As you mentioned, I've done a couple of TV pilots this year... but they haven't really gone on to anything. I feel like I've got a lot of ideas and we're in a fortunate position now, as performers, that you no longer need to know someone in the Rank Organisation to get hold of a camera. There are cameras available everywhere... and the new 'shop window' of the internet is here. So maybe I should get off my backside and film some things at my own expense and put them on the internet. I'll probably do that next year.
Actually, I'll tell you one thing I have just done... I have a friend who has got a recording studio... and I really like 'talking songs' (where there's music, and then people talking over that)... so I booked time at my mate's studio and went round there and made up some stories. Then I did another one, and then another and then I did two and then I thought to myself 'I really should finish things more often', so I booked another day and did another ten... so now I'm going to do a little album. It's not going to be under my name - at the end of each song a kind-of Chinese flute plays - so I think it's going to be called Mr Hat and the Chinese Flautist. I want to have a picture of me on the front with an old Chinaman holding a flute... so that's my latest mini project I'm doing for a laugh.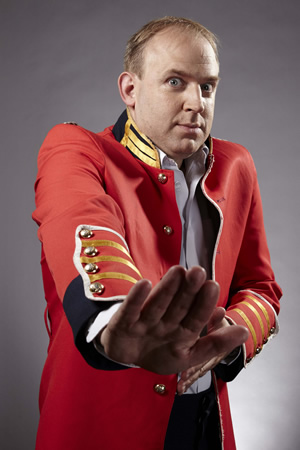 Sounds great. There's not many musical comic albums released any more, compared to the old days when it seems every comedian released audio recordings.
Yeah, I know what you mean. There were also those people doing that crossover thing about ten years ago. I know most of it made people roll their eyes, but there was just so many actors who then did an album of songs... but this thing I'm doing is just kind of talking songs. It's nonsense really, but I just like doing things for my own benefit.
Are you going to release the album then?
What, like a dove out of a window? It'll be released by everyone that gets hold of it!
Ha ha. Last question: any thoughts of trying to get back the world record for the most number of jokes told in an hour?
Probably not, no. Although the interesting thing about that... when I did it I was told you were only allowed 20 words written down as cues. So I had 20 words on a card and for each word it reminded me of another two. But I found out the guy who holds the record now he had 20 cue cards... a whole different ball game! You can get loads of things on 20 cue cards.
During one bored afternoon I did talk to the Guinness Book of Records and the woman was slightly not at all interested... but I'm not all that interested now either, because I got a certificate and, if I do it again, I'll just get another certificate... and then this other guy will beat me again, and I'll have two certificates. Although it would be quite fun to come on like Rocky, going 'we have to beat this record'. Wearing a proper robe and everything...
'Tim Vine - The Joke-amotive' is out now, and we agree with Tim's mum, it makes for a great Christmas present: Order