Maggie Maggie Maggie: Ho Ho Ho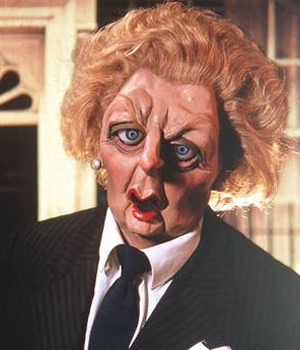 Chris Hallam takes a look back at the comedy of the Thatcher era...
Let's face it: there was definitely something about Maggie.
A recent live show dedicated itself entirely to the history of comedy during the Thatcher years. Weird? No. But could you imagine show dedicated to the comedy scene of any other long serving PM such as Macmillan, Wilson or Blair? It's also a bit odd when you consider Margaret Thatcher's period in office ended a full twenty two years ago.
Clearly the conflicting passions the Lady inspired still run deep. Partly this must be down to the personality of Margaret Thatcher herself.
Her election in May 1979 coincided almost exactly with the opening of the London Comedy Store and the birth of alternative comedy. The new regime soon met with a wave of hostility over its apparently uncaring attitude.
"In the old days, people used to be named after what they made," onetime Comedy Store compere Alexei Sayle joked, "Carter if they made carts, Cooper if they made barrels. Thatcher if they made people sick."
Many of the comedic old guard were unsettled by the change. Impressionist Mike Yarwood who had enjoyed huge success in the Seventies with fairly gentle impersonations of the likes of Harold Wilson, Ted Heath and Denis Healey, claimed he couldn't adequately do the first woman Prime Minister and subsequently saw his career go into decline. Later in the decade, both Phil Cool and Rory Bremner managed to rise to success, without attempting a Thatcher impression. Bremner largely sidestepped the issue by being assisted by the leading Thatcher impersonator of the day, Steve Nallon.
Nallon also provided the voice of Thatcher on the satirical puppet show Spitting Image. Running from 1984 until 1996 (thus almost half of its time on air being under Thatcher), the series was always patchy. Despite this, it probably defines the comedy of the Thatcher years better than anything else.
In an attempt to undermine the female PM personally, the series usually portrayed Thatcher (in a not especially funny running gag) as a cigar smoker in a suit - as if she was a masculine cross dresser. As Alwyn W Turner has pointed out in his book on the period, Rejoice! Rejoice!: Britain in the 1980s, this may have backfired as satire as it merely served to emphasise her strong leadership.
Other jokes worked better. "You can't give up now!" says Thatcher at one point. "What about your wartime hero?" She replies: "He topped himself in a Berlin bunker."
The show also made great capital out of the rich range of supporting characters the era produced. Kenneth Baker appeared as a slug on a leaf. The face of Labour's Deputy Roy Hattersley was projected onto that of a real baby Labour leader Neil Kinnock was kissing during the title sequence, ultimately spewing out the name "Spitting Image". Meanwhile, Thatcher's nemesis within her party, Michael Heseltine appeared in various forms - often in a bomber jacket or as superhero 'Blondman'. Or sometimes prancing across the screen asserting "I have no intention of running for the leadership of the Tory Party" while wearing a sign saying "Vote for Heseltine" on his back.
The series also found a parallel with Steve Bell's cartoon If..., which began in 1982, whilst Private Eye magazine's Dear Bill feature was based around letters supposedly written by the PM's husband Denis Thatcher to an unknown friend (widely assumed to be journalist William Deedes).
Fictional comedy characters reflected the spirit of the times too. Despite operating on the fringes of the law (if not outside it), Arthur Daley as played by George Cole in Minder and Derek "Del Boy" Trotter, portrayed by David Jason in Only Fools And Horses both reflected the acceptable face of Thatcherism. Daley's constant reference to his unseen wife as "her indoors" could just as easily have referred to the Prime Minister and her status in Number 10. Del Boy meanwhile openly aspired to be a Yuppie (that's a 'young, upwardly-mobile professional', for you youngsters) and indeed was attempting this when he took his famous fall through the bar.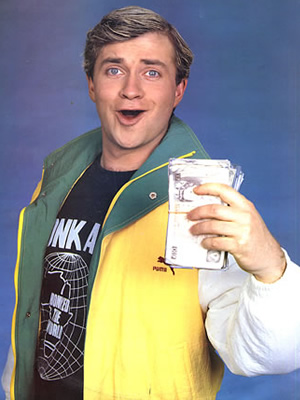 Sometimes the satire would backfire. Left wing comic Harry Enfield was projected to unprecedented success on the back of only a few brief appearances on the show Friday Night Live as the character Loadsamoney in 1987 (pictured). The character was supposedly a plasterer grown rich on the Yuppie boom and reportedly inspired by images of London football fans taunting more impoverished northerners by waving wads of cash at them. Opposition leader Neil Kinnock was soon referring to a "Loadsamoney society". But like Alf Garnett, Loadsamoney became a hero to some. Enfield complained when The Sun newspaper used an image of Loadsamoney to support a bingo promotion and ultimately killed off the character in 1989.
Less vulnerable to the possibility of heroism was Alan B'Stard, portrayed by Rik Mayall in The New Statesman from 1987. A Thatcherite Tory MP, B'Stard was adulterous, regularly indulged in blackmail, occasionally stretched to murder, and was as openly sadistic to his supposed ally Piers Fletcher-Dervish (Michael Troughton) as he was to the wider world.
The irony of the Thatcher years is that the Lady who inspired so much comedy semeed herself utterly humourless. True, her most famous speech "You turn if you want to, the Lady's not for turning" contained a double pun, but this was a rare exception. In later life, she unwittingly invited comparisons between herself and a decaying malevolent corpse: "I'm back... and you knew I was coming. On my way here I passed a cinema with the sign 'The Mummy Returns'."
Her funniest ever remark referred to the indispensability of her colleague William 'Willie' Whitelaw: "Every Prime Minister needs a Willie". A hilarious thing for Britain's first woman Prime Minister to say. Yet the innuendo seems to have been quite unintentional.
The most successful political sitcoms of the 1980s were of course Yes Minister and Yes, Prime Minister. Brilliantly written and with a central character (Paul Eddington's Jim Hacker) never clearly aligned to any political party, the series actually managed to remain distinctive from the narrative of the Thatcher years.
When the series won an award in 1984, however, writers and cast were horrified to learn that the Prime Minister - a fan of the show - had written a sketch featuring her and actors Nigel Hawthorne and Paul Eddington. The script proved to be predictably rubbish and Thatcher demonstrated no acting ability whatsoever, but writer Jonathan Lynn took an opportunity to turn the tables. In a speech afterwards, according to his book Comedy Rules he declared: "I should like to thank Mrs Thatcher for finally taking her rightful place in the field of situation comedy". The PM was not amused.
By 1990 the world had changed. The era that had begun with Not The Nine O'Clock News was now ending with the first series of Have I Got News For You. Many of the comics who were most critical of the Thatcher regime - Ben Elton, Stephen Fry, Hugh Laurie, French & Saunders had ironically grown rich and successful under her watch.
"I know that if you are flourishing in a regime, you are not supposed to bellyache about it," Fry concedes in The Fry Chronicles, "[but the] new callousness and combative certainty of Thatcher and her cabinet of vulgar curiosities were alien to the values we grew up with and it smelt all wrong."
Yet the world had changed. British politics has never had such divisive a figure at the top, and probably not seen Left and Right quite so polarised. We may never see such fertile comic times again.