Sarah Graley interview
Exploring the hyperspaces between comedy, cult films and other cool stuff
Amid all the elves and stormtroopers and Captain Americas and Doctor Whos and Pokemon and Jokers and actual Hollywood stars wandering around at MCM London Comic-Con you also get some awesome tables. Because behind these tables are super-talented creators who you can just walk right up and say hello to, which doesn't happen anywhere else, really.
Actually it took us a while to say hello to Sarah Graley, as she seemed to have fans gathered around her table all day - but then she is a comic-book character too, or a webcomic character, rather. Graley and her partner Stef are the co-stars of Our Super Adventure, one of the creations that launched the artist/writer's career, and she's now working on high-profile franchises too.
More on that below, and her new graphic novel, Glitch, plus some memorable cosplay moments. A super adventure indeed.
How did you get into creating comic books?
I've been drawing since I was super young, but it wasn't until my late teens that I got really into drawing comics. I started posting webcomics online, and my comics Rentquest, Pizza Witch and Our Super Adventure got me an Emerging Talent nomination at the British Comic Awards in 2015.
I ran a Kickstarter for a big collection of my Our Super Adventure comics in that same year, and it was really successful! It lead to my editor at Oni Press, Ari Yarwood, getting in touch with me about doing some Rick And Morty comics, and it was also the reason behind my literary agent getting in touch with me, too.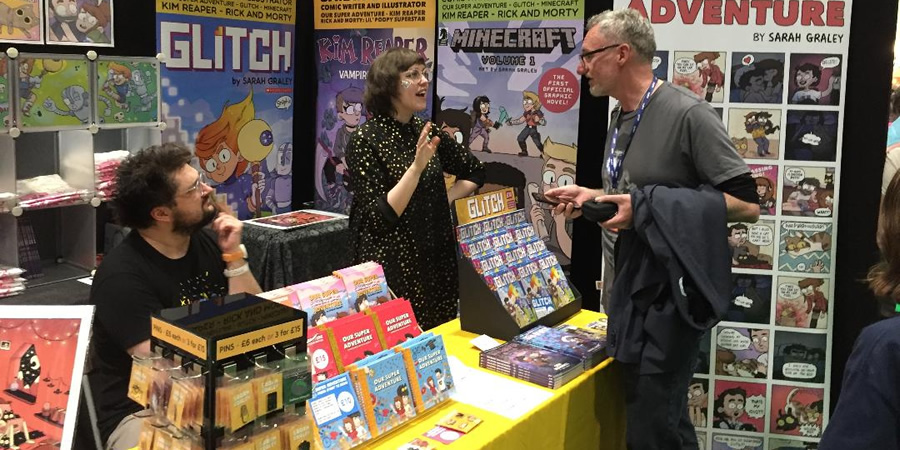 Handy...
Since then I've been putting out more of my own original work - I still update Our Super Adventure on a regular basis, and I also created the comic series Kim Reaper. I've also just finished doing the art for the first official Minecraft graphic novel, and I've starting working on a graphic novel called Donut the Destroyer with my partner Stef, too.
What were you inspired by originally?
I think a lot of my influences came from cartoons - I was a big fan of shows like The Marvellous Misadventures of Flapjack and Chowder that were on Cartoon Network. I was a big fan of the Scott Pilgrim comic series, too. Those books got me back into reading comics when I was 17 and I haven't looked back since!
Tell us about the new book...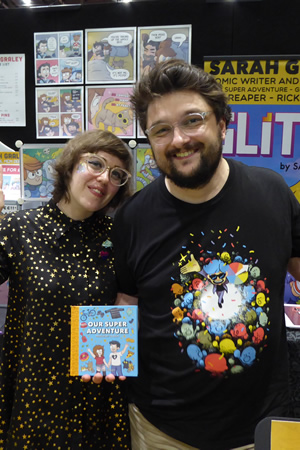 Glitch is my first middle-grade graphic novel. It's all about a girl called Izzy who discovers that she can enter the world of her new video game. It's a fun, relatable, story about friendship and finding a balance between school life and, erm, saving the entire virtual world of a video game, no big deal! It's been released by Scholastic Graphix and it's in stores now. And available from me at comic conventions, too...
We tend to think of US and UK humour as being quite different - do you reckon that's true in comic books too?
I think that there's a lot of crossover nowadays - I grew up with loads of different American cartoons and TV shows alongside other more traditionally UK things like Sonic the Comic and Beano, so I think there was definitely a lot of crossover between all of those things when it comes to my own comics and writing.
Life as an artist/writer can be quite solitary - are comic-cons a useful opportunity to meet up with people?
I think comic-cons are wonderful! It's really amazing getting to meet fans of my comics and books, and it's also really cool getting to say hi to other artists and writers, and getting to buy signed books from them. Seeing attendees in cosplay is also super fun as well - so much hard work goes into their costumes and some of them can be amazingly detailed!
Any particularly memorable experiences at comic-cons over the years?
Last year at MCM London I was lucky enough to see people cosplay some of my characters for the first time. I make a comic called Kim Reaper, and someone dressed up as Kim, complete with a giant homemade scythe - it was so surreal and cool, I couldn't believe it!
That same day, someone dressed as Becka - the other main character from Kim Reaper - came to my table as well, and I just couldn't believe that I had been so lucky. It was amazing.