Rachel Nobes interview
Exploring the hyperspaces between comedy, cult films and other cool stuff
It was a pretty prestigious slot for a first gig, really. A few weeks ago Rachel Nobes made her stand-up debut at one of London's finest venues, The Union Chapel, in front of several hundred people, on a bill also including Richard Herring, Shazia Mirza, Rosie Jones and - yes - headliner Russell Howard. That's quite a baptism.
Now, Nobes has graced stages before, but usually with a furry head on: she's a well-known cosplayer, and spends whole days pretending to be an Ewok, among other things. Which seems an increasingly savvy course of action, the way the real world's been going, recently.
This first stand-up gig was at Joke for Scope, a big fundraising show organised by the disability charity, and during the build-up they ran a contest in which a first-time comic could do a five-minute slot. Nobes - who does lots of costumed stuff for disabled children - sent a video, won, and marched out before the packed pews with impressive chutzpah. So, we dropped her a line about that novel cosplay to comedy journey. She's met some interesting characters along the way.
Speaking of Scope, they've just launched a campaign called Now is the Time, calling on the government to appoint a dedicated minister for the families of disabled people - far too many get far too little support during the diagnosis process. You can sign their petition here
For Nobes, the cosplay continues - indeed, she has a terrifically niche costume lined up next, celebrating a British comedy legend. But let's start with that stand-up debut.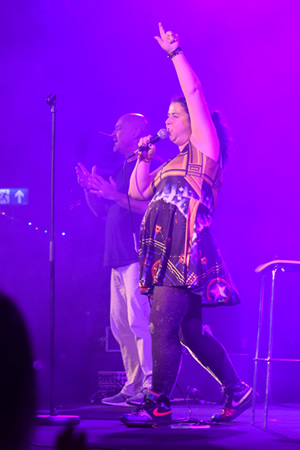 Did you always want to try comedy?
I love stand-up comedy and in all honesty, I didn't think I'd ever get the opportunity. I have done other types of entertaining though: singing, amateur acting, but mainly performing in cosplay and entertaining disabled kids. I never dreamt I'd win but what an incredible opportunity. I was definitely going to make the most of it.
Talk us through the evening then - how was the build-up?
My friend Dane joined me and my nerves got the best of me so badly, we took the wrong train! When we arrived the Scope team introduced us to Russell Howard, Rosie Jones, Richard Herring and all the other comedians, which was amazing. Then we went into the main area and watched the first half - it was then I saw the size of the audience and wow, it really hit home how huge this was.
During the interval I had a recap and altered a part of my routine, put my favourite joke at the end and psyched myself. Around 9pm, it was time to go on: the Scope team were all there giving me support, Richard gave me a great introduction, Russell was encouraging too and as I stepped out I remembered a line someone had posted - "Funny or not, it takes a lot of bravery to do this..."
You seemed amazingly confident - were you secretly bricking it?
Honestly? I was Sh*ttin' Kittens! I was so scared - but it was great! I've had a lot of positive feedback, I think it went really well but there's always room for improvement. I have always performed in a costume previously and that's a great safety net for me, I can hide behind that if I'm nervous or anxious, but on stage, that was all me, warts and all.
Joking about my arthritis and my health problems helps me cope on a day to day basis, I use humour when I talk to everyone about it, because I don't want them feeling sorry for me. I want them to see that I am a survivor and I can laugh during the tough times - it may even help them cope too.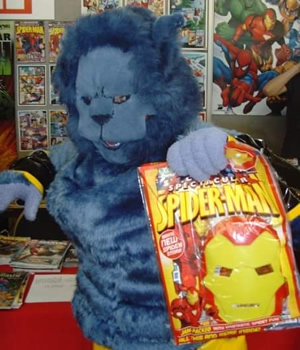 How did you get into cosplay?
I saw it in a magazine and I love computer games and sci-fi so wanted to give it a try. I made a costume and met Alice Krige who played the Borg Queen in Star Trek: she was so lovely about my costume and that was a huge boost.
Later that day I won the London MCM Expo costume contest and it all went from there. I've been on TV dressed as Yoshi from Super Mario Bros and set a Guinness world record, I've been an Ewok in a punk music video, and launched Final Fantasy XII dressed as a Moogle...
Do you have a signature character?
I have two regular ones, the White Rabbit from Alice in Wonderland and Arky the Ewok, both are my own design. I go to the Strong Bones children's charity party as Arky: the Strong Bones kids are amazing and have arthritis and other conditions - I can use my own health as an example of how medicine has improved since I was their age.
Any new costumes on the horizon?
I'm planning a Drop Dead Fred outfit at the moment, but you're one of only two people I've told about that so far.
Drop Dead Fred! Why did you go for that?
Rik Mayall! He was a legend! I grew up watching Bottom, he's hilarious. I've always loved the concept of imaginary friends, and the costume is actually more complex than it looks.
How about doing a cosplay comedy set?
Heck yes, if I got the chance I'd LOVE to do stand-up in costume - perhaps as a Star Wars character, a Twi'lek, performing like I'm in Jabba's Palace or the Cantina...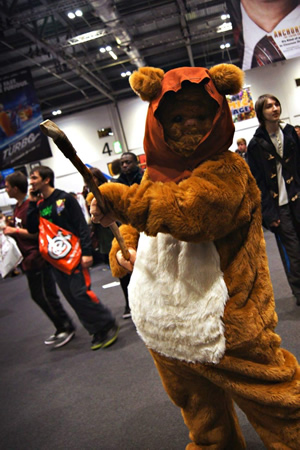 At Joke for Scope you mentioned meeting a Harry Potter actor at a cosplay competition - do you often get to hang with celebs at those events?
I've met some amazing people, the cast of Quadrophenia, all of the main Red Dwarf cast, I had an evening meal with some Star Wars actors. But I also love meeting the creative people at the events who draw, build, design, develop the stories and the music, the behind the scenes people who have such passion. I've even got them [booked for] more events! As a result, I've had a lot of support with this and I couldn't be more thankful.
Speaking of Star Wars, what did you think of the contentious Episode Eight?
I really enjoyed The Last Jedi - I'm currently making some Porgs for a charity to take out and show disabled people - but you will never please all of the fans, sadly.
I remember chatting to one of the Star Wars cast - I believe it was [Boba Fett actor] Jeremy Bulloch - and he mentioned how wonderful it was seeing the queues for lunch during filming as there were people of all shapes and sizes, from different countries and different abilities, and to be part of something with such diversity for the time was amazing.
It would be nice if the trolls could remember that, when harassing some of the cast for purely acting the part they were given.
Do you fancy doing more stand-up? I suppose anywhere will feel quite chilled after a full Union Chapel.
I'd love the opportunity to perform more. I've been asked about doing some interviews and I'm also waiting on surgery for the jaw issue I mentioned on the night - can't have that falling off during my set eh?
Seriously though, I want to do more because it gives me a wonderful platform to talk about disability without the 'poor me' stigma that goes with it. I've said to Scope that I hope I can help them more - whatever happens next, it's all good! I just hope I can make people smile more soon.