Matthew Highton on his videos
Exploring the hyperspaces between comedy, cult films and other cool stuff
If you've ever watched the classic Christopher Nolan Dark Knight trilogy and thought 'too dark!' - fear not, the boy wonder of random mash-up videos has ridden to the rescue. What finale The Dark Knight Rises really needed, Matthew Highton realised, was for Christian Bale's brooding Bruce Wayne to tackle Tom Hardy's Bane in the manner of kitsch '60s Batman Adam West. Kersploosh!
An enviably prolific comic/filmmaker, Highton has many edits to his credit this past 12 months, notably several admirable attempts at recreating the opening titles to cool TV shows (The Simpsons, NCIS, The OC, Buffy) by tracking down splendidly cheesy stock footage. It probably shouldn't work, but that curious idea has proven pleasingly popular:
Actually, given the largely baffled reception to Christopher Nolan's latest film, Tenet, he might like to get Matthew on board to make the next one more accessible. Drop us a line Chris, we'll hook you up.
Your '60s Batman/Dark Knight mash-up is marvellous - was there a lightbulb moment behind it?
The [Dark Knight] scene came up as a YouTube recommendation last week, and like a lot of my videos it was as simple as 'take one thing and try and turn it into something else.' I'm a massive fan of the old series. I think it might be one of the funniest shows that has ever existed and to try and take the serious Dark Knight Rises version and Adam West-it-up just seemed like fun.
Talk us through that process - how long did the video take, from the idea to posting it?
This one was actually really fast. I had the idea the week before and put it on a list of to-do's, then on the day it took maybe three/four hours. The editing isn't a long process, it's just the sourcing of sounds and things that will fit. I had to pull the original sounds out and redo all the background and punches - that and just joyously listening through Adam West quotes is what ate the time.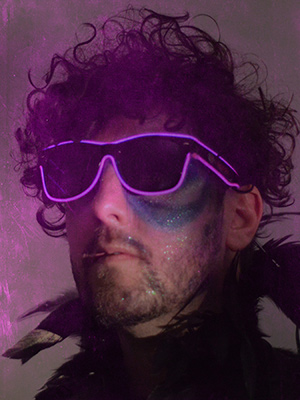 I suppose WandaVision is doing something similar to the Marvel Universe, turning it into a vintage sitcom - is there a big franchise you'd love to mess with, officially?
There's a question! I'd love to do something to Jurassic Park; what, I have no idea. Or the dream would be Capcom let me mess around with Resident Evil. Imagine being allowed to do that! Yeah, that's it. The dream now is Matthew Highton's Resident Evil. I'd basically strip out all the gothic and science stuff and set it in the Spindles Shopping Centre in Oldham in the late '90s.
Your stock-footage versions of classic series title sequences have been amazing too - what spawned that project?
Genuinely the NCIS' intro (no idea where to put that apostrophe). It came on after something my wife Katie and I were watching, and it looked so much like stock footage I jokingly said I could remake it. I couldn't get that idea out of my head and the next day started to look into it. It then warped into doing The O.C. and that did alright numbers-wise. But it took off with the Buffy one (which is all thanks to John-Luke Roberts' suggestion) and that was that.
What's your favourite bit from them?
Out of all of them I think Fonzie in The Happy Days one is my favourite bit. Just because the stock version really works, because they're so not Fonzie, but Fonzie enough. That, or the end car jump in The A Team.
Any other new projects? Did I see something about a homemade sitcom pilot?
I have a pile of videos to make. I've got in a good habit of writing down everything I want to make on a Monday and then working through them. But I do have bigger projects in the pipeline that are all a bit shhhh at the moment (I know the term should be hush-hush, but I went with shhhh, okay!), which sounds cooler than it probably is.
And yeah, Joz Norris and I put out a lockdown pilot last week that is a lot of our old sketches and some new stuff we made way back in Lockdown 1. It's really fun and silly and we'd love people to watch it and if you want you can drop a comment, like, subscribe, tell your Nan (really getting into this internet way of working).
We also have a podcast in the works, which should be up some time in the next few months.
How have your lockdowns been generally - do you spend lots of time hunkered down doing film stuff usually anyway?
Basically, yeah. The film stuff has always been running alongside the live stuff, but it's amped up in the last few years and certainly the video stuff in the last year. Mainly because Katie (again my wife. I'm married, do I mention that enough?) works very hard all day at a real job, whereas I walk around the house dressed as a robot a lot.
So when I don't have paid jobs, I try to work on stuff using her office hours as a guide and just make what I can. It's also entirely a coping mechanism for lockdown. Obviously though I'm also making them for the fame and fortune, but I'm hoping they give a little burst of silly in people's timelines, too.