Brett Goldstein interview
Exploring the hyperspaces between comedy, cult films and other cool stuff
Brett Goldstein is really tearing through his to-do list right now. The movie-obsessed comedian and thespian has already made a well-received superhero feature film - 2015's SuperBob - and been immortalised as an action figure by one of the UK's top hip-hop types (more on that below). Now he's about to pop up in British TV's biggest sci-fi series, too. Which is good going.
Yep, he can die happy - which would be a grim sentiment if he wasn't doing a podcast in which all of his guests die right at the start. Films to be Buried With is addictive listening, as Goldstein grills fellow comics about movies and, indeed, their preferred method of meeting their maker. Favourite and formative films can really get you under the skin of a person, it transpires.
Now, like Clarice Starling blasting her way out of Buffalo Bill's basement, Films to be Buried With is about to break free of Brett's kitchen. The first live edition takes place at an appropriate location on November 3rd: the BFI on London's Southbank, and co-stars the always popular 'Amazing Special Guest.' Intriguing!
Goldstein has also worked with David Hasselhoff, appears in a couple of forthcoming indie flicks, and has further plans for his superhero - more below. But first: the dead films society.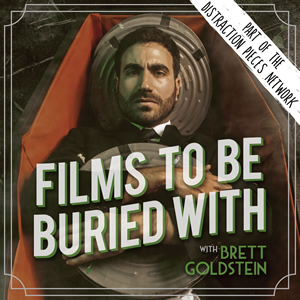 I'm addicted to the podcast. Could you talk us through the concept?
The idea is that a guest comes round, I tell them they've died then I get them to talk about their life through the films that meant the most to them. So, what is the first film they remember seeing? What is the film that made them cry the most? Etc.
It is a show about life, death and films and hopefully it's funny and also very illuminating. I've had episodes that were pure laughs and some that were really heavy, all depends on the guest and the stories told. It's fascinating.
Did you do lots of prep before the first episode - were there 'preview' editions? - and questions that didn't make the cut?
I did one with James Gill first that never aired cos he cried so much that we both decided it was a weird one to do as a comedy podcast. If I'm honest the questions are all the original ones, though I did later add 'Troubling boners and Worrying Wide-Ons' after the Nathaniel Metcalfe episode.
What are the most surprising answers you've had so far?
Three off the top of my head: Stu Goldsmith said that Ethan Hunt [from the Mission Impossible movies] was the character he most related to. Ola The Comedian was shown ROOTS by his mother at the age of three. And Jack Whitehall's movie education was Norman Wisdom.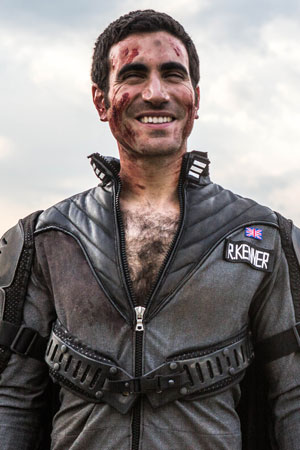 I get the impression from FTBBW that you've seen every film, ever...
I have seen all the films. If I'm not thinking about comedy, I'm thinking about films. It's very detrimental to my human relationships, but what's more important? I try to see as many films as I can, and sometimes fit them around my weird schedule. Nothing better than seeing a film at midnight after a gig, in an empty cinema.
It's great to hear SuperBob mentioned on there fairly often - how do you look back on that whole experience?
Jon Drever - the director and co-creator - and I were invited to do a screening and Q&A a month back. We weren't planning to sit and watch the film again, but the audience laughed straight away so we decided to stick around. I hadn't seen it in at least a year so I finally managed to see it with a bit more distance and objectivity.
How did it go?
I found myself tremendously proud of it. It took us five years from start to finish to get that film made, and we shot it in 18 days.
In hindsight there are flaws, and I think as much as we worked hard to disguise the low budget there are giveaways I see now. But overall, it really works, it's funny and it's sweet and it's really moving occasionally and I'm so pleased with how good the cast is. I liked that we managed to get all these brilliant people in all the parts.
I always remembered loving how the tinniest parts in American Werewolf in London were all funny and I wanted the same thing. Which is why even in tiny roles we have Zoe Lyons and Hattie Hayridge and Rachel Stubbings and they are all so funny. It's taken me this long to accept this but, yes, I'm very proud of it.
Did you do any Marvel-style merch around SuperBob? Was there ever a comic book?
Scroobius Pip actually had a SuperBob doll made for me, so that exists and sits on my shelf watching over me in a creepy way. There was not a comic book. But we did write the story for one.
Have there been any ideas for doing more stuff with him? It seems a shame to leave such a good character on the shelf.
I don't know if I can say this, but fuck it. I have written a pilot for a SuperBob TV show as I have an idea that would open out the world and turn it into a bigger long-running series. I also have the full plot line for a sequel which would be the final chapter in the SuperBob story. I think it might need more support before we could raise the money for that one as it's an expensive idea...
Any other new stuff on the horizon?
I'm in an upcoming episode of Doctor Who which was one for the bucket list. I'll be doing my show What Is Love Baby Don't Hurt Me at the Chester Festival and maybe a few more dates. But now I'm working on a new show, starting from scratch which I love.
I'm in a brilliant short written by Helen Simmonds and directed by Danny Morgan called Fxck. It's got Esther Smith in it and it's really great. As for films, I'm in one with Jemima Kirke called Wild Honey Pie which premiered at SXSW. I'm hoping to do more films soon.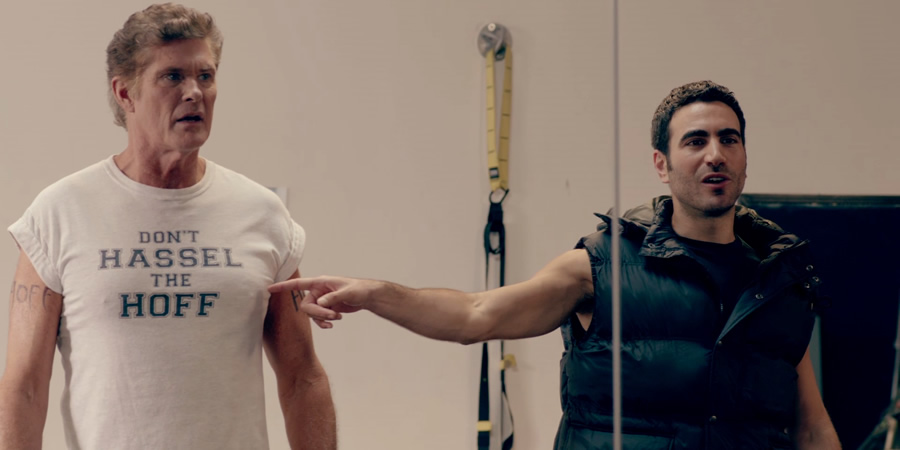 What are you most often recognised for? SuperBob, or Derek, or stand-up, or the Hasselhoff show...?
On average, I think I am most recognised for Drifters and Uncle. Not enough people saw Hoff The Record, which I think is a shame cos I think it's one of the funniest things I've been in. It's on Netflix now.
Are you still in touch?
Yes, me and The Hoff are still in touch. Sometimes he texts me Hoff puns late at night. True story.