2007 - The Return of the Audience Sitcom
Back in 2007, a comedy fan provided us with this article, which was his view on the new wave of British sitcoms filmed in front of a live audience that were starting to win over audiences. Ironically, most of the sitcoms discussed have since been cancelled after just one further series each, despite still being popular with audiences. However, the general point of this article still remains we think...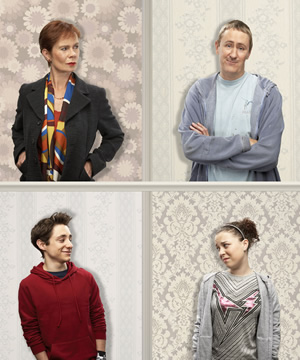 Don't ask it too loud, but is the much-derided and oft-pronounced dead audience sitcom making a comeback? During September 2007, three of them have returned for a second series - After You've Gone and Not Going Out on BBC1, and The IT Crowd on Channel 4. No fireworks but they're all performing well in their time slots, so they all stand a chance of making it to series three. However much the broadsheet newspaper critics and Ricky Gervais would like to wish it away, the audience sitcom refuses to die.
So how are these three second-timers faring? Reading British Comedy Guide's forums gives me the sense that there's an excitement about audience sitcom that has been missing for a while.
After You've Gone is probably the most mainstream of the three. My problem with this has always been the central relationship - however much you modernise it for the 21st century, there's no disguising the characters - a put-upon husband and a battle-axe mother-in-law. The presence of Nicholas Lyndhurst, looking not much different to when he made his debut in Butterflies, only serves to exaggerate the feeling that Life On Mars isn't the only BBC1 programme taking us back to 1973.
I think the writers see this, which is why they are starting to bring Lyndhurst's girlfriend in more this series. Say what you like about My Family, that show was the first pre-watershed sitcom to move into the bedroom and add a touch of reality to the mix. I think by now I would have moved the girlfriend in to the house regardless - finally give Celia Imrie something real to play against, give everyone a chance to develop the core relationships between the family, rather than those awkward pub scenes. Difficult to see Nicholas Lyndhurst in a pub without Del Boy, Mike, Boycie, Denzil and all the rest. I think this show will run for at least a bit longer because the writers are so experienced, and they understand that character is the most important element in a long-running sitcom.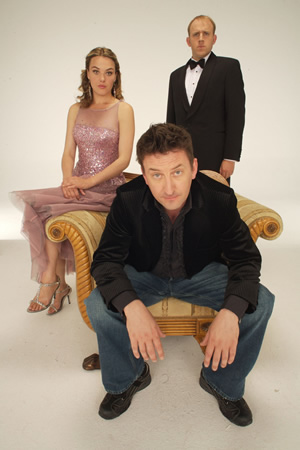 Not Going Out was the one I was holding out most hope for. I loved the first series. It took the things we Brits do best - class, relationships, loveable losers, and added the best of the US set-up, hiring extra writers to punch up the gag rate. It was a bold move for Lee Mack to make a mainstream sitcom when the genre was at its untrendiest.
It worked so well because at its heart were three characters who all had something at stake in their relations with the others. Would Tim get back with his ex now he had the perfect excuse for visiting her? Would Lee get off with her and risk his friendship with Tim? Did she still have feelings for Tim, and was she starting to fall for Lee? It gave the three of them something to play off, and gave us a reason to accept the non-stop wisecracking. But the big discovery of that show was that Lee and Tim are brilliant sitcom actors - together and apart.
That seemed to me so obvious, that I would have thrown everything into their relationship for Series 2. This series, however, Tim has got nothing to play against. Okay, so it's his sister in the flat now, but when he comes round he's just visiting his mate or his sister, he's got nothing at stake. Last series he was trying to see the girl he'd just split up with, but could never admit it - which of course gave the writers loads of unstated stuff to play with, and great scope for gags. Also for pathos, which is of course what makes a good sitcom actor great. Think Ronnie Barker, David Jason, Caroline Quentin. Now think Jamie Theakston. (Lee and Tim, by the way, are both damn good at pathos.)
I've read Andrew Collins's comments about this series in the forums on this site, explaining all the changes, but I can't see why at the start of Series 2 they didn't just move Tim in with Lee, admit they were making a Likely Lads for the 21st century and get on with it. Yes, sitcom is always to some extent contrived but it's also about surprising your audience. Did anyone seriously believe Lee was going to buy the flat? Or that Guy was gay?
I started writing this piece before Episode 3 of Not Going Out, which as luck would have it was a stormer, easily the best in the series so far - Tim and Lee's relationship at the centre, a believable story, even the cleaner's jokes character-driven, and the scene where Tim and his girlfriend split up in the lap dancing club as near to perfect as you could hope for in a sitcom.
Then I saw the name of the writer at the end and it all made sense - Peter Tilbury. Writer and star of the superb early 80s ITV sitcom It Takes A Worried Man. Creator of brilliant sitcom Shelley. Why aren't all these shows available on DVD yet? Tilbury also created the Lenny Henry vehicle Chef!, which I thought was as good as any British sitcom playing at the time. All character driven comedy.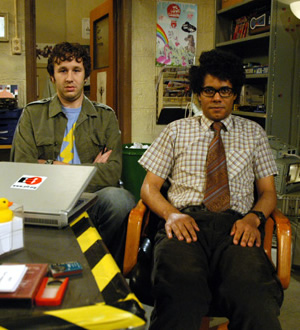 Graham Linehan writes hilarious comedy, but character has never been his strong suit. I've read some of the comments on the site, and note there was quite a discussion about how the show seemed to borrow so thoroughly from Seinfeld. I can go back further, the original Porky's, remembered for one line and one line only - a pretty barmaid answering a phone then shouting across the packed bar: "Has anyone seen Mike Hunt?"
When does paying homage turn into a rip-off? There were some hilarious rip-offs in Father Ted, notably the moment from Mission Impossible where Tom Cruise is dangling over some expensive jewel, only this was Ted or Dougal hanging over the fireplace. And you could argue that Linehan and Matthews themselves were victims themselves, with their extremely funny docusoap office sketches from Big Train. To me The IT Crowd is less a sitcom than a sketch show set in IT (even that's a fairly minor part). There's a vague story and the same people week in week out - but what the heck. I'm not too bothered because I'm too busy laughing at the show to care.
Having said character is not Linehan's top skill, Dougal was of course a superb creation - an innocent child in an adult world. Moss is similar - a boy with asberger's who has never been a teenager. Every now and then a performer and character come together to create comedy gold - Dougal and Ardal O'Hanlon, Kris Marshall and Nick from My Family - and now Richard Ayoade as Moss. If you're a sitcom writer you wake up in the morning and all you want to do is write for those characters. Fans of the brilliant Matt Holness (Garth Marenghi's Darkplace) will already be familiar with Richard - their spoof interview series (Man to Man with Dean Learner), shown at some criminally stupid hour on Channel 4 last year, was one of the funniest things I've seen in years.
So I'm reasonably confident that all three shows will return next year. And in the meantime the great Armstrong & Bain, writers of Peep Show, will have had their first studio sitcom aired - plus a new series of The Green Green Grass. I think audience sitcom is beginning to find its way in the 21st century, at the moment the old is being grafted onto the new and it still looks a bit ugly - but remember it took three series for Only Fools and Horses to find its feet - and by series three, I think there's a real chance one of the above will strike gold!