The Repeats Report 2013: Thoughts from the Researcher
We've just revealed that Last Of The Summer Wine was the most repeated British comedy show on UK television in 2013. Story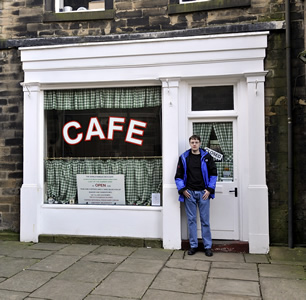 I was the researcher behind this data. I'll start off by answering the obvious question, "Why did you do this?"... Well, as I was maintaining the TV schedules on BCG, I noticed that there were several shows that we clearly being repeated more than others. This made me think: "We all talk about repeats, often complain about them, but no-one has ever sat down and found out what shows are the most repeated, and just how often they appear over a significantly long period of time." I therefore decided it would be good to try and settle the matter.
Before I go on, I should stress that this research is not designed to attack TV channels that repeat lots of shows, and I'd really not approve of anyone trying to use my work to do so. I have no problem with there being repeats in the first place - it is nice to see old shows getting an airing. (Although sometimes we do wish there was a little more variety!)
Before examining the data, it is worth explaining the 'highly complex' system BCG used to determine this statistics: we manually entered everything into an internal database each week! Although time consuming, this has advantages in terms of accuracy: sudden schedule changes can be accounted for, and with our in-depth knowledge of comedy and existing data, two shows with the same name aren't ever confused this way.
It should be noted that BCG doesn't cover every channel broadcast in Britain, just 43 stations that are known for broadcasting UK comedy. This list can be found on our channels page.
Shows with 200+ repeats in 2013
1. Last Of The Summer Wine: 1888
2. QI: 920
3. Birds Of A Feather: 788
4. Only Fools And Horses: 773
5. 'Allo 'Allo!: 612
6. My Parents Are Aliens: 605
7. Goodnight Sweetheart: 514
8. Have I Got News For You: 475
9. Keeping Up Appearances: 469
10. Russell Howard's Good News: 465
11. Mock The Week: 425
12. My Family: 407
13. As Time Goes By: 380
14. Sooty: 366
15. Live At The Apollo: 331
16. Porridge: 329
17. Harry Hill's TV Burp: 306
18. Shaun The Sheep: 305
19. Not Going Out: 295
20. Jongleurs Live!: 289
21. Father Ted: 270
22. A League Of Their Own: 266
23. One Foot In The Grave: 266
24. The Good Life: 263
25. Outnumbered: 262
26. 2point4 Children: 256
27. The Ricky Gervais Show: 235
28. Bread: 231
29. Gavin & Stacey: 230
30. The Vicar Of Dibley: 226
31. Two Pints Of Lager And A Packet Of Crisps: 212
32. Open All Hours: 209
33. Sadie J: 205
Further notes and analysis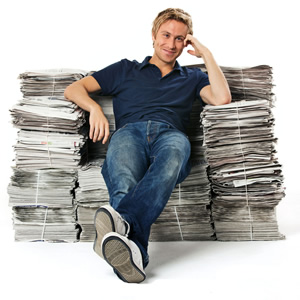 - Birds Of A Feather is an interesting entrant in third, because for most of the year it was not transmitted at all. It was not repeated until the Drama channel launched on 8th July.
- My Parents Are Aliens in 6th place is both the only children's programme and the only non-BBC title in the top 10. Another CITV show, Sooty, came 14th.
- Russell Howard's Good News (pictured) is the show the BBC itself repeated the most.
- Porridge was the comedy repeated across the most channels. It was shown on GOLD, Yesterday, Drama, BBC Two and BBC Four.
If there is a problem with the repeats, it is the lack of diversity. If you do not count films, there were just 516 different British comedy shows repeated on TV. This website has over 4,000 comedies listed in its database.
Looking back at the Britain's Best Sitcom poll conducted by the BBC in 2004, a list of popular sitcoms which did not get repeated in 2013 includes Drop The Dead Donkey, Hancock's Half Hour, Till Death Us Do Part, The Thin Blue Line, Peter Kay's Phoenix Nights, Hi-De-Hi!, It Ain't Half Hot Mum and Rab C Nesbitt.
However, perhaps the biggest show of them all not to receive a single repeat broadcast during 2013 was Monty Python's Flying Circus. With the five surviving members now reforming, surely it's the time for the show to be given a repeat run?
Of course, whilst the above list shows how popular and often-repeated some British comedies are, some titles are seen even more frequently. For example, motoring entertainment show Top Gear was broadcast 2,015 times, and American sitcom Friends was shown on just Comedy Central an incredible 5,399 times. Nice if you're collecting repeat fees...