Remembering Ronnie Barker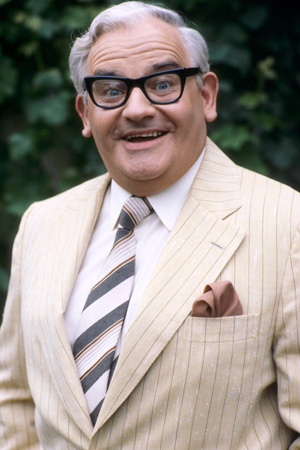 Ten years ago - on 3rd October 2005 - we lost someone many consider to be one of the funniest men to ever grace British comedy, and the man Sir David Jason called simply "the Guv'nor".
Ronnie Barker became a TV star in 1966 when we first saw him in The Frost Report and was known for his TV comedy work until his retirement in 1987 - and beyond.
As one half of The Two Ronnies and in the classic BBC sitcoms Open All Hours and Porridge he became a household name and national treasure. As a TV performer and comedy writer he is considered one of the greats, but where did it all start?
Ronnie Barker was never a comedian, and unlike Ronnie Corbett he never performed in cabaret or stand-up comedy. Barker needed a character to perform and never felt comfortable as himself, often turning down personal appearances or local fete openings, as he couldn't bear to appear without a script.
In a 1974 Parkinson interview, he said: "I'm shy when there's more than 3 people in the room. I can't be a best man at a wedding. I can't make speeches. I have to hide behind a character. I can't be myself. I feel that I have no personality."
Ronnie started his career in the theatre, first as an assistant stage manager and then as an actor. Often he would combine both roles in the frantic whirl of weekly rep, where, whilst one play was being performed in the evening, the following week's production was being rehearsed during the day.
During a brief stint studying architecture and then working in a bank, Ronnie joined his local amateur theatre group, Oxford's 'The Theatre Players', primarily on the advice of a friend who tempted him with the promise "There are quite a few girls there."
In his 18 months with The Theatre Players Ronnie was mentored by Margarethe Bayliss, who encouraged him to pursue acting professionally. After a failed audition for The Young Vic Theatre School he wrote to the Manchester Repertory Company, enclosing a picture, who were for some reason based in Aylesbury, Buckinghamshire. When he heard nothing, with trademark Barker cheek, he wrote again asking for his photograph back. This secured him an audition with the company's director Horace Wentworth.
After being asked to audition by reading in six different accents, which he performed with aplomb, he was hired there and then as assistant to the assistant stage manager for £2 10s a week, and gave notice at the bank.
His parents weren't pleased with this decision with his father telling him: "If that's what you want to do, do it, but I'm not going to support you."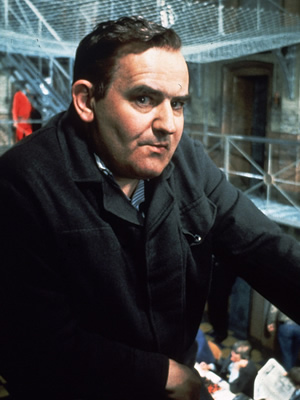 Ronnie was thrown in at the deep end and had to learn very quickly. During the performance on his first night working in the theatre, he was instructed by the stage manager to "strike the matches and put them on the piano upstage". Unaware that 'to strike' in the theatre means to move or take offstage, Ronnie took both matches, struck each one in turn, blew them out and placed them back in the box, leaving a very confused leading man unable to light his cigarette in the next scene.
As well as assistant stage management duties Ronnie was offered small parts in the plays. With this being weekly rep, plays came thick and fast but it was when he played a chauffeur in a play called Miranda that Ronnie got his first ever laugh from an audience in a professional theatre. From this point on he knew he wanted to make people laugh and comic acting became his forté: "Never mind Hamlet. Forget Richard II. Give me Charley's Aunt," he said.
Aylesbury Rep unfortunately folded in the spring of 1949 but by this time Ronnie was in Rhyl where he was playing the lead in The Guinea Pig, and where he also encountered the eccentrics of the theatrical landlady. Feeling flush on six pounds a week he bought himself an eight-ounce piece of fillet steak and some asparagus, instructing his host that he would be back at 10pm to eat after the show. When he returned she proudly announced "I've made your meat into a lovely stew for you and put your flowers in water."
After Rhyl and a brief period of theatrical unemployment - during which he worked as a hospital porter - Ronnie joined The Mime Theatre Company, touring schools and village halls in Wales. This was not a glamorous tour and as audiences got smaller prospects got bleaker. Wages were cut and to top it all when they reached Cardiff Ronnie was struck down with a severe bout of flu, which left him house-bound in freezing cold digs. The company had moved on to Swansea for another date and Ronnie's landlady would only supply a jug of water. Left with just a loaf of dry bread and without even enough money for aspirin, Ronnie sweated it out until he could re-join the troupe.
By then however, things were again coming to an end. The ill-fated Mime Theatre Company finally ran out of steam and money in Penzance in the spring of 1950.
The director had had the foresight to save enough money to pay for 5 train tickets back to London; unfortunately there were 6 players in the company and Ronnie drew the short straw, having to hitch-hike and walk back to Oxford. He arrived after 3 days on the road, exhausted but just in time for his sister's wedding.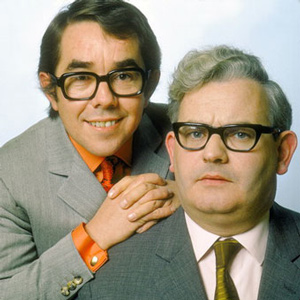 It wasn't long before Ronnie was back in employment again and for the next 15 months he spent his days as character juvenile and stage manager at the Tudor Theatre, Bramhall in Cheshire, in what he considered to be one of the turning points of his career. Here he felt he really learned the craft of comic acting, and also had the good fortune to meet a man who would influence him throughout the rest of his acting life.
Ronnie credits leading man, and eventually director, Glen Melvyn with "teaching me everything I ever learned about comedy". The two became firm friends and as Ronnie learned his craft the parts he played got bigger and bigger, whilst all the time keeping up with his stage management duties. However, such was Ronnie's skill at organisation, it was Glen who suggested that Ronnie give up acting to go into theatre management full time. Of course Ronnie refused, which made his next career move even more perplexing.
In August 1951 Ronnie, egged on by two former Theatre Players friends, left Bramhall for a job working in the publicity department of The Oxford Playhouse. He was back in his home town and in the theatre he'd first visited as a young boy. Initially slogging around the streets of Oxford with handbills and posters, Ronnie's punt at 'getting his foot in the door' paid off when he was offered a part in one of the plays. What followed was 4 years in fortnightly rep at the Oxford Playhouse and roles in more than 200 plays.
Not only was this the apprenticeship in acting Ronnie craved, it was also a master class at being in the right place at the right time. It was at The Oxford Playhouse that Ronnie met a new and highly talented director, Peter Hall, later to become a Sir, but for now a new director wanting a few months' experience in rep after his first big success in London.
In January 1955 Ronnie left Oxford for a tour of the play Hot Water, written by his old friend Glen Melvyn. The tour ended in May, after which Peter Hall had offered Ronnie a couple of small parts in Mourning Becomes Electra at the Arts Theatre Club, London.
Under the guidance of Peter Hall Ronnie had finally made it to London and onto the West End stage. Once there many other opportunities opened up for Ronnie, including more work with Hall, then radio, and ultimately television.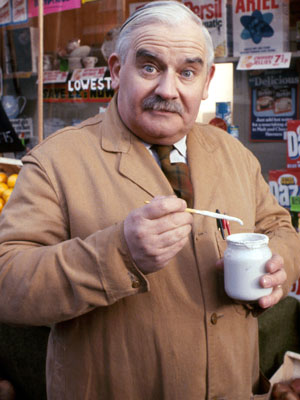 Once television caught Ronnie's imagination and perfectly exploited his talents for writing and acting comedy, he would rarely tread the boards again, and even then only for Royal Command performances and The Two Ronnies' successful run of their live show at The London Palladium in the late 1970s.
Sir Peter Hall, as he was by this time, did try to persuade Ronnie back to the stage on many occasions but TV work never permitted it. In 1985 he asked Ronnie to play Falstaff. It was this offer that served as the catalyst for Ronnie's plans for retirement. He realised that although he'd been offered what many actors would consider one of the dream Shakespearean roles, his biggest concerns were battling the London traffic every day and the hassle of commuting. He knew then it was time to give up acting and comedy. The man who had given Ronnie such a boost at the start of his career was now one of the reasons he was ending it.
Ronnie Barker not returning to legitimate theatre was always a great regret for Sir Peter Hall: "He should have played all the great Shakespeare comic parts. He would've been a wonderful Falstaff, a wonderful Toby Belch, there's about 15 parts in Shakespeare he could've done. During my years at the National I kept on asking him, offering him all these roles. I do think he's the great actor that we lost."
Certainly the theatre's loss was TV comedy's gain and we may not have enjoyed as many years of Ronnie on the box had Sir Peter succeeded in calling him back to the stage.
For Ronnie's part, he just wanted to make people laugh:
"I would like to be remembered as one of the funniest men on television. 'He made us laugh.'"
He certainly did that.