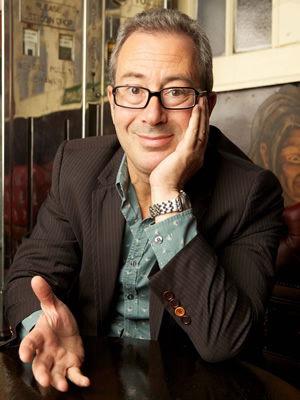 The first of an occasional series in which Chris Hallam puts a comedian 'on trial'...
Whether railing against the policies of 'Mrs Thatch' or as the co-author in his twenties of memorable comedies The Young Ones and Blackadder, the image of Ben Elton in a sparkly suit probably defines the UK comedy scene of the Eighties better than any other individual.
Perhaps this explains why the backlash against him has been so harsh. Although some never took to him - Sir Robin Day once effectively told him to "shut up" during a chat show appearance and he was one of the few comics of the time to get a Spitting Image puppet made in his honour - in the decades since he has come to be seen by many as (in Toby Young's words) "the biggest sell out of his generation." He is the only person to be picked twice as a pet hate in the show Room 101 (by fellow left wing comic Mark Steel and the much loved broadcaster Anne Robinson). The Right, who never liked him, still don't. The Left who used to like him, don't either.
But is this fair? Well ladies and gentlemen, brace yourself for a "little bit of politics" as we put Ben Elton, the one time 'Man From Auntie' on trial...
The Case For The Prosecution
1) "He started out as an 'alternative' comedian, railing against Thatcherism and the like, and now earns a fortune writing the librettos for truly awful West End musicals. I mean, his name has become a byword for shameless hackery. He's the biggest sell-out of his generation" (Toby Young).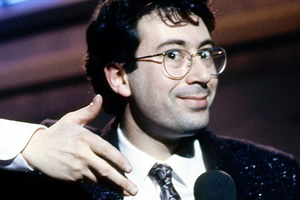 For some the betrayal came early when Elton stood in for Terry Wogan on his BBC One chat show in the late Eighties. For others, it was his collaboration with leading Tory supporter Sir Andrew Lloyd Webber on the critically slated musicals The Beautiful Game and We Will Rock You which put the onetime socialist beyond the pale. A song from The Beautiful Game was even played at George W. Bush's inauguration in 2001, although contrary to rumours at the time, Elton didn't attend himself.
Then there was Elton's appallingly sycophantic tribute to Prince Charles at the 2000 Royal Variety Performance. It's somehow hard to imagine Alexei Sayle doing the same thing. In 2009 came the news that, as the Daily Mail reported it: "After 25 years of moaning about Britain, comedian Ben Elton is off to Australia".
In mitigation: Ignoring the fact that it's a bit rich of The Daily Mail to accuse anyone else of "moaning about Britain" (Elton was more of a critic of Tory Governments than Britain itself), much of the hostility towards Elton seems to stem from the rather quaint notion that nobody who has claimed to be a socialist should ever be allowed to make any money. If they do, they should immediately give it all to the poor.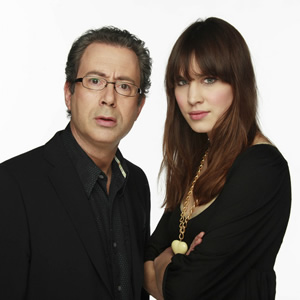 As for Andrew Lloyd Webber, there was nothing political about their "collaboration". If working with a Tory is a crime, surely Graham Norton should be condemned on the same grounds?
For the record, Elton has never formally renounced the Left and ironically in 2009 undermined his apparently knighthood-craving credentials by calling the Queen "a sad old lady" and Prince Philip "a mad old bigot" in an Australian TV interview. He later apologised but has now effectively managed to irritate both republicans and monarchists alike.
2) He hasn't been funny for about twenty years.
Harsh but difficult to refute. His early Nineties show The Man From Auntie wasn't bad but subsequent series showcasing his stand-up from the late Nineties Ben Elton Show (featuring several awkward cameo appearances from Ronnie Corbett) and the appalling Get A Grip (pictured) in which Elton appeared alongside Alexa Chung (yes, really!) in 2007 have got worse and worse. His own Live From Planet Earth show also crashed and burned in Australia recently after a vicious popular and critical reception.
Then there was his one stab at film directing - Maybe Baby - based on his own novel Inconceivable. Starring a pre-House Hugh Laurie alongside Joely Richardson, 'Unwatchable' might have been a better name. It is a truly appalling monstrosity of a film. Which brings us to:
3) His novels are shit.
Elton has written thirteen novels almost all of which seem to have been designed to have a shelf life of about two years. Big Brother? The Green Revolution? Pop Idol? None of these are themes guaranteed to endure eternally within the annals of British literature are they? His debut Stark is self indulgent and frequently veers into long segments from his own routines, while others (Dead Famous, Chart Throb) were just awful from the get go. Ben Elton is also arguably to blame for the fact that any comedian who has achieved even a modicum of fame now has to get a book out almost straight away.
In mitigation: This is extremely unfair. Many of Elton's books are in fact very readable and even the flawed likes of Stark and drugs-themed High Society are still pretty effective. Yes, there have been some duds along the way but with Popcorn, the First World War themed Last Casualty and the underrated Blast From The Past, there's actually more good here than bad.
The Case For The Defence
"Ben is sweet natured, kind, honest and true. He is one of the most extraordinarily gifted people I have ever met... he seems cursed with a woeful talent for causing people to disapprove of him and wrinkle their nose in distaste and scorn." Stephen Fry in The Fry Chronicles.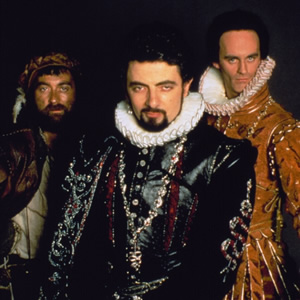 1. He wrote Blackadder.
Yes, Ben Elton did co-write three series of Blackadder - perhaps the greatest British sitcom of all time.
Not just any three series. The three good ones. The first series written by Rowan Atkinson and Richard Curtis had its moments (Elton himself enjoyed it) but was infinitely worse than the three that followed. From the moment Ben Elton got involved, the series turned into comedy gold.
True, he co-wrote it with Richard Curtis. Elton-haters might like to pretend that Curtis, he of Four Weddings... and (ahem) The Vicar Of Dibley wrote it all with Elton just contributing the knob gags.
But the reality is, this simply isn't true. Curtis and Elton apparently wrote alternate episodes. The contribution of the unusually talented cast (Fry, Laurie, Miranda Richardson) blurs things still further. But it's silly to pretend Elton didn't have a major role in the series which produced Baldrick's cunning plans, Lord Flashheart ("Flash by name, flash by nature!"), Blackadder's attempt to simultaneously host a Puritan dinner party and a drinking contest, and the almost unbearably poignant First World War finale.
And besides there are very few knob gags in Blackadder anyway. And those that there are pretty good ones.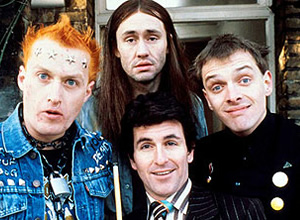 2. He co-wrote The Young Ones.
The Young Ones isn't quite as acclaimed for its writing as Blackadder is. Yet again, Elton, then still in his early twenties, did write it along with Lisa Meyer and Rik Mayall.
The University Challenge episode featuring a showdown between Scumbag College and Footlights College remains an absolute hoot thirty years on ("That wasn't quite the answer I was looking for, but I know your father so I'll let you have the point"). Elton sits alongside fellow future stars Hugh Laurie, Stephen Fry and Emma Thompson (all of whom, unlike him, are Cambridge alumni).
And from Neil turning into the Incredible Hulk to Vivian's decapitation, the series remains a gem. Surely Elton deserves credit for his role in creating perhaps the most anarchic sitcom of all time?
The Verdict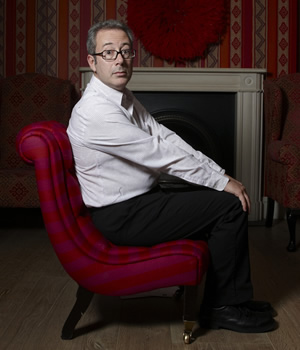 As usual, there seems a measure of hypocrisy about the endless condemnation of Ben Elton. If he's so bad, why do so many of us buy his books and see the West End shows he's written? And just as millions claim to love The Office while in the next breath claiming to hate Ricky Gervais, most of us love Blackadder while hating a key figure who created it.
It makes no sense. No wonder Blackadder wasn't brought up once during either Anne Robinson or Mark Steel's appearances on Room 101.
The 'selling out' charge is tricky. Working with Tory supporters probably should not in itself be a crime. As Elton himself puts it: "If I were to refuse to talk to Tories, I would narrow my social and professional scope considerably. If you judge all your relationships on a person's voting intentions, I think you miss out on the varieties of life."
And here's the crux of it. I don't really think the issue with Elton is his politics at all. If making money is a crime, then all successful comedians on the Left are culpable.
The problem is that Ben Elton is a very talented man but he isn't very likeable on TV. His "motormouth" persona (a tactic to deter hecklers by not giving them the chance to respond) antagonised many from the start. In his own words, he is a "farty". And people don't like to see it. This is probably why his Australian show Live from Planet Earth tanked.
So perhaps he should stick to the writing then? There is certainly no shame in that. Yet much as I hated Maybe Baby and recoil at the sight of Elton awkwardly co-hosting anything with Alexa Chung, this is a man who co-wrote the three good series of Blackadder. And to be fair, I'd probably give General Pinochet a free pass if he had a writing credit on that.
Verdict: Not Guilty.