Misery Bear interview
This feature refers to an event, offer or opportunity that has now ended.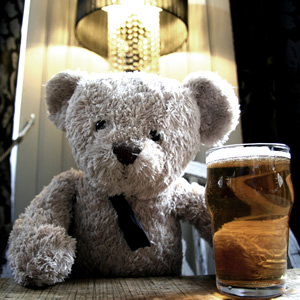 Misery Bear is the star of a series of hit internet videos. We thought it about time we gave the saddest, most suicidal teddy bear in the whole world a call to say hello...
Hi Misery Bear. Who, why, where and what is Misery Bear?
The who and the where I'll answer. The why and the what just sound rude. You've started off badly with the questioning there, and put me on edge a bit. Presumably, if you've watched my films or read my book, you'll know that people are mean to me on pretty much a daily basis, so adding your voice to the mix is extremely insensitive. Sigh.
Okay, so who am I? I'm a little teddy bear (no claws or big teeth, unfortunately). I appear in short films, I wrote a book, I just try and get through the life long day without having a nervous breakdown. My passions are pizza, foreign films, bourbon and hanging out with friends. Except I don't have any friends. The where? I'm at my office. I should be working but my boss is an idiot. I've not lifted a finger in three years.
How many short films have you starred in now?
Too many. I think it might be nearly fifteen by now. They're not fun to make, I get very little money for them, and they're pretty humiliating. I went into it thinking I'd be a hit with the girls, but girls don't give two hoots if you're in a bunch of videos on a website. So I'm trying to get into feature films now. But Clooney hasn't replied to any of my texts yet. And I've sent him A LOT of them.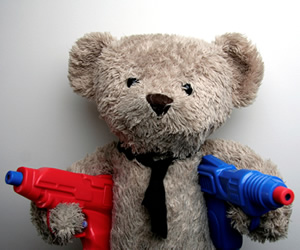 How did the video series come about?
I made the first video with Chris Hayward and Nat Saunders, who uploaded it onto YouTube. A producer called Jon Petrie got in touch with them, and over the months the three of them, along with another man called Ash Atalla, struck a deal with the BBC. All of this happened without my knowledge or consent and, as a result, I'm now powerless. And virtually penniless. It makes me so mad I could squeak.
Do you have a favourite episode?
I like the ones that don't portray me as a pathetic loser, like The Teddynator (below) and Dawn of the Ted. I get to do a little bit of ass-kicking in those ones. I do all my own stunts, you know. Had my fur singed once or twice!
We're impressed. Kate Moss got involved in the Comic Relief special. What was that like?
It was the greatest day of my life. Even though she was playing a stalker, it was mostly make-believe. She's actually not as obsessed with me as the film made out. I did have to ask her to stop sending me texts at three in the morning, though. Got a bit much.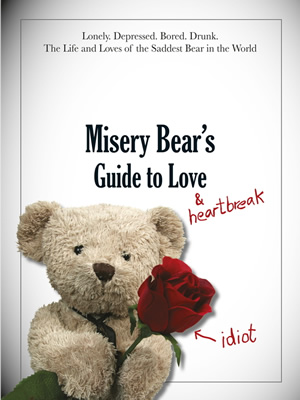 As you mentioned earlier, you've written a book... what's it about?
It's a guide to the world of love and romance, from a little fuzzy guy who's had his heart ripped out more times than he cares to remember. I spent six months writing it - it's full of poems, love letters, advice, stories, photos, drawings, cartoons and the like - and I spent most of the advance on a spell in The Priory, so I really need it to shift a few units. I believe it would make the perfect Valentine's Day gift. Well, that's what my publisher told me to say, anyway...
What qualifies you to write a book on love?
Well, as I previously mentioned, I've been through heartache, despair, loneliness and bitterness in the name of love. I've had my little heart squished by members of the opposite sex (teddy bear and human) on countless occasions. Who better to report from the battlefield of love than the wounded soldier?
Good point. Mark, the Editor of BCG, is a little bit in love with Rachel off of Countdown. Is there any tips you can offer him?
Well, tell Mark that if I were trying to woo Rachel, I would start by showing up at her place of work and calling out to her when she arrives and leaves that I would love to get a coffee with her sometime. If she fails to respond, I would leave messages with her colleagues to pass on to her, giving her my number. I would then buy her a pretty dress and some flowers and have them delivered to where they film Countdown. If I had access to her mobile phone number I would text her once per day, asking her out. That's what I'd do. So tell Mark to do the opposite.
Cheers Misery Bear. We'll make sure you get an invite to the wedding. Final question, do you think you'll ever be happy?
No.
Oh, dear. We've ended on a bit of a bleak note. Thank you anyway Misery Bear!
'Misery Bear's Guide to Love & Heartbreak' is out now. Details
The Misery Bear series can be watched on YouTube